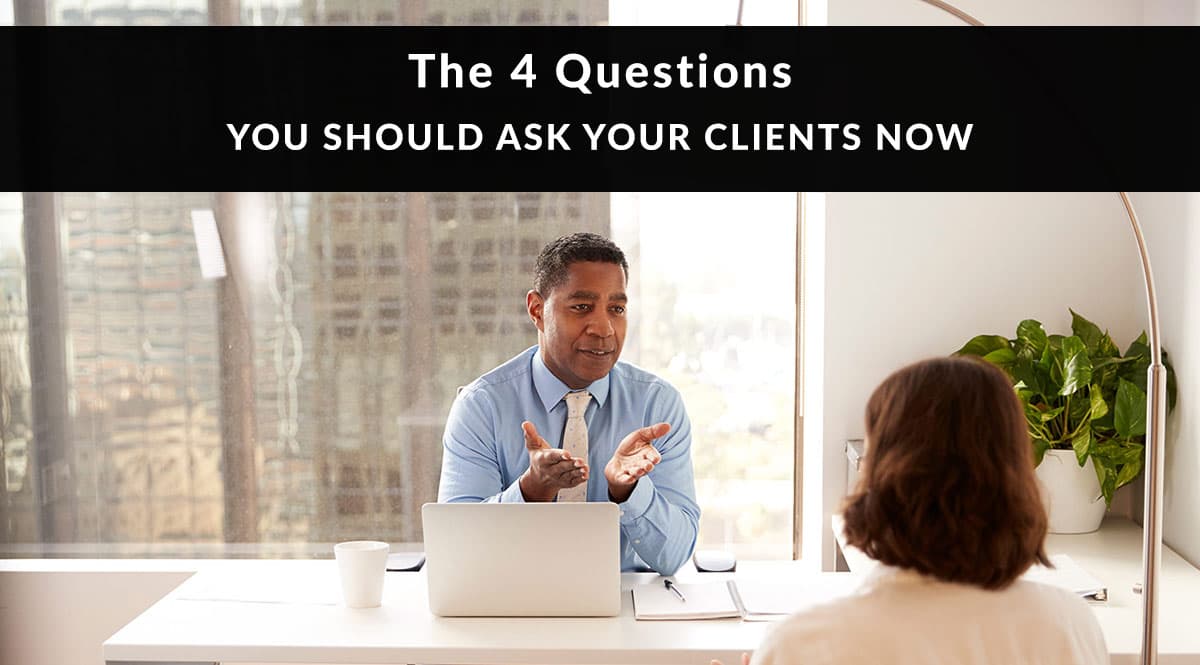 Nearly 61% of Americans made a New Year's resolution to save more money in 2021, according to a MoneyRates survey.
Saving money isn't the only big concern prospects have right now. COVID-19 is still raising questions about disability, critical illness, and long-term care. The economy is still a question mark, too, with the stock market making gains while small businesses continue to struggle.
---
No time to read? Watch our video overview:
---
Let's look at some specific questions you should be asking your clients right now to help them take the steps they need in 2021. We'll also go over resources you can use to have that conversation.
PRO TIP: Don't have a marketing plan for 2021 yet? Use these questions, strategies, and resources as a starting point. Reach out to clients and prospects once a month for the next 4 months. The responses you get should help you see which issues need more coverage in the second half of the year.
Question #1: Do You Need Help Saving Money in 2021?
What You Say: "Let's create a monthly budget that keeps you on track to pay bills and save money."
Marketing Strategy & Resources: The strategy in helping create a budget? First of all, it's the best way to help your client understand their full financial picture. According to that MoneyRates survey, a whopping 28% of people who say they plan to save in 2021 don't have a specific plan for how to do it. You can be the one to help them connect those dots by linking their goal with a concrete plan.
Once they know how much their monthly expenses are, they can start calculating how much they'd need to replace if their breadwinner passed away. Having this budget ready is a springboard for the life insurance discussion, as well as a retirement planning discussion.
Question #2: Do You Have a Plan for What Happens if You Get Sick in 2021?
What You Say: "Let's protect your paycheck and use resources like insurance to pay for medical bills, treatment, and in-home care if anything happens to you."
Marketing Strategy & Resources:  This conversation can go several ways, depending on what you're most comfortable selling: critical illness, disability income, or life insurance with living benefits. Since most life insurance policies have free living benefits, you can start by assessing their needs and giving them a quote. Based on their budget, compare the free living benefits the quoted policies include with a rider that offers more substantial benefits.
No matter which way the conversation goes, there are helpful facts & stats on the consumer-facing Living Benefits Awareness Month website listed below. For example, did you know that the average amount of savings lost due to a cancer diagnosis is over $92,000?
Question #3: Are You Worried about Volatile Financial Markets in 2021?
What You Say: "Let's look at solutions that not only balance out risk, but put you ahead in the long-term."
Marketing Strategy & Resources: The stock market had a record year in 2020, with a 16.3% gain for the S&P 500 and a 43.6% gain for the Nasdaq (Source: Reuters). That's insane, right? But your clients might not be feeling so optimistic. According to an Allianz Life survey, lots of people think these huge gains represent volatility and risk. In fact, according to the survey, 44% think the market hasn't bottomed out yet, and 72% think it's going to continue its volatile pattern in 2021. Only 25% of respondents said they're ready to invest right now. Of these respondents, 34% have already dipped into retirement savings to offset the economic effects of the coronavirus.
Clearly, people are jittery about what the stock market may do in 2021. What's the antidote? A balanced portfolio that hedges against the risk those volatile stocks present. Cash value life insurance is a great choice to create that balance since its dollars provide death benefit protection, cash value, living benefits, and more. To start the conversation, use the financial objectives discussion guide in our sales kit below.
Question #4: Are You Depleting Your Retirement Account to Get Through the Pandemic?
What You Say: "I can help you create a stream of income you'll never outlive. That way, you'll be less dependent on Social Security and stock market returns."
Marketing Strategy & Resources: If your clients and prospects are some of the folks who've already dipped into retirement savings during the pandemic, they need ways to secure what's left as well as generate additional income. That may include looking for underutilized assets to convert into an annuity, whether that's a forgotten IRA or bonds with a dismal rate of return.
That's our look at 4 questions you should ask your clients now!
Have you already asked these questions? How are people responding? What other concerns have your clients brought to the table in 2021 so far?
---