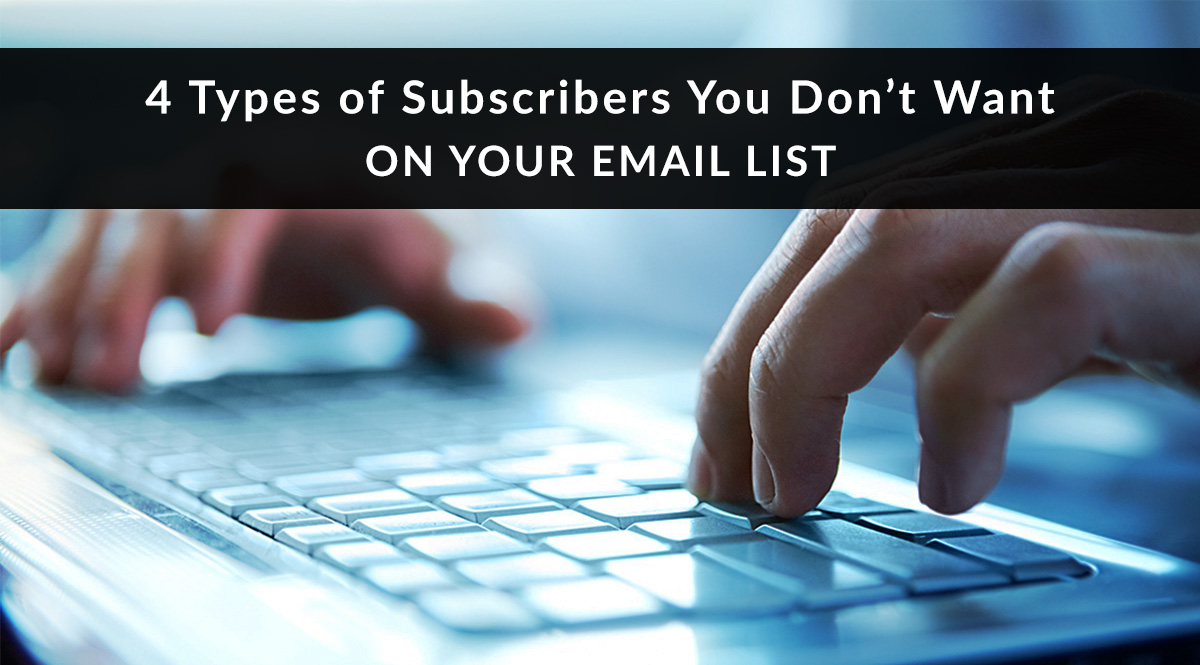 We've been talking about email lists a lot lately – why they're important and how to build them. But once you have one, your list is like any other tool that needs a little maintenance to perform at its best.
List maintenance involves re-engaging and removing some of your subscribers. While having a huge number of subscribers seems like a good thing, it's really a vanity metric if few of those subscribers interact with you. It's better to have a smaller list filled with people who really want to hear from you.
In this post, we'll explain what kind of maintenance your list needs, and how that maintenance can boost conversion rates. In short, there are four types of email list subscribers that can actually harm your list: inactive, invalid, duplicate, and competing subscribers.
Type #1: Inactive Subscribers
Inactive subscribers haven't opened your emails in awhile. You don't know why they aren't opening them, but it could be any number of reasons:
the recipient mistyped their email when subscribing
your emails land in the recipient's spam or junk folder
the recipient isn't tempted to open your emails based on your subject lines
the recipient is no longer interested in the kind of content you're sending – people retire, change career fields, pass away, etc.
Whatever the reason, these inactive subscribers are currently a dead weight on your email list. They decrease your open and click-through rates with every email you send. While these metrics aren't the defining quality of your list, they do help you keep the end goal in mind: getting people to buy a policy from you. If these folks are never going to do that, it's a good idea to stop emailing them.

So what can you do to clean the inactive subscribers off your list?
The best strategy is to attempt to re-engage them before removing them. First, you'll want to sort your subscriber list by clicks, focusing on those who haven't clicked in awhile. Decide what length of time you want to use as a benchmark for labeling a subscriber as inactive. SendGrid recommends every six months, but if you're not in consistent contact with your list, you might want to use one year instead.
Now that you have your inactive subscribers together, you want to label them as such. Use tags, create a list segment, or copy them into a new list – use the method recommended by your email marketing software provider.
Next, write an email asking them if they still want to be on your list. You may have seen a retailer's example of an email like this – they're often humorous, and sometimes use a "break-up" metaphor. If you've gotten one, you know there's usually an action you need to take to stay on the list, such as clicking through to a "thank you – I'll keep you on my list" landing page. Or you could do what Habitat did, and remind users they can connect with you on social media, if that's what they prefer: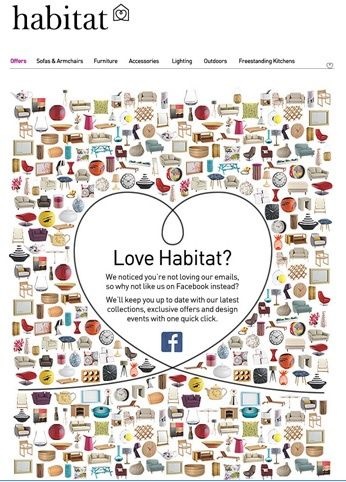 Type #2: Invalid Subscribers
An invalid email address is either:
incorrect or nonexistent, or
an address that exists but can't receive email.
Some of these you may be able to fix manually. Others will need to be unsubscribed. Here are some examples of invalid subscribers:
An incorrect email address
These are often mistyped. If you see "[email protected]," for example, it's pretty easy to spot the error. Similarly, you may see autocorrect-generated errors from mobile users, like duplicate domain names (@[email protected]).
Solution: Manually correct the email address in your CRM or email marketing software. Then check the list of undeliverable/bounced emails after your next email blast. If you don't see the corrected email address, you did it! If you still see the corrected email address, the subscriber likely entered a bogus address. You can unsubscribe this person manually.
Tip: Using a double opt-in procedure for email list signups can help prevent invalid emails making it onto your list. You've probably already experienced a double opt-in as a consumer – this is when you receive a confirmation email after signing up for a mailing list. You have the click the activation link in that email to be added to the list. If you had provided a bogus email, you wouldn't receive the confirmation link or be able to join the mailing list. Here's a sample from Staples: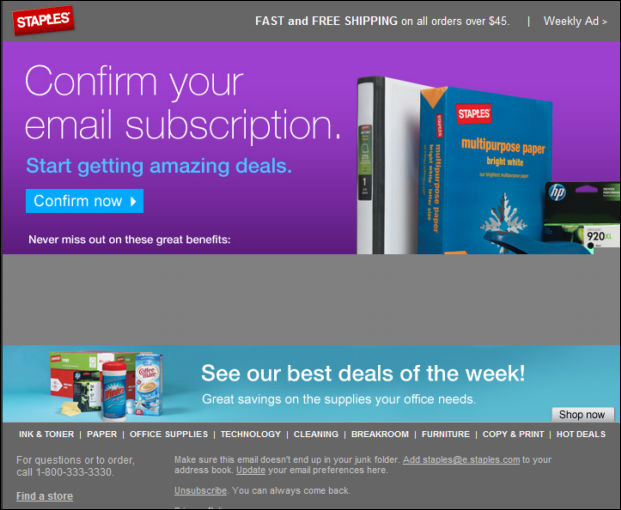 A nonexistent email address
Sometimes people provide a bogus address from the get-go, like [email protected]. This happens most often when you offer something in return for an email address, like a free guide or eBook. People want the book, but they don't want to receive any marketing, so they make up an email address, access the download, and you're never able to contact them. They may also have signed up a long time ago, using a domain that doesn't exist anymore (company out of business, etc.). When you send to these email addresses, you get what's called a "hard bounce."
Solution: Manually unsubscribe these email addresses. There's no way to reach them, and they weren't engaged anyway.
Tip: Don't skip this step. Some ISPs recycle old email addresses after they've been deactivated and use them as spam traps. If you continue sending to a deactivated email address, the ISP will eventually assume you are a spammer.
The email address exists, but your email is undeliverable
This happens when a mailbox is unused or flooded – the email service provider will stop delivering emails and return yours as undeliverable. The recipient might have left their job, for example, but their email address wasn't deactivated.
Solution: Check this subscriber's record to see how many times you've been unable to reach them. If it's a recent occurrence, you may want to try a few more times. If they've been unreachable for more than three months, chances are that's a dead address. Manually unsubscribe this email address if this is the case.
Tip: SendGrid also recommends manually unsubscribing generic "role" email addresses like help@, reply@, or support@ from your list. A real person interested in insurance probably isn't monitoring that address on a daily basis. If you're unsure, jot down the emails you want to monitor, and leave them on your list for a set period of time (1-3 months). If they don't open your emails within that period, manually unsubscribe those addresses.

Type #3: Duplicate Subscribers
Duplicate subscribers are a problem for many marketers. It can happen when you offer free eBooks or content upgrades in return for an email address. Someone discovers your site, wants more than one piece of content, and subscribes to multiple lists. You don't want to send them multiple emails for several reasons:
It's probably annoying to the recipient.
Even if they open and interact with one email, they'll delete the duplicate, decreasing your open and click-through rate.
So how do you deal with duplicate subscribers?
That will depend on your email marketing software. Some providers let you use tags with your opt-in incentives. A single subscriber can sign up for several incentives, but only count as one subscriber on your list. Not all marketing software providers offer this feature, however.

If your provider has no way of removing duplicates, you can do it manually. Here's how:
Do it in your email marketing software. If your provider lets you view all contacts and sort by alphabetic order, you can skim your subscriber list and spot duplicates yourself. In most cases, you can manually delete or unsubscribe one of the duplicates. The caveat? If you were tracking how that subscriber got on your list, you're losing half the information you had about that subscriber.
Do it in Excel (recommended by MailChimp). Click that link for a complete walkthrough, including the formulas you can use for easy sorting. It's the same idea described above – you display all your contacts, sort alphabetically, and use Excel's formula magic to identify and remove duplicates. You can then re-upload your new, scrubbed list.

Type #4: Competitors
You may be wondering why we advise not to keep the competition on your mailing list.
There's nothing inherently wrong with it.
The problem arises when you consider the purpose of your email list – to engage with prospects and clients. The competition is neither a prospect nor a client. They're not going to buy from you. Chances are they're not going to refer someone to you, either. They're there to see what you're doing, and possibly take a few cues from you, if they see something they like.
Also, remember that you're paying to email them.
One extra email address here and there won't make a big difference, but it can add up over time. If you're fifty subscribers away from your software provider's next price tier, don't you want those slots to be filled by prospects?
Your content should be accessible by anyone – and it is, if you post it on your blog or social media accounts. Even if you manually unsubscribe competitors from your list, they can still read your content if they visit your blog or social media profiles.
What about Buying Subscribers?
We didn't include purchased subscribers on this list because it's such a bad idea - they should never be there in the first place. While it may not be illegal to buy subscribers, it's definitely not advisable.
The consumers on that list probably didn't intend to sell their addresses. That means they're not expecting to hear from you, and much more likely to hit the "report spam" button when your email lands in their inbox. This is bad for the user, bad for you, and bad for your email service provider.
Check this post for a list of list-building tips you can use to help grow your list without purchasing addresses.
Which of these types of subscribers do you see most often? Tell us in the comments!
Check out our other posts on creating, growing, and managing your email list:
---