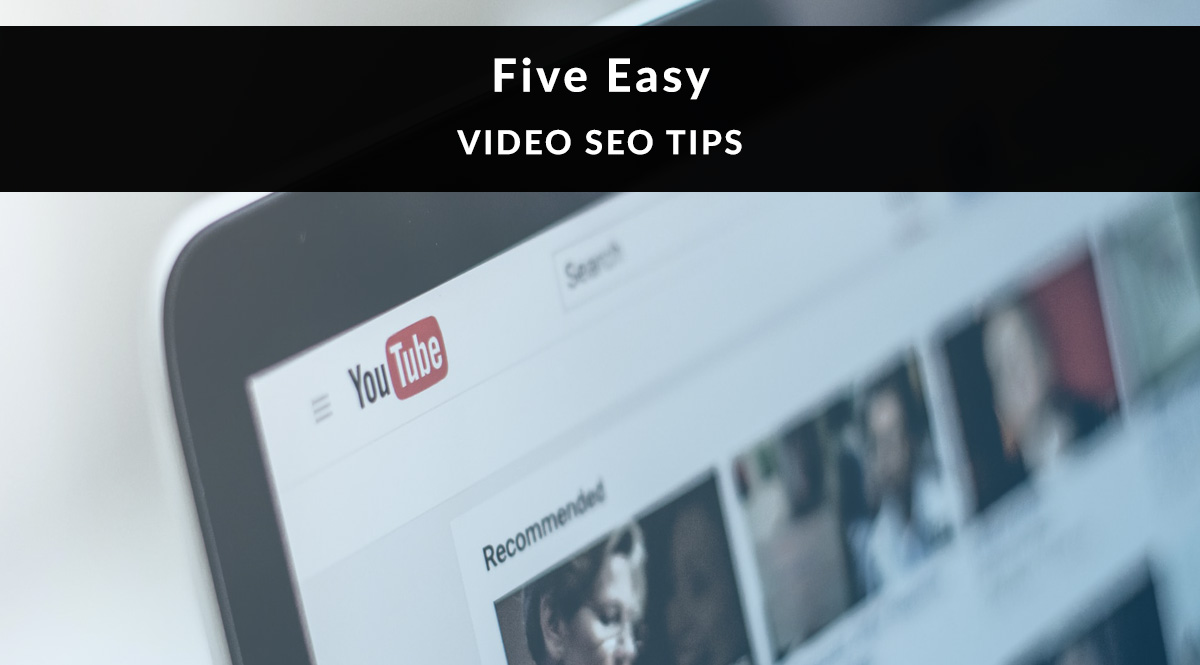 If your marketing focus has shifted to video lately, you're not alone.
After spending so much time on Zoom, we're all a little more at ease in front of the camera. How can you translate that shift to your marketing? By doubling down on video and ranking your new videos using these easy video SEO tips.
---
No time to read? Watch our video overview:
---
Video Marketing: More Important Than Ever
Since the COVID-19 pandemic, consumers have (not surprisingly) shifted their media consumption overwhelmingly to video. That behavior pattern holds for Gen Z and Gen X, and is gaining traction with Baby Boomers.
According to GlobalWebIndex's coronavirus research report from April, online videos are the top media consumption outlet for ages 16-23 (44%) and 38-56 (35%). Videos are the third most-popular outlet for ages 57-64 (11%, as compared to websites at 15% and books at 13%). Millennials, on the other hand, prefer live streams (30%) and podcasts (20%).
So what can we take away from this?
When Gen X goes online, they're looking for videos. And since people age 38-56 are probably a large part of your target market, giving them what they want is a smart idea.
But there's another benefit to making more videos these days.
Google is featuring more Video Featured Snippets in the search results.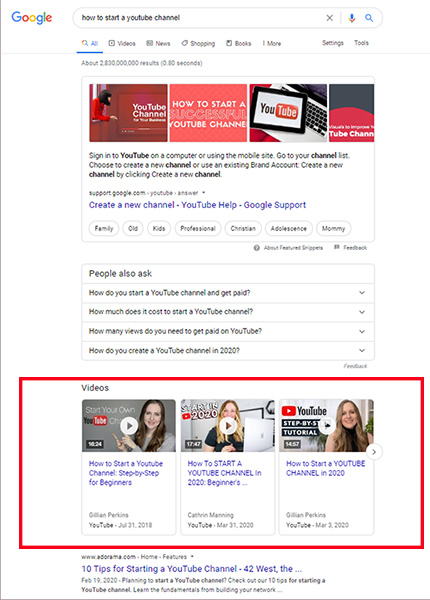 In fact, 62% of all Google search results include video...and 80% of those video results come from YouTube (Searchmetrics). And guess where Google shows you those video results? Often above the regular results. Surprisingly, not many financial or insurance queries have Video Featured Snippets yet. That means now is the time to position a video to be tapped for a snippet in the future.
Here's how to make sure your videos get found.
Tip #1: Do Your Keyword Research
It sounds boring, I know. But the issue here isn't so much finding a topic people have questions about...you already know what questions your prospects and clients tend to ask. The trick is phrasing them the same way your prospects and clients do so your video's keyword phrase and other metadata match their search query.
Before you make a video, nail down the exact keyword phrase you'll optimize that video for. That keyword phrase will need to appear in several places in your video metadata as well as in the video itself, so don't jump ahead and make a video before you've got this sorted out.
Here are a few easy ways to find good keyword phrases:
YouTube's auto-suggest feature. Start typing a topic or question into the search box and see what other people have already searched for. These are all real search queries from real users – a great way to find a topic or keyword phrase to use for your next video.

Google's auto-suggest feature. Same idea here…but it's worth checking Google as well as YouTube because, ideally, you want your video to rank on both. Are there auto-suggested queries that appear on both platforms? Does the keyword phrase you want already have video results? If so, that's a good thing - the algorithm has already figured out videos may answer this question as well or better than text results.

YouTube's traffic source data. In YouTube Studio, click Analytics from your left-hand menu. Then click Reach from your top menu. Find the widget titled "Traffic source: YouTube search" and see what search terms people used to find your videos.

Competitor research. There are plenty of tools (free and paid) that will show you what keywords a competitor has used in their YouTube video. If you have a competitor in your niche whose videos get a lot of views, you can see how they're strategizing and the types of keyword phrases that earn them lots of views. TubeBuddy's free Chrome extension gives you a limited list of suggested topics, keywords, and tags.

Tip #2: Say Your Keyword Phrase in Your Video
YouTube uses AI to produce automated video transcripts. If you haven't seen them, they look like this: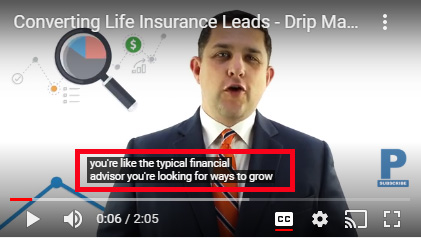 Make sure you take advantage of this by saying your keyword phrase in the beginning of your video. Even if you include that phrase in your video's title and description (tip #4 below), you'll get a little SEO bonus when the AI picks up that keyword phrase in your video's automated transcript.
Tip #3: Use Sections in Your Video
You're probably familiar with the advice to use lots of subheadings in your web content to break up text and make it easier for your reader to follow. The same is true for a video – but in this case, think of the YouTube and Google algorithms as your reader. Using sections (i.e., subheadings) makes it easier for them to figure out what your video is about.
Why do you want this?
Because of those Google Video Featured Snippets I mentioned at the top of the article. If Google knows that a portion of a video answers a searcher's exact question, it will pull up that video as a Video Featured Snippet and show that person the exact clip from the video that answers their question. With the growing popularity of voice search and the likelihood that Video Featured Snippets will expand in the future, it's a good idea to lay your groundwork now.
So your next question is probably…how do you create a subheading in a video? There are three ways to do this:
Insert a title card (a still image with your section title) using your video editing software.
Use verbal transitions like this: "Okay, in this section of the video, I'm going to talk about ____."
Insert a title card and include a voice-over with a sentence like the one above so the automated transcript picks it up.
Tip #4: Pay Attention to Your Metadata
When you upload a video to YouTube, pay attention to three key components of your metadata:
Title. Much like with web content, you want your title to contain your keyword phrase at the beginning. (If you use the popular Yoast SEO plugin for WordPress, you're used to being reminded about this.) That's a clear signal to YouTube and Google that your video content matches a searcher's query.
Description. Think of this as a miniature blog post. It's tempting to throw a one- or two-line description up and be done with it. But for good SEO results, you need to give YouTube (and Google) more to go on. Explain what the video contains and why this subject is important. If it's a long video (more than 15 minutes), you might want to include a bullet list of topics or time-stamps for hitting particular topics within the video. Make sure you include your keyword phrase a couple times, but don't obsess about it and don't include awkward or ungrammatical language to fit it in. Just use it naturally as it comes up in your explanation.
Tags. Include your keyword phrase, as well as related topics and terms covered in your video.
Tip #5: Provide a Transcript
I mentioned that YouTube's AI will auto-generate captions for your video. While those captions are good, they're not 100% accurate. It's a good idea to review them to make sure YouTube, Google, and your video viewers have a clear, accurate version of what you're saying. This is especially important if you're giving information like your name, website URL, phone number, or other information that the auto-transcription might garble.
Here's how to review a video transcript:
A few hours after you upload your video, log back into YouTube Studio.
Click Subtitles from the left-hand menu, then click the video you want to work on.
Select your language (if this is the first time you've accessed the Subtitles screen). Then you'll see a screen that lets you access the auto-transcript or upload your own.
Hover over Published Automatic in the Subtitles column on the right-hand side. Click Edit in Classic Studio.
Click Edit in the top-right corner, then clean up the text you see to the left of the video, shown in the image below.
Click Publish edits when you're done.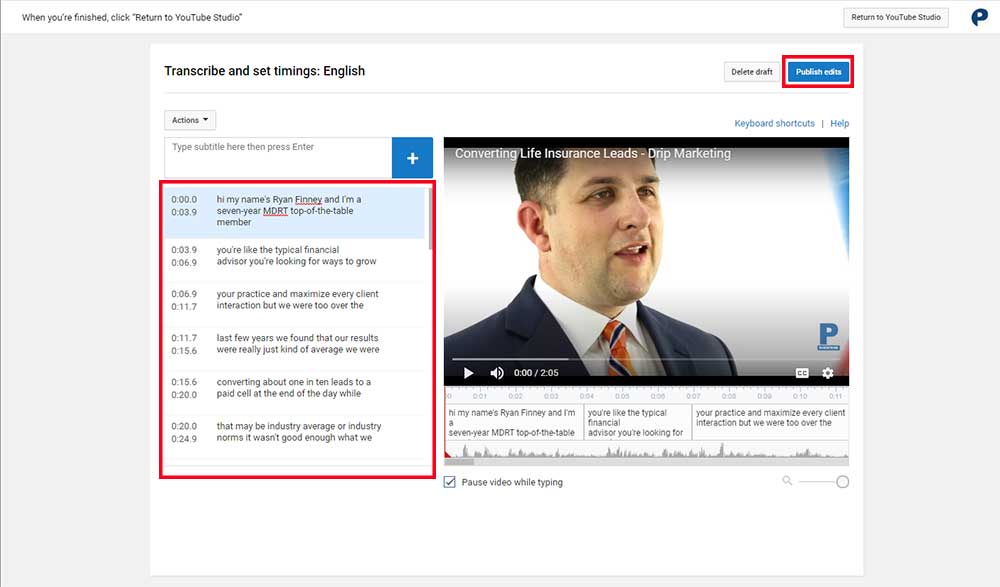 PRO TIP: Do you serve a multi-lingual audience? If so, you can also upload a translated transcript. That way, viewers who aren't comfortable with English can still watch your video with subtitles in their native language. This is a great feature to add for videos you send to clients - meeting recaps, annual check-in reminders, etc. After you review and publish your edits to the English transcript, download it (use the three-dot menu on the Subtitles screen, to the right of the entry "Published by Creator"), translate it, and re-upload it. You can include as many translations per video as you like.
That's our look at 5 easy video SEO tips!
Have you made more videos...or thought about it during our digital-only time-out? What questions do you have about video marketing? Tell us in the comments and we'll do our best to get you answers in a future post!
---