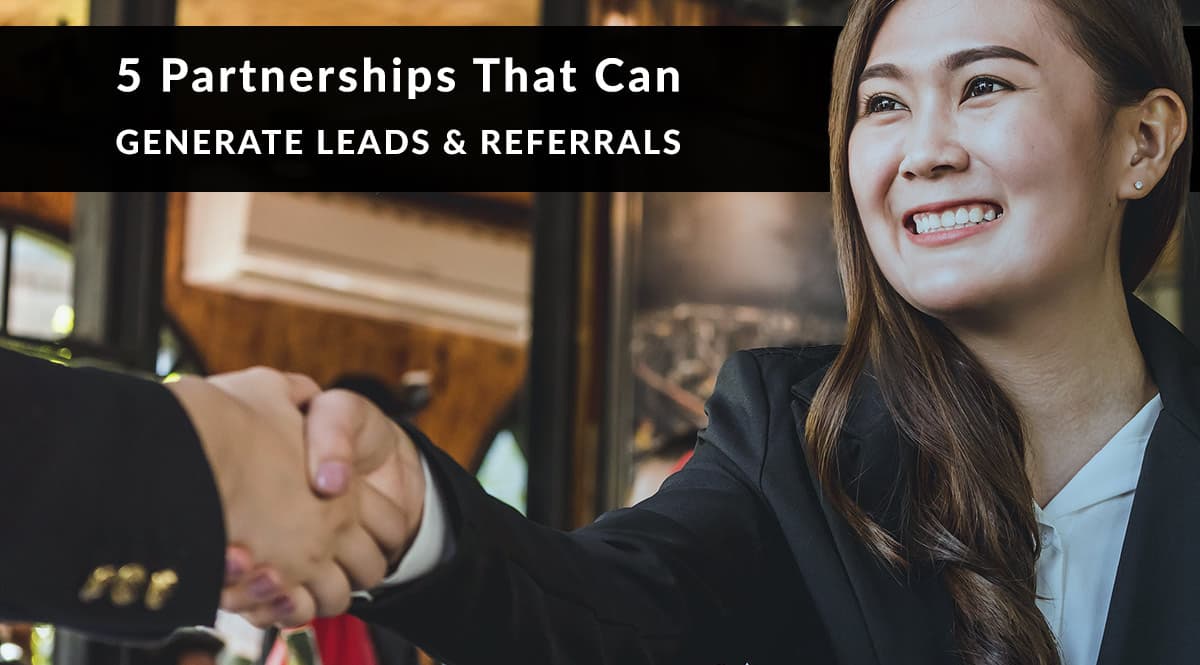 As an independent agent, you work alone – and that's probably the way you like it.
But sometimes, you need a little backup – especially when you want to grow your business. Having partnerships with professionals outside the industry has multiple benefits for you:
A resource to answer one-off client questions
Part of your professional network
Potential for cross-selling to their clientele
Even if you don't have any professional contacts right now, that's something you can build over time.
Whether you approach by phone, email, or social media DM, it only takes a sentence or two to get the ball rolling. Introduce yourself as an independent life insurance agent, explain that you're looking to connect with someone with experience in [insert their field], and ask if they have a few minutes to chat or answer questions.
It's not as intense a client pitch – you're not selling anything. What you're doing is educating the other person in how you can help their clients. The more specific you can get here, the better. Can you share stories (with no identifying information) about clients you helped? Can you point out times that your clients asked about their area of expertise? The goal here is to present a partnership as mutually beneficial - and profitable, with referrals coming from each side.
---
No time to read? Watch our video overview:
---
Tips for Building Professional Partnerships
---
Approach your client's current professionals with a specific need. Let's say a client asks you about using their death benefit to fund a trust for a special needs child. It's a good idea to work with the client's existing lawyer(s) and accountant(s) to make sure everyone is aware of the client's wishes. You can use this single-instance encounter as a springboard to develop relationships with your client's lawyer and accountant.
Find someone with great content and approach them as an observer or fan. It never hurts to start a working relationship with a genuine compliment. If you want to partner with an attorney specializing in family law, for example, google the topic. Spend a little time looking for people who produce content you like. When the time comes, you can make the approach with a comment that proves you've been listening to what they've been saying.
Find someone local. Start looking around you – who has an office nearby? Reach out and offer to buy them a cup of coffee in return for a few minutes of business brainstorming. It might only cost you $5 to find out whether someone else is also looking for cross-promotional opportunities.
The more you do this, the easier it gets. And when you find someone who clicks with your communication style, you can work together to bring new services and products to each other's clients. Here are 5 partnerships that can generate leads and referrals.
---
Need a partner for application fulfillment and back-office support?
That's what we do! Let us take the paperwork off your hands so you have more time to sell...and work on partnerships with industry professionals. Call 800-823-4852 and ask for a brokerage manager, or click the button below to email us!
---
Partnership Opportunity #1: Attorneys
---
The best way to approach this is to select attorneys who specialize in fields that overlap with the need for life insurance, such as family law and estate planning.
For example, a divorcing couple with children will often be required to carry life insurance policies on each other (in the case of joint custody). If one parent has sole custody, that parent may be required to buy a policy on the other parent to replace child support payments if they were to pass away.
Many divorcing parents see this as just another task to check off a list. But if you have a partnership with a family law attorney, you can explain the considerations they're probably overlooking. The end goal? You want the attorney to understand how important it is that their clients secure the right amount and type of coverage. If they understand there's more to it than getting a quote from the first listing in Google's search results, they're more likely to refer those clients to you.
As a second example, an estate planning attorney would be a great contact to have. Their job is to help clients make a will, establish medical power of attorney, and set up trusts to help protect assets (among other duties). This person has a bird's eye view of the client's assets, liabilities, and wishes for their heirs. They're in an ideal position to refer clients to you for help in reducing estate tax liability using life insurance.
Partnership Opportunity #2: CPAs, EAs, Accountants
---
Over the past decade, CPAs have seen their client base dwindle as online tax prep software gets better and more common. But the people who still need the advanced skills of a CPA likely have a good reason: a small business, an audit, or a complicated financial history.
These situations make it all the more likely they need life insurance.
You can give that CPA the tools they need to provide more comprehensive advisory services. They can position themselves as able to help with more than an audit or tax return. They can help clients with business succession planning, retirement planning, and estate tax planning – with your help.
True, that CPA doesn't get paid when a client chooses to work with you. So what's in it for them? If you can prove that you provide value to their client, that client is more likely to stick with that CPA. That means continued business and the potential for additional referrals.
Partnership Opportunity #3: Doctors, Nurse Practitioners & Physical Therapists
---
The topic of insurance and payments comes up during every doctor visit – usually right there at the check-in counter. It can get even more complicated when programs like Medicare and Medicaid are involved. Or when patients are caught off guard by what isn't covered, in the case of an unexpected but severe disability.
You can help patients get information and quotes for ancillary coverage types like disability income insurance, Medicare supplement, and long-term care. That's why a partnership with a doctor, nurse practitioner, or physical therapist makes sense. That partnership can play out in several ways. A provider may be willing to recommend patients who fit certain criteria to you. Or you could offer to provide informational services for their patients, like pre-recorded webinars or live Q&A sessions. You could also ask to leave educational material in the waiting room.
Partnership Opportunity #4: Financial Planners
---
In many ways, financial planners make ideal partners. Why? They talk about the same issues with their clients that you do. In fact, they often recommend a client add life insurance to their portfolio, but they rarely follow up that advice with a referral to an agent. Why is this? It's out of their wheelhouse. It's also not part of what they get paid to do. Once they make the recommendation, their job is done. It's up to the client to follow up.
That's where you come in. If and when a financial planner recommends life insurance for a client, you're the ideal person to refer them to. To make this work, you want to make sure you and the financial planner feel the same about which types of life insurance make the most sense for that client. For example, if that financial planner never recommends whole or universal life, you should find out why. They may have a valid reason, or it may just be a lack of awareness about the products and their benefits. To work together productively, you need to establish trust, which comes from a more complete understanding of what each professional has to offer the client.
Partnership Opportunity #5: P&C Agents
---
We saved the best for last. Why is it the best? Because it's often the easiest. You rarely need to convince them that your service has value – they already know it does. As we mentioned with CPAs, becoming more useful to a client is the best way to build a stronger relationship. That's exactly what you can help P&C agents do.
The best approach to take here is to make contact and gauge their need for a life insurance partner. They may have clients who've already asked about life insurance, and want to proceed with case-by-case referrals. Or they may be willing to think big-picture. Maybe they'll be willing to work with you on a drip email marketing campaign that educates clients about the benefits of life insurance. Bonus points if you already have a drip campaign you can provide them with, just to make things as frictionless as possible.
The bottom line: the easier you can make it for the other agent, the more likely they are to partner with you.
Mindset for Building Professional Partnerships
---
Partnerships take work - this isn't a method that will help you build a six-figure business in a year. Building partnerships is just one strategy among many you can use to build a long-term sustainable business. Your first few approaches may not generate a partnership at all. And if it does, that partnership isn't guaranteed to generate leads. Your success depends on how well you can explain the value you provide and the specific type of client you can best help. Remember, it's not about you. It's about their clients, and how they be of more service to them.
It's important to build a strong relationship with your new partner. You need to fulfill every promise you make. You need to do what you say you're going to do. If you collect referrals but don't act on them, that's not helpful. It's also not helpful if you bombard referrals with salesy marketing materials without educating them first. All the general best practices that make an advisor valuable to a client apply here - perhaps more so since you're representing a partner.
That's our look at partnerships that can generate leads and referrals!
What partnerships have been the most valuable for you? Share your experiences and tips in the comments!
---