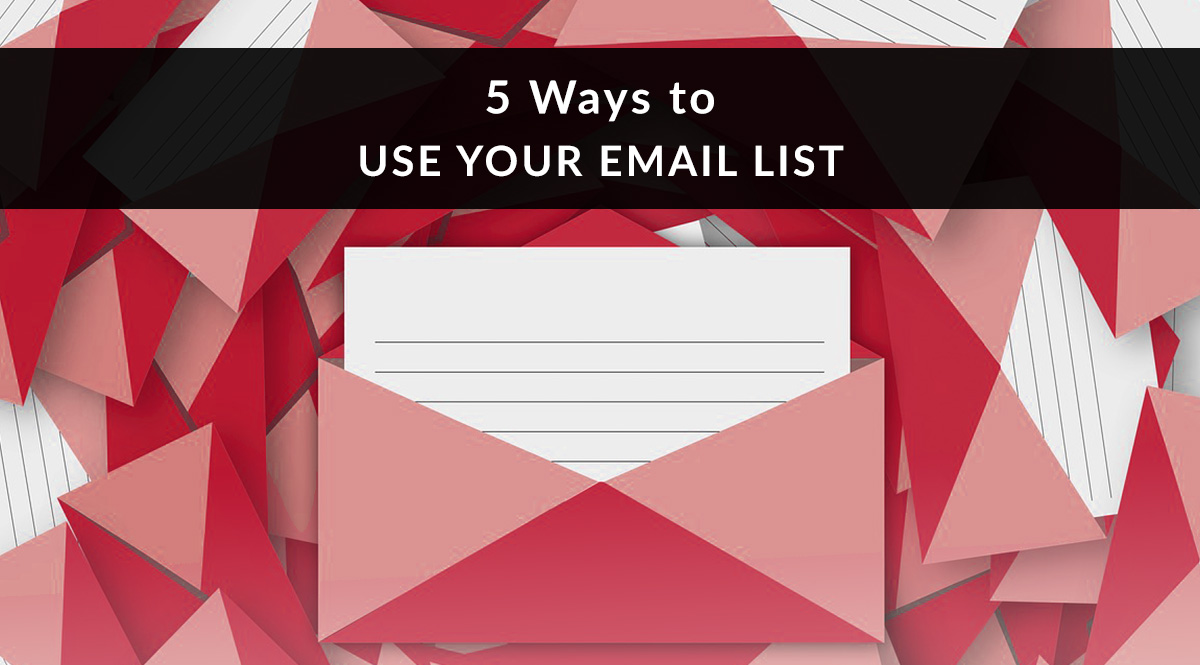 This is the final installment in our recent look at email lists. We talked about why life insurance agents need a list, how to build one, strategies for getting more out of email communication, and how to email video to clients and prospects. In this post, we'll tackle the big question: after you build your list, what should you do with it?
If you missed any of our previous posts on email, jump to the bottom and catch up! Before we dive into ideas on how to use your email list, let's go over a key strategy that will help you make the most of all the ideas presented below.
Email List Segmenting
Segmenting is a way to identify people on your list based on one or more criteria: where they signed up, what they're interested in, what product they purchased, etc. Depending on your email service provider, lead capture forms, and/or CRM, you may be able to embed tags with each subscriber that give you relevant information about them. You can then use these tags and their criteria to segment your list into helpful subgroups. Below, we'll go over two examples of useful subgroups.
Segmenting by Interest
Why is it valuable to segment your subscribers by interest? Let's say you have a blog post on getting life insurance with type 2 diabetes. That page might include a way for interested readers to sign up for your mailing list. You could set this up in several ways. Some providers allow you to create a sign-up form with a hidden field that might include the tag "diabetes," for example. Alternatively, your email provider may be able to include the subscriber's sign-up location URL in their record, allowing you to search for prospects using that sign-up URL later. If your list service provider doesn't allow either of these options, you can always create new lists for different interest groups or sign-up locations.
This might sound like a lot of work, but it's easy to do once you get the hang of it - and it's worth it.
Let's say you want to send an email specifically to the people on your list who are interested in getting life insurance coverage with diabetes. You could then sort your list by tag or sign-up location, or send this email only to recipients on your diabetes-specific list. Either way, your email would then be incredibly relevant to each of your recipients, as opposed to sending a diabetes-specific message to your entire list.

Segmenting by Sales Stage
You may also want to begin tagging your clients and prospects as they move through your sales process. Let's say you add a prospect to your mailing list because they provided their email address while getting a quote from your website. If you tag them as a prospect, you can reach out to them while they're still in the decision-making process. But let's say they buy a policy. What happens when you send an email to all subscribers tagged with "prospect" or "quoted"? If you don't manage your tags as a consumer moves through your sales funnel, you could send your in-force client an email telling them there's never been a better time to buy life insurance. Whoops.
Think of ways you can tag clients at various points in the sales process. It could be as simple as deleting a "prospect" or "quoted" tag and adding an "in force" tag when your client receives their policy. Once you decide, update your workflow to include these crucial steps.
It's a good idea to spend time learning about your mailing list software's options for tagging and segmenting before you end up with a 10,000-strong list and no way to subdivide those recipients. Now, let's get on with the sales & marketing ideas!

Idea #1: Prospecting
You're an agent – your primary goal is to sell. Your list is a prime source for leads, when used properly. Many of the list-building methods we covered previously are designed to get prospects to sign up for your list. If you use tagging, segmenting, or separate lists, you now have an easy way to reach these leads. The primary goal of a prospecting email is to help close a sale. In these emails, be sure you mention your value as an agent in helping them find policies with prices and features that meet their needs.
Here are just a few ideas for blast emails you could send to prospects:
Do they know about non-med policies?
Are they having trouble getting coverage because of health problems?
Are they unsure how much coverage they really need?
Do they know about long-term care and critical illness riders that add major value to the purchase?
Here's a sample prospecting email from hipmunk, offering a sales idea and tips along with a pricing chart.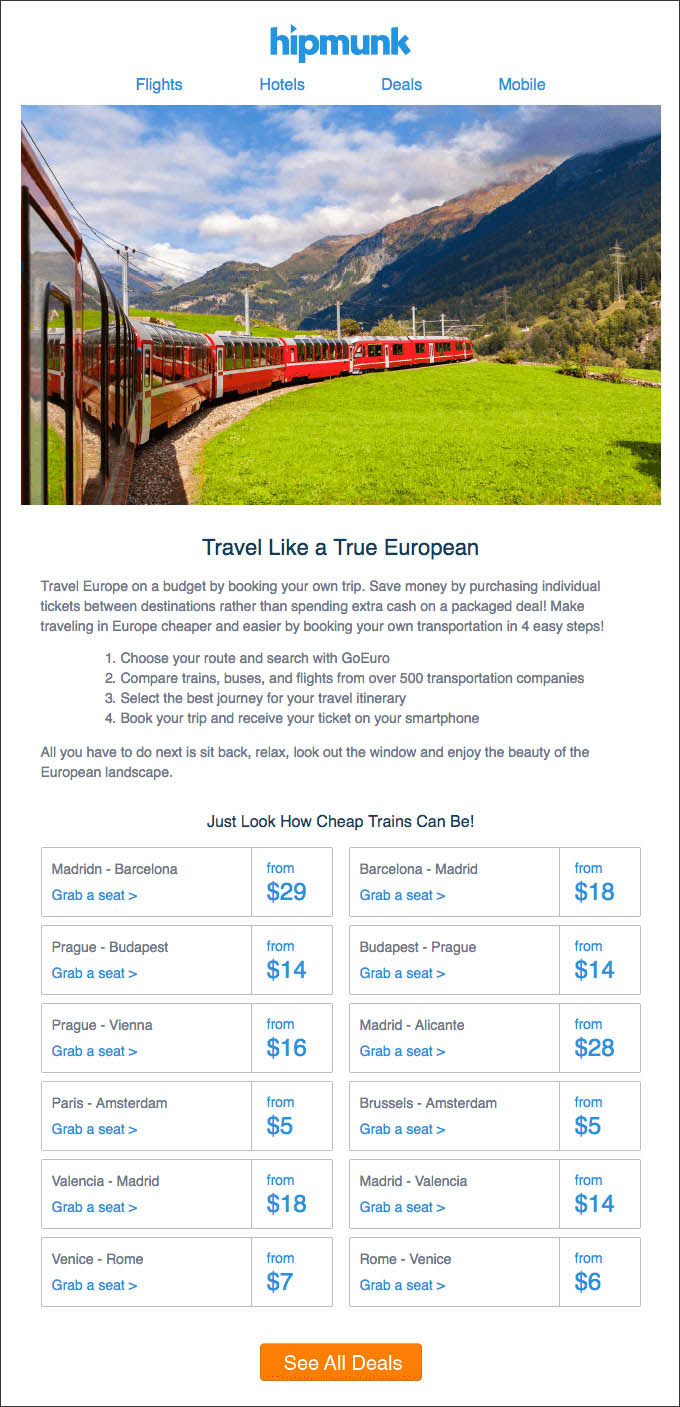 Idea #2: Cross-Selling
When you have a client, it's up to you serve them as best as you can. Often, that means sharing new opportunities to save money, increase coverage, or expand their insurance portfolio. These people already know and trust you, so why not offer them additional types of coverage? In these emails, be sure you mention why you think they need this new product or service. You can do this using phrases like "many of my clients also buy" or "now that you have X, you may be thinking about y."
Here are just a few ideas for blast emails you could send people who already have life insurance:
Has it been awhile since they bought their policy? Invite them to see if they can either save on a new policy or increase coverage for the same payment amount.
Do they know about long-term care insurance…or long-term care riders on a newer life policy?
Do they know about disability and critical illness insurance?
Are they ready for retirement? Do they know about annuities?
Do they own a business? If so, do they have a succession plan?
Do you have colleagues (like a tax or estate attorney) who can offer them further financial advice? If so, arrange a free seminar and tell your list about it.
Here's a sample cross-sell email from rdio, showing listeners additional stations they might like.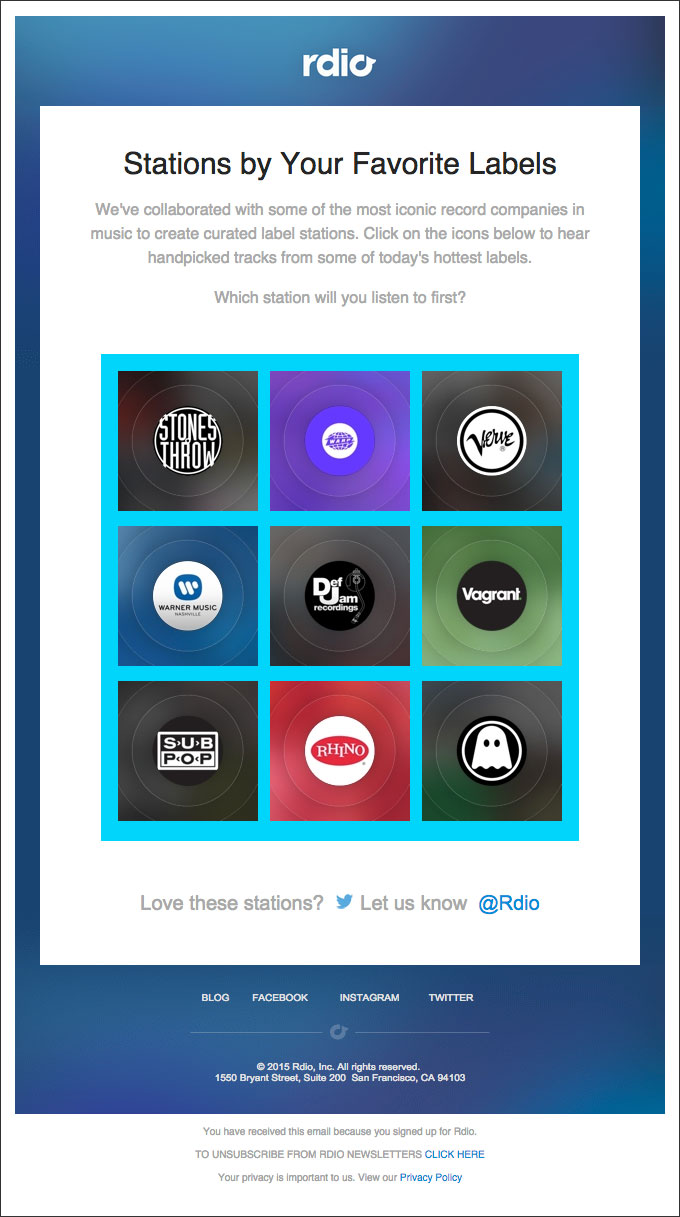 Idea #3: Relationship Building & Personal Branding
Not every email communication needs to be a sales pitch. Once in a while, you might want to email your list with information about you or your agency. You can also send customized emails to say happy birthday, or just a simple thank-you for being a client. While you don't want to send too many of these, it's a refreshing change of pace for your recipient to open an email and not be asked to read, do, or buy something.
Here are just a few ideas for blast emails you can send to anyone on your list:
Do you have a new family member to introduce?
Do you have a new staff member to introduce?
Ask for referrals or reviews.
Tell your subscribers about your website—do they know everything they can do or learn there? Or that they can text you with questions? Or that they can message you via Facebook? If you change or add ways they can communicate with you, let them know.
Is there a birthday or holiday coming up? Say hi and wish them a happy day!
Ask if they'd be willing to write or film a brief testimonial for you to use on your website or social media.
Here's a sample relationship-building email from Fitbit, thanking the customer for being part of their 10 years in business.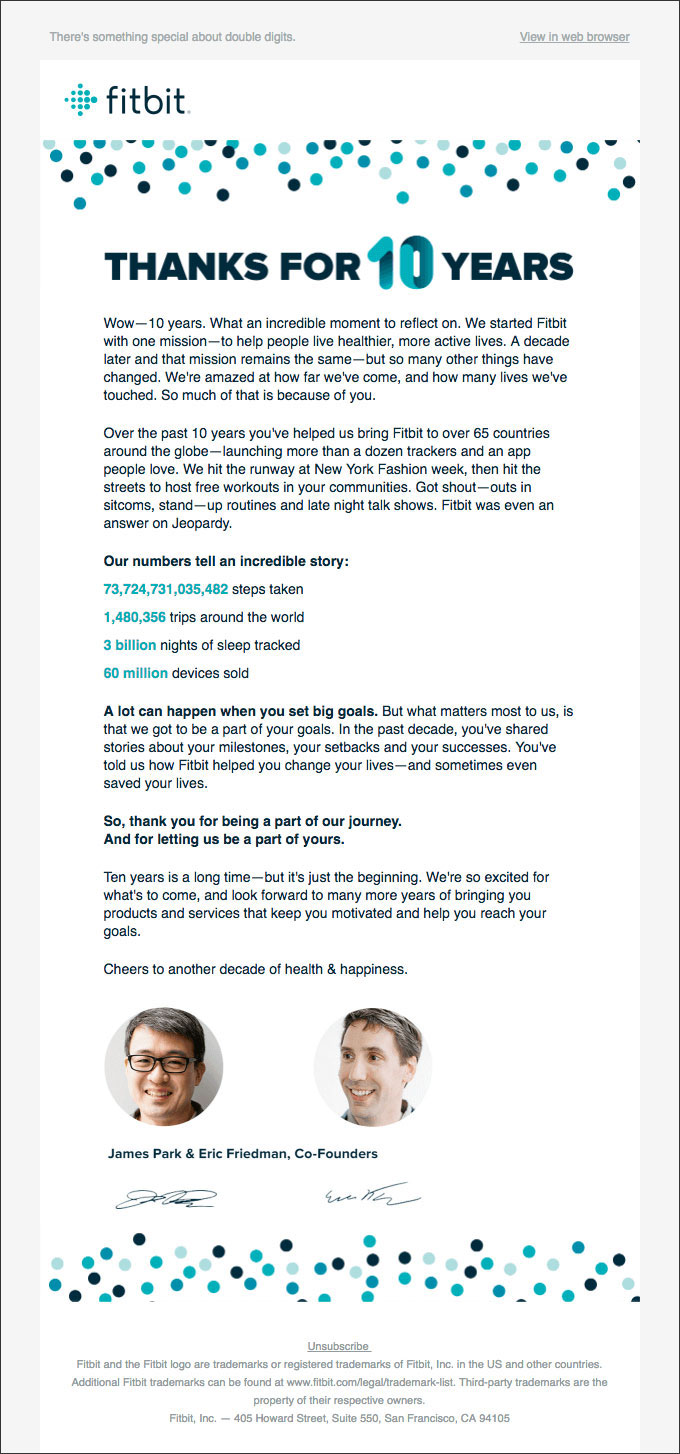 Idea #4: Education
Part of your job is educating your subscribers on insurance, personal finance, and related products that might help them reach their financial goals. You can educate them without selling to them—in fact, that's the best way to lay the groundwork for a future up-sell or cross-sell. You can create segmented emails that address issues affecting a small percentage of your subscribers, or you can go wide and create generalized emails that mention topics everyone needs to be aware of (keeping beneficiaries current or having a will, for example).
Here are just a few ideas for blast emails you can send to educate your subscribers:
What financial check-ups should they be doing to ensure they're on track for retirement?
Now that they have life insurance, what legal protection should they also have (i.e., living will/advance directive, etc.)?
Has there been a change in the laws affecting retirement or estate taxes? Can you explain it to them, or bring in a guest expert who can?
Here's a sample educational email from Framebridge, showing customers the right way to hang a frame.

Idea #5: Invitations to Participate in Groups or Market Research
What do people think about life insurance? How do they feel about their prospects for retirement? Are they interested in eBooks or courses that can guide them through a complicated financial process? Do you have a private Facebook group just for client Q&A? You can ask your subscribers for their opinions. Based on their feedback, you can make future plans for marketing your agency. You may decide to form new partnerships, expand your insurance product offerings, or create new digital products.
Here are just a few ideas for blast emails you can use to do market research:
Send a link to a Google Forms survey that gathers impressions about life insurance, our industry, or what they wish they'd known during the purchasing process (here's how to do it!).
Ask who'd be interested in learning more about other types of coverage—long-term care, disability, etc. Once they self-select, you have a built-in segment ready for education followed by a cross-sell.
Gauge interest in an eBook or digital course – know it's profitable (or not) before you spend time creating it.
Survey your subscribers to find out how they prefer to communicate (text or email?), which social networks they're most active on, and what kind of content they'd be interested in seeing from you (Video? Live Q&A?) Use this information to plan next quarter's social media strategy.
Here's a sample invitation email from Squarespace, asking customers to join a special group of professional clients.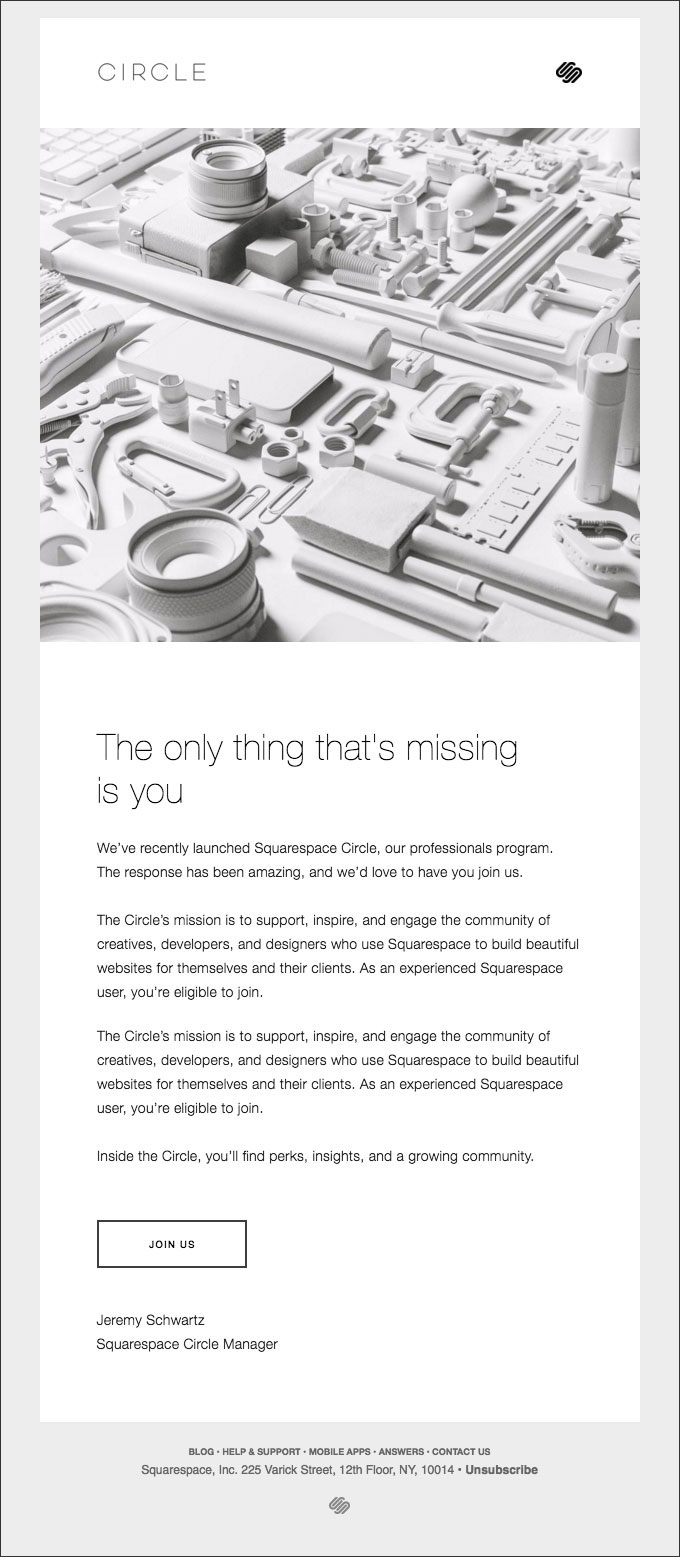 Looking for a little email inspiration?
The sample email images in this post all came from Really Good Emails. You can search for different types of emails (marketing, transactional, behavioral, etc.) to get ideas for content and design. If you're not a design whiz and don't have the money or bandwidth to hire one, don't worry. Just focus on the messages in the sample emails - these will resonate even without the fancy graphics.
Missed any of our email-related posts?
---