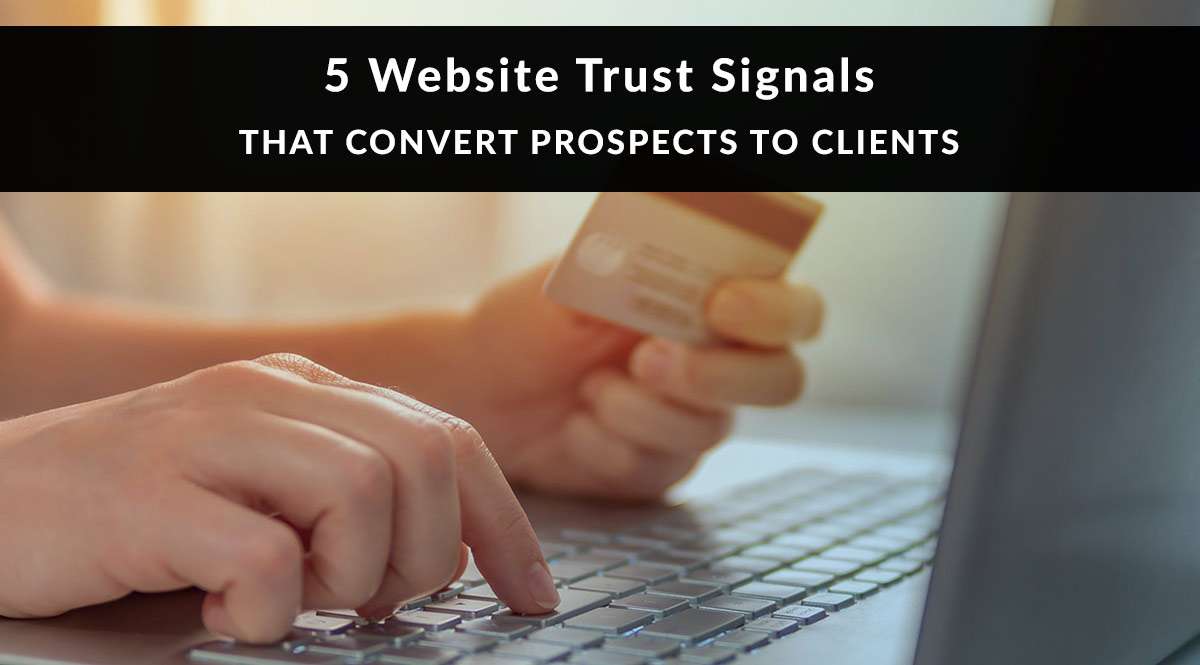 When a prospect visits your quoter or website, what will convince them to do business with you?
Any fly-by-night agent or broker can put up a webpage with a quoter. That's why you have to take the extra step of reinforcing your prospect's intent to buy. You have to convince them you're worth their time.
We've talked before about how pricing and products don't matter. Consumers can go to a dozen agents in the area or online and get the same quotes for the same policies. So how do you prove you're different?
These 5 website trust signals can help prove you're worthy of their time and their money.
---
No time to read? Watch our video overview:
---
Trust Signal #1: Testimonials
This one's a no-brainer. Having testimonials from satisfied clients can help convince new prospects that they'll receive the same great service. But what makes a good testimonial? And where should you put it on your website? And what format should it be in? There are a lot of little details you want to get right.
It all starts with your request for a testimonial. The best requests tell your client exactly what you're looking for without putting words in their mouth. Think of it as a Mad Libs exercise: "I came to Joe Agent because I needed help with _____. He/she did _____, which made me feel _____. Together, we did ____ and now my problem is solved because _____."  You can also try variations like: "I thought this process would be ____. I didn't expect it to be ____."
Testimonial Format & Placement
Your next consideration is the format. Getting a written testimonial is the fastest and easiest, so definitely start there. You may also want to ask if you can use your client's photo. Before asking, you may want to preview their social media accounts and see how comfortable they are with having their name and image online. If you see lots of accounts with lots of photos, it's a safe bet you can ask without making them uncomfortable. On the other hand, if you don't find any social accounts or they're limited to friends/followers only, think twice. You don't want to make them feel obligated or uncomfortable about the idea of their image being on your website.
One great way to up the ante is with video testimonials. Do you have a client who'd be willing to make a quick cell phone video of their testimonial? According to Wyzowl, 2/3 of consumers say they're more likely to buy something after watching a testimonial video showing how that product or service helped someone like them. As an example, here's a screenshot of a video testimonial on Better Agency's homepage: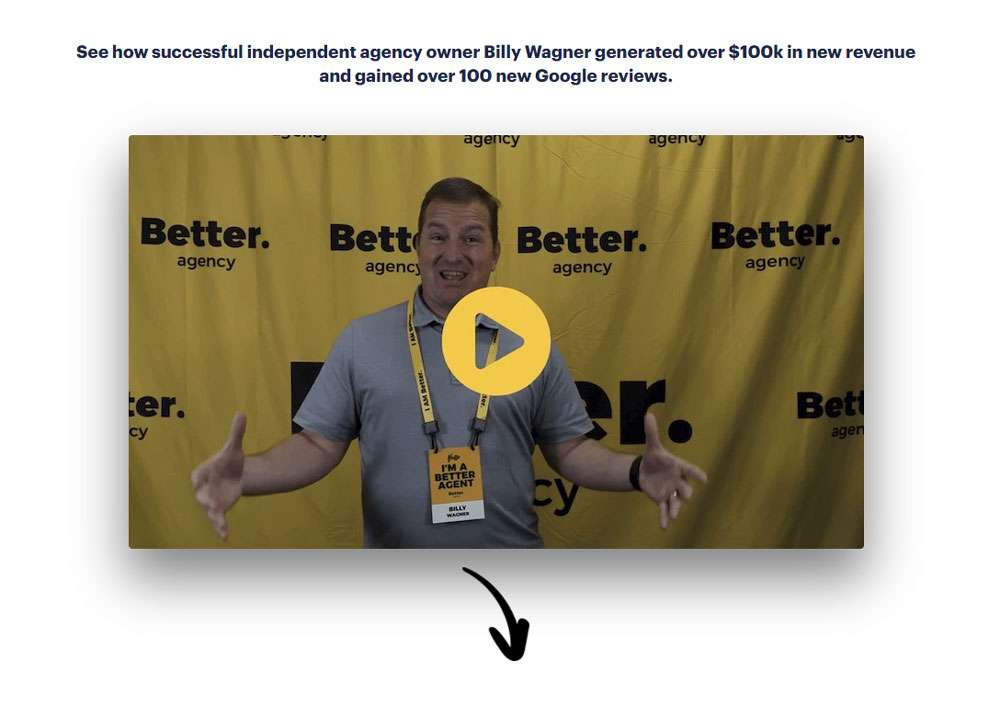 Don't have a consumer willing to go on video? You can still make a video, but you'll have to frame it differently. You – or someone on your staff – can read client testimonials in a video. In no way should you or your presenter pretend to be that client. Instead, read their testimonial and then build on it with a comment or memory about that client.
Once you have a handful of written and/or video testimonials, place them on the most visited pages of your site: your quoter, your about page, your home page. Wherever a prospect could take action, that's where you want to place your trust signals.
Trust Signal #2: Reviews
Reviews aren't the same as a testimonial. A testimonial is something you specifically ask for from one person – with the shared understanding that's it's going to be a positive recommendation.
Reviews are less formal, and they're gathered on sites like Yelp, Google, and Facebook. Because they're collected by a third party, consumers like to see them. Any agent can say they deliver great customer service. But when that compliment comes from someone your prospect knows, it has a lot more impact. That's the power of reviews as social proof. As an example, check out Haven Life's home page - with a client review in the "above the fold" section of the homepage: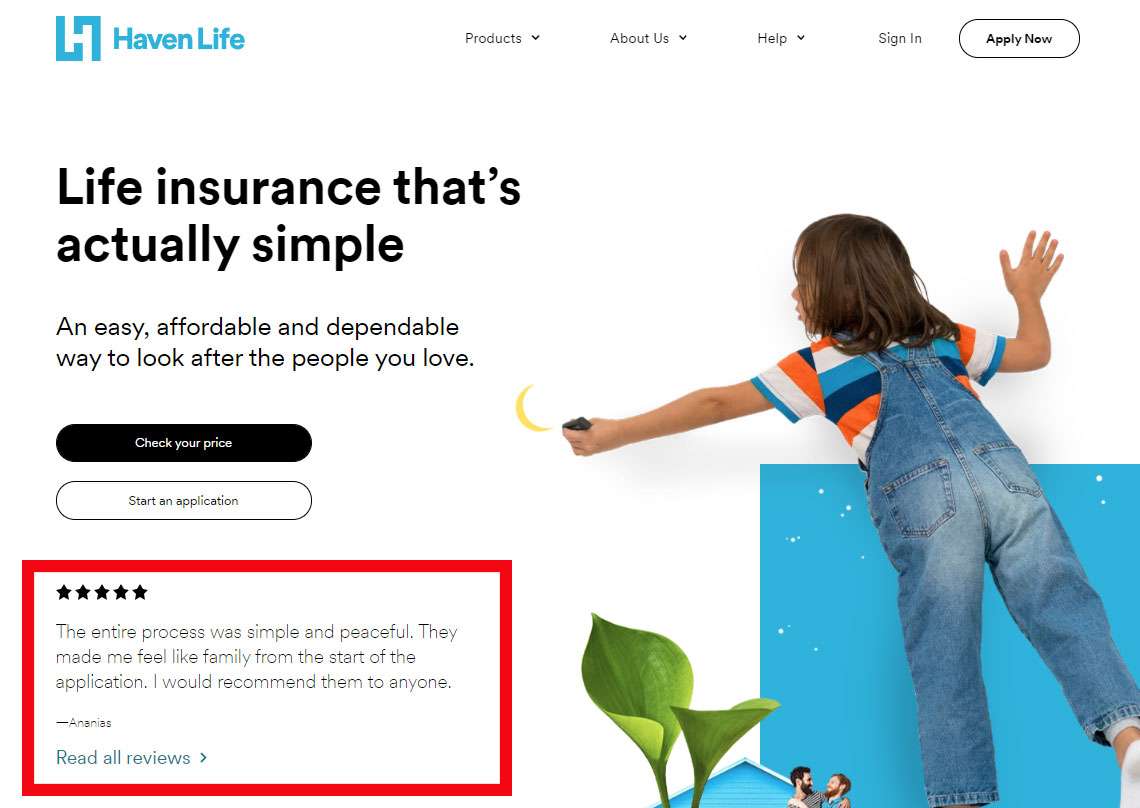 So how do you get those reviews…and how do you get them on your site?
Getting & Using Reviews
We've talked before about including a review request in your onboarding materials. You can also include one as part of your annual review process. Make it an automatic part of your process and you can "set it and forget it." Once the reviews start coming in, set aside time every week or so and look at them. Is there helpful feedback there? Are there compliments for team members you can distribute?
In terms of getting those reviews or star ratings on your website, there are plenty of tools to help you do that. You can use a Google reviews widget, third-party software like TrustPilot, or you can simply take a screenshot of the review and add it to your site.
As we mentioned with the testimonials, reviews should go anywhere you want your prospect to take action. For example, try using them beneath a call to action on a quote page, or in a "Why Work With Me?" section on your about page.
Trust Signal #3: Memberships, Certifications & Awards
Are you a member of your community's chamber of commerce? Are you a member of MDRT, NAIFA, or NAILBA? What professional degrees or certifications do you have? Have you won any awards as a producer?
You want to make sure your prospects see these. They're proof that you're here to stay – that you participate in our industry and/or your community. For example, showing how and where you participate can help turn an otherwise anonymous quoter into a tool provided by someone who's trustworthy.
How and where you put these on your site will depend on what you have to show. If you have mostly logos, using them in a footer is a great idea. If you have awards to talk about, that deserves more space than a logo in a footer. Consider putting these on your about page and/or your homepage. If the award or commendation plays into a specific type of client work you do (i.e., business succession planning), make sure it's front and center on pages focused on those topics and keywords.
Trust Signal #4: Logos of Partners & Clients
We've talked before about the benefits of seeking out partners – other financial and legal professionals who provide services your clients might also be interested in. If you've done this, ask those partners if you can use their names, images, and/or logos on your website. As an example, here's what it looks like on the Insureio website: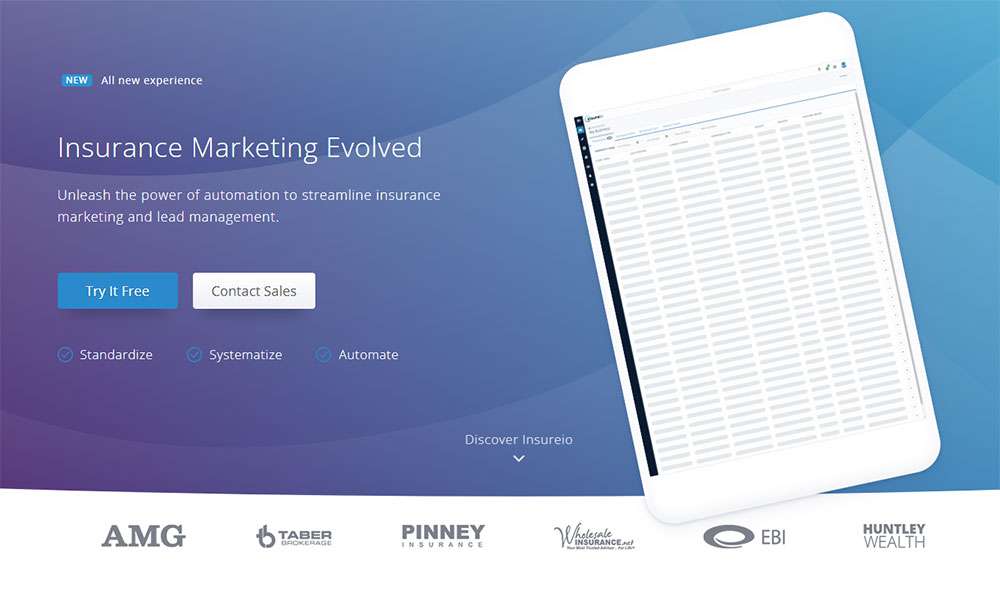 Do you work with business-owning clients? If you helped them protect that business, ask if you can include their logo on your website. You can collect these and display them on your homepage, on a relevant page that talks about how you help business owners, or both. This is similar to the "As seen on" sections you've seen on many websites. But since it relates more directly to your clients – who you help – it's even more relevant. Use the word "trust" in the title for this section of your site to drive the point home ("Trusted by").
Trust Signal #5: Media Coverage
When a publication or news outlet says something good about you, that's a powerful marketing tool. If a journalist features a quote from you in an informational article, you can use that, too. Both of these can help prove to a prospect that you're well known and respected in the industry – a great trust signal.
Most people add these to a homepage – usually in an "as seen on" section with logos and links. Here's what ours looks like:

You can also include an "As seen on" or "In the press" page on your website – that's what we do. Make sure you provide a link back to the article so clients can check up on you if they want. You can see ours here.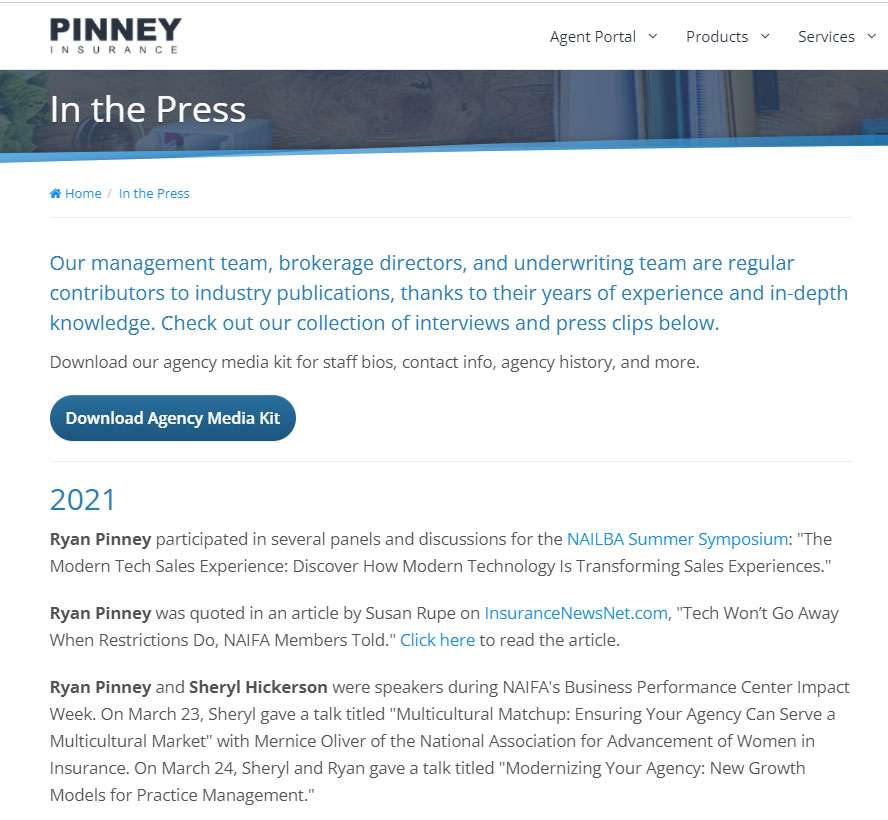 If you're featured in a local TV spot, ask if they can provide you with a digital copy (or upload the clip to their YouTube channel so you can share it). If you're a guest on a well-known podcast, embed the audio from the podcast on your website. Having the actual media there for your prospect to see provides yet another trust signal. It tells them that what you have to say is valuable.
In any type of coverage, if you get a killer quote praising you, use it the way you would a testimonial. Ask the person if you can use their quote, their name, and possibly their image on your website. Over time, all these efforts will add up and prospects will see they can trust you with their time, their money, and their family's insurance needs.
That's our look at 5 website trust signals that convert prospects to clients!
Which of these do you find most valuable? Which do you use on your website? Tell us in the comments!
---