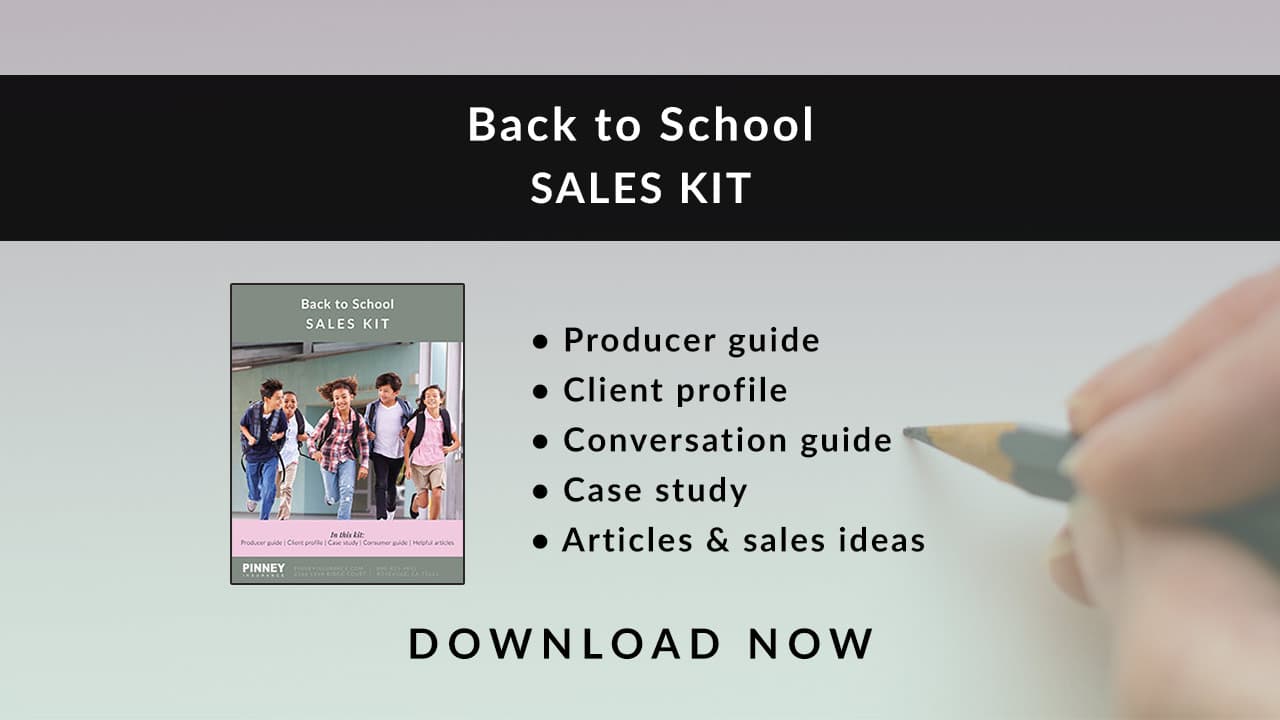 Our August 2020 sales kit is all about college planning. College isn't getting any cheaper, but you can help families plan ahead with permanent life insurance.
During the 2019-2020 academic year, the average yearly price of college tuition (including fees, room, and board) was $30,500. Do your clients have an extra $30,500 lying around...per year, per child? Not all parents can afford to help their kids with college, but with the right planning, they can help lighten the load. Cash value life insurance is one way to start building a pot of money parents can pull from later when their little genius becomes Harvard-bound.
What's in the Kit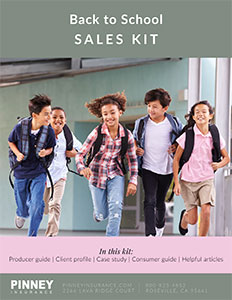 Our FREE 55-page kit includes:
8-page agent guide to using cash value life insurance for college funding
1-page client profile
12-page discussion guide
4-page client guide to using cash value life insurance for college funding
2-page case study
2-page client brochure on using whole life insurance to help pay for college
1-page interactive college funding calculator
6 pages of reference articles for consumers on using life insurance to pay for college
17-page guide to the average cost of college & tuition for in-state, out-of state, 2-year schools, 4-year schools, and more
Get the Kit
How to Use This Month's Sales Kit
You're probably already familiar with the benefits of permanent life insurance. But the references in this month's kit will help you provide solid numbers for your clients about what it's likely to cost to send a child to college. The last segment of the kit is 17 fact-filled pages with stats like this: the average yearly cost of a public 2-year institution is $3,730 for tuition and fees, and an additional $8,990 for room and board. Your clients need these numbers so they can start to plan: can their child live at home and go to a 2-year school, then transfer to a 4-year school to complete their degree? How does that change the amount they might be able to contribute?
Use the discussion guide and client profile in this month's kit as you meet with clients. Keep track of what they say when you ask about their financial goals, their current savings, and their retirement needs. The biggest risk here is parents who fail to save for retirement because they want to help their kids with college. That's why a versatile cash value policy makes sense for lots of families in this situation. If they don't already have death benefit protection, of course they need that. But if they also anticipate future expenses like the need for supplemental retirement income or rising healthcare costs, that cash value is ready to be deployed where they need it most. That's not the case with a traditional college saving vehicle (a 529 plan, for example). That money can't be re-routed if the family's needs change, or if their child's plans change between now and enrollment day.
Get the Kit
Insureio Subscribers: Use Our August Email Marketing Campaign
Are you an Insureio subscriber? If so, you have access to a pre-written marketing campaign for August. It includes five emails for your clients and prospects, pre-scheduled for delivery throughout the month.
These five emails focus on the big picture of life insurance as a way to help pay for college. They cover topics like life insurance vs. traditional education savings plans, how life insurance can help your child qualify for federal student aid, and how life insurance can help your child mitigate or avoid crushing student loan debt.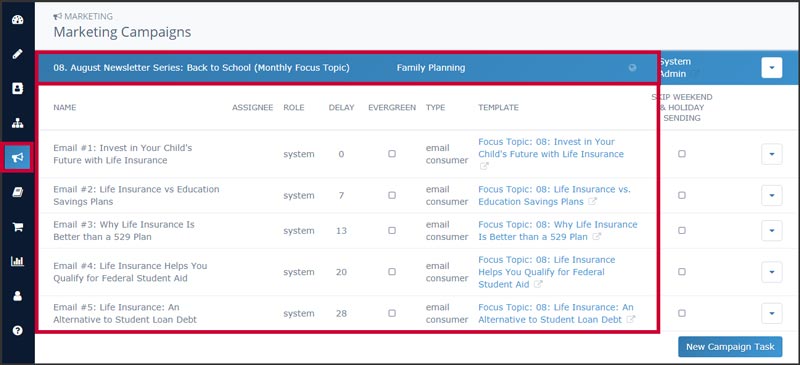 To preview the campaign:
From your left-hand nav menu in Insureio, hover over Marketing and then click Marketing Campaigns.
Scroll down and click August Newsletter Series: Back to School (Monthly Focus Topic). You'll see the list of five pre-scheduled emails. To see what a template looks like, click any of the blue template title links. The template will open up in a new browser tab.
Want to learn more about Insureio marketing campaigns and how to enroll your clients and prospects? Click here to visit the tutorial in the Insureio Academy.
Download Our August 2020 Sales Kit Now!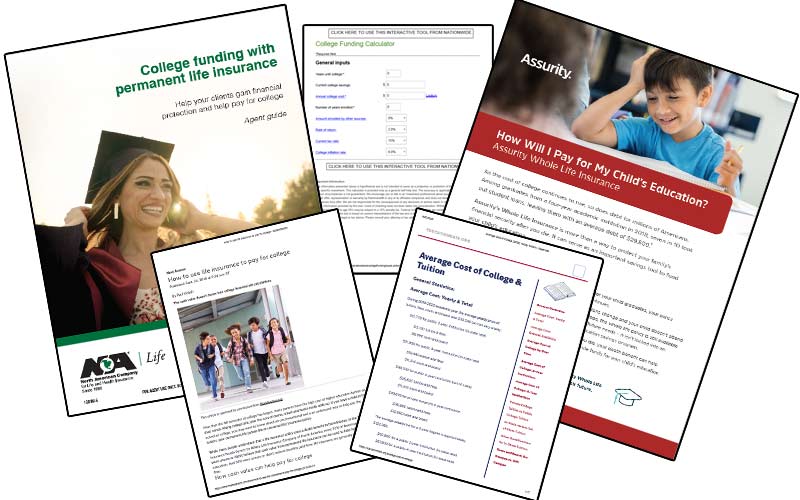 ---