When we ask life insurance agents what they want most, we get one answer — more leads. It's a simple equation, right? More leads will result in more sales. But there's another way to achieve that result without more leads. Using automated drip marketing, you can increase conversions among your existing leads by as much as 50%.
Automated email marketing is powerful because it helps you reach the people who are most likely to convert. They've expressed interest in life insurance, but they may not be ready to buy right now. Here to explain the statistics behind this approach is our own Ryan Pinney:
Why Automation?
First off, let's define what we're talking about. An automated drip marketing sequence is a series of emails that goes out to a new lead or prospect on a pre-determined schedule. The clock starts ticking when they opt in, usually by getting a quote or signing up for your newsletter.
You've probably gotten dozens of these emails yourself. Have you ever signed up for a rewards program? Installed a new app? Or used a free trial to test new software? If so, the vendor probably emailed you a few times within the first week to remind you to fill out a profile, demonstrate helpful features, or answer frequently asked questions. That's drip marketing in action.
Does it work? You bet.

Among those who use marketing automation, here's the impact it can have:
Sales revenue increased an average of 34%. (Source: Pardot)
80% of users increased their number of leads. 77% increased their number of conversions. (Source: VB Insight via emailmonday)
Triggered automated emails average 76.7% higher open rates and 151.9% higher click-through rates than standard blast marketing messages. (Source: Epsilon)
You may be wondering why the automated part is key. Can't you just call or email a prospect after they get a quote? Wouldn't that have the same effect? It might, but let's consider this nugget from Experian. They studied the effect of automated welcome emails that arrive immediately after a consumer signs up.
The open rate of these emails was a whopping 88.3%, as opposed to the open rate for a standard mailing list blast, which is 14.6%.
While you're not sending a welcome email per se, the point is to reach that lead as soon as possible once they request a quote, download your eBook, or sign up for your mailing list. Automation makes this possible. Unless you're a robot who never leaves the computer, there's simply no way to manage this process manually and achieve the immediacy needed for success.
How to Plan a Campaign
So now you know why automated email campaigns are important. But how do you actually pull this off? The good news is that once you write your email sequence and set it up via an email client, your work is mostly done.
Here are a few things to consider while you're in the planning stages:
Decide who you'll target. To make it easy, start with anyone who requested a quote from your website or signed up for your mailing list. Don't have a website or mailing list? You can always manually select a subset of your book of business. Remember, automated drip marketing works best when it's targeted. What niches do you see in your book of business? Small business owners? New parents? Be sure anyone you include in this distribution list would find the messages relevant to their personal situation. According to email marketing software provider Emma, relevant targeted emails produce 18 times more revenue than generic blast emails.




Tell it like it is. Write your email(s) as if you were talking to a prospect in your office. Don't use insurance jargon—just explain in simple language why you're reaching out to them. Your emails don't need to be long, either. Keep it simple and stick to a template – a greeting, a summary of what they'll learn/why they're getting this email, and the main idea you want to convey. Break up your text with bullet points, numbered lists, or images. You can also link to information on your website or informational videos on your YouTube channel.


Choose your software. You have plenty of automated marketing services to pick from. Some only handle email, such as MailChimp, AWeber, and Constant Contact. Some are full-fledged CRM systems, such as HubSpot, Eloqua, and Marketo. We use Insureio, a CRM designed specifically for life insurance agents. Insureio centralizes all our data, from quoting widgets to contacts, policies, and email marketing templates. With Insureio, we can connect our quoter to an automated email marketing campaign. Anyone who completes the quote path is automatically enrolled in a campaign.


Set up your campaign. Most, if not all, of the software options above provide templates to get you started. Paste in your text, save the new email(s), and use the software's scheduling feature to complete the setup. Your challenge is to spread the emails over time in a helpful but not intrusive manner. If your sequence has three emails, for example, do you want to send one per day for three days…or one every two days, completing that sequence in a week? It may help to use a chart like the one we made below. You can download a PDF with our sample and a blank version you can fill out digitally or print and take offline: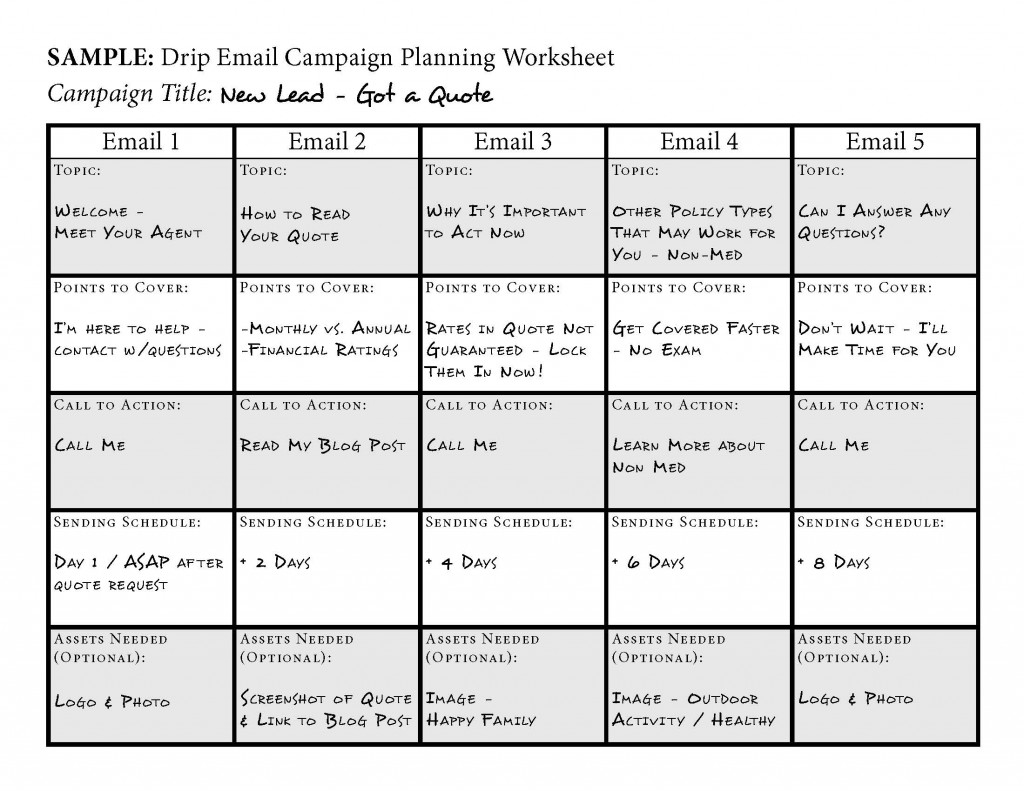 Download This Worksheet
Getting Creative with Drip Marketing
Many agents use a drip email sequence to nurture new leads, keeping themselves top of mind until that prospect is ready to buy. That's great—we should all be doing that. But that's not the only kind of drip campaign you can run.
Let's roll up our sleeves and brainstorm a bit! You could:
Use a drip campaign as a free mini-course. According to Vero, emails that are part of a course or series are opened 80% more than regular blast emails – with a 300% higher click-through rate. What do you wish your prospects knew about life insurance? What are the top 3 selling points for cash value life insurance? What other types of insurance should a client consider (disability, long-term care, etc.)? Answer these questions with a mini-course, set up as a drip email marketing campaign. If you're not sure where to start, keep a list of the questions your clients and prospects ask most frequently.




Create a drip campaign for term life clients that explains the benefits of an annuity, whole life insurance, or other financial product that can help supplement their retirement income. Term life is affordable, which is why it's a good fit for many of your clients. In the meantime, however, it's not helping them secure their retirement. Once a prospect buys a term policy, you know they're interested in protecting their family's finances. What other steps might they need to take at this point? Use a drip marketing campaign to reach them while they're motivated.


Use a drip campaign to make sure prospects and clients get your best content. You probably have great content available to share with your prospects. It may be a blog post, YouTube video, free guide, eBook, cheat sheet, or workbook. But if you've already shared that content you're your email list, how will your newest subscribers find it? Create a drip campaign especially for new prospects or newsletter subscribers that delivers this content straight to their inbox.
Drip Marketing Tips & Best Practices
This is a lot of information to take in! Before you start creating any campaigns yourself, we have a few tips and best practices to share. They'll save you time and help you better meet your clients' needs.

Don't overwhelm your recipients. Your goal is to help your prospect, and in doing so, close the sale. But how many times can you can email someone before they feel pressured or annoyed? There's no hard-and-fast rule because every prospect is different. Keep an eye on metrics like your open rate and unsubscribe rate. If you see these dip, you may be reaching out too often. Also, start watching the drip marketing emails you receive. How much is too much in your inbox? You probably have prospects who feel the same way.


Keep it simple. It's easy to get overwhelmed when you're looking at a sea of email templates—images, columns, links, icons…help! When in doubt, simplicity works best. Start with a single logo or header image, followed by a headline and your text. Keep in mind that some people won't see images at all, depending on their privacy settings. For help on the content side, check out the minimalist examples in Neil Patel's CrazyEgg post.


Use list segments. All CRM systems and email marketing software will give you some ability to segment your list. For example, we do this in Insureio by tagging contacts and prospects with things like "diabetic," "high net worth," or "long-term care." Email-only services like AWeber and MailChimp let you create multiple lists, or subsets of your main list. Segmenting your list allows you to create multiple drip campaigns that deliver the right message to the right prospects – without need to bombard your whole list.


Don't be afraid to test. What's the best day to send an email? What time of day generates the highest number of opens or clicks? There's no hard-and-fast answer, but you can find an answer that works for your list through testing. Set aside time to track metrics like send time, send day, and open rates. You'll start to see patterns over time that will help you schedule future sends.
We've presented a lot of information, but the simple take-away is this: automated email marketing works. Use it to engage new leads when they're motivated to learn about life insurance. Sit down and write 3-5 brief emails, talking to your new lead as if they were sitting right in front of you. Then plug those emails into a CRM or email marketing software. It really can be that easy!
Ready to take the next step in creating your own drip marketing campaign?
See how we put campaigns together in our CRM, Insureio. If you like what you see, Insureio offers a free 30-day trial, so you can take drip marketing for a test drive!
Show Me How to Get Started!
Share these Stats
Drip marketing means better conversions and more sales for life insurance agents. Share our infographic on your favorite social network to help spread the news:
Facebook LinkedIn Twitter
Google+ Pinterest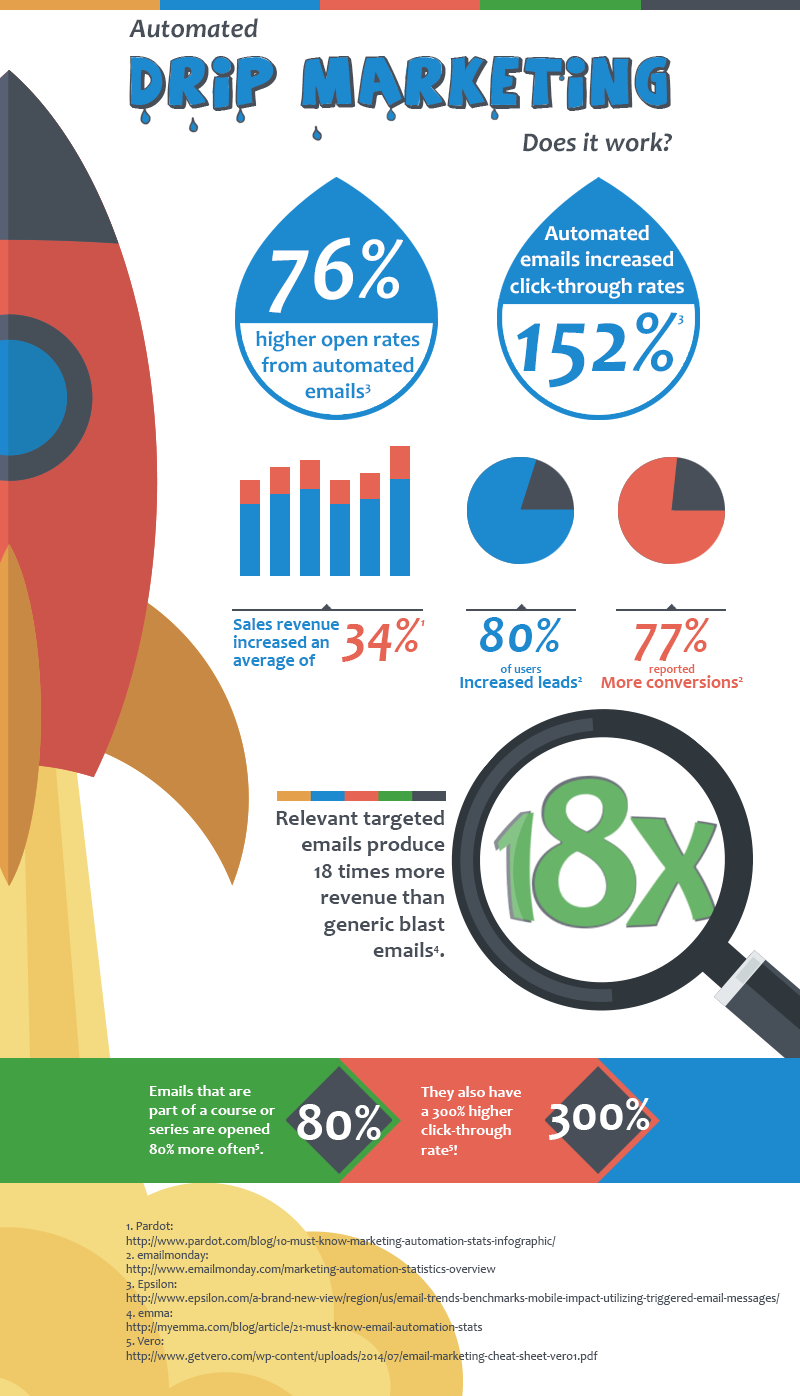 ---