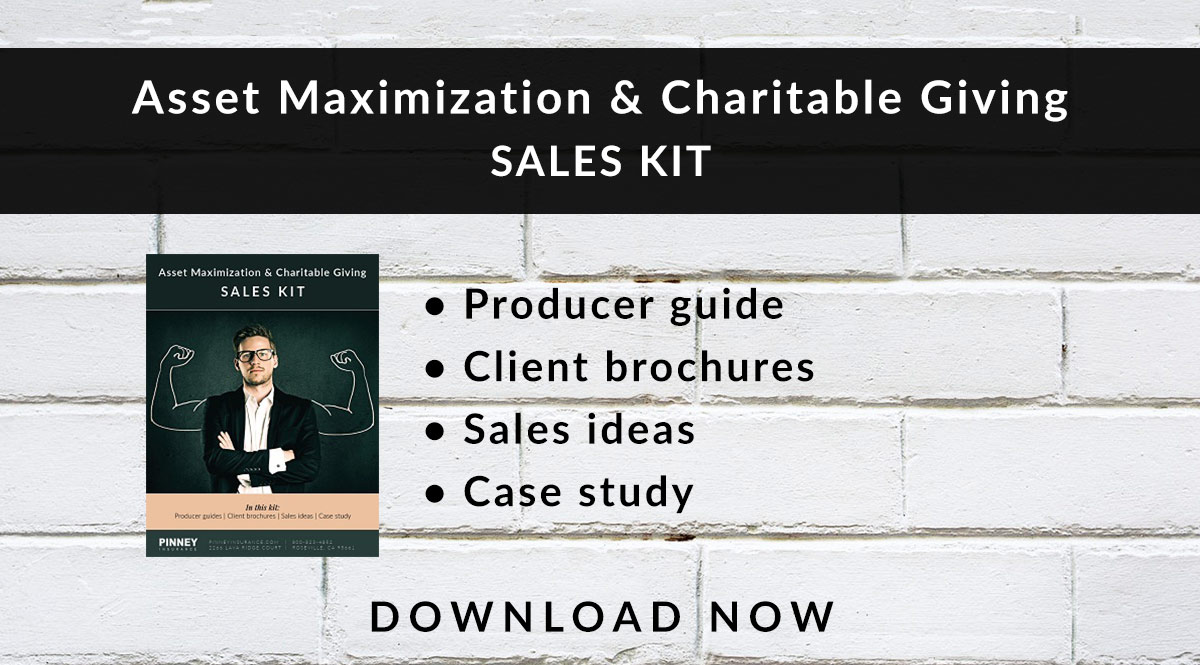 This month, we're talking about two related topics: asset maximization and charitable giving. The holiday season is a perfect time to bring up these issues, relevant to the giving spirit of the season and the end of the calendar year.
Our December 2018 sales kit will help you start a conversation about ways to minimize your clients' tax obligations while maximizing their income. This strategy allows them to do things like leave a legacy for family members, a charity, or an alma mater. Life insurance makes it all possible.
For example, if your client doesn't actually need their Social Security check, you can help them use that money to buy a life insurance policy. Those proceeds, in most cases, will be tax-free. That's an amazing gift to give a child, grandchild, or favorite charity. There's also a way to take a charitable contribution one step further, with a trust that provides income during your client's lifetime.
---
What's in the Kit
In this month's kit, we have 39 pages of resources to give you ideas and help you bring them up in your next client meeting. From producer guides to consumer guides, sales ideas, and a case study, these resources will help you get the ball rolling.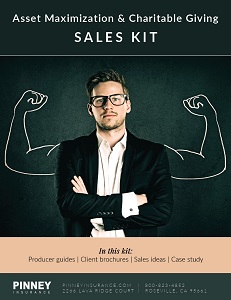 Our FREE 57-page kit includes:
3-page annuity max case study
7-page pension max sales idea
3-page pension max client guide
4-page pension max client booklet
20-page Social Security maximization guide
Get the Kit
How to Use This Month's Sales Kit
Because these concepts are more advanced than, say, term life insurance, don't feel like you need to go in-depth when you first introduce the concept to a client. Give them plenty of time to absorb the main idea and ask questions. You may want to present the information, then break up that same information into a 3-email nurture sequence. Deliver that sequence over the weeks following your appointment, or the initial discussion of the concept. Get asked a question you can't answer? Feel free to turn to us for help & answers if you need them.
Insureio Subscribers: Use Our Asset Max Email Campaign
All Insureio subscribers have access to December's pre-written marketing campaign. It includes four emails scheduled for delivery throughout the month. The first three emails offer a quick introduction to basic concepts: asset maximization, IRA maximization, and year-end gifting. The final email in the sequence is a "Happy Holidays" greeting. In the first three emails, the call-to-action button takes the client to your corresponding InsuranceDivision page, with more information on the topic.

To preview the campaign:
Click Marketing and then Marketing Campaigns from your left-hand navigation menu in Insureio.
Scroll down and click December Newsletter Series: Maximizing Assets / Year-End Gifting (Monthly Focus Topic). You'll see the list of four pre-scheduled emails. Click any title to preview the template in a new browser tab.
Want to learn more about Insureio marketing campaigns, including how to enroll your clients and prospects? Click here for a complete tutorial in the Insureio Academy.
Download Our December 2018 Sales Kit Now!
---