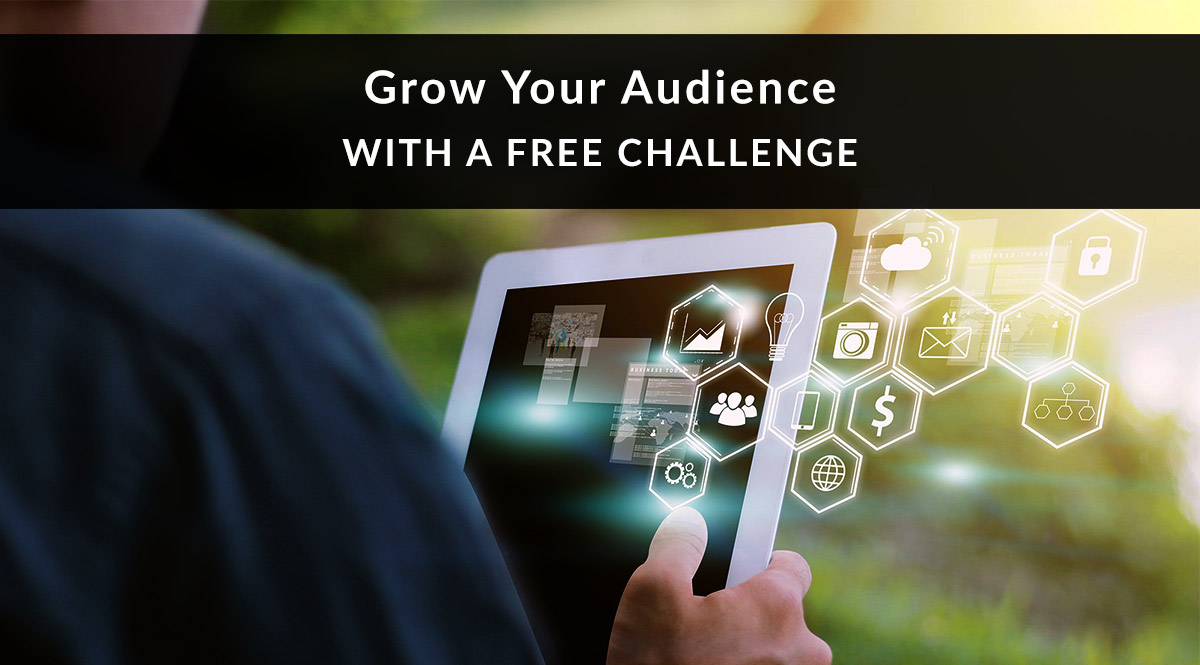 One of the hottest strategies in list building right now is to grow your audience with a free challenge. The challenge model helps your prospects solve a problem and positions you as an expert in the field.
---
No time to read? Watch the quick video recap below:
---
A "challenge" is similar to a drip email sequence. It breaks a task down into steps, each with instructions and encouragement, to be completed over a set time period of time (3-10 days). The consumer benefits because they get your expertise and help in solving that problem. It benefits you because you get a chance to grow your audience and pitch them at the end of the challenge. Everyone who completed your challenge is now a qualified lead.
Entrepreneurs from Pat Flynn to Jadah Sellner to Jeff Rose have used the challenge model to grow their audience and their reputations as influencers. But how can we as life insurance agents use this format? By repurposing material you probably already use with your clients in the course of your relationship. You can challenge prospects to get their finances in order, review their insurance needs, or start to plan for retirement.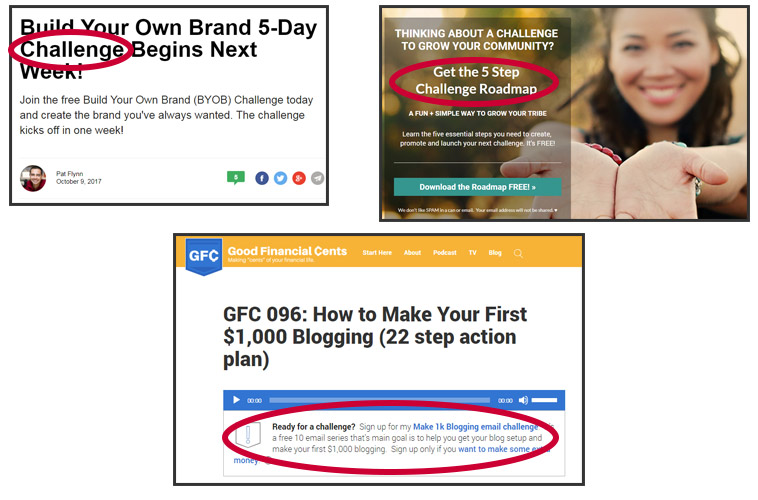 Step 1: Brainstorm
If a client came to you today and asked how to get their financial life in order, what advice would you give them? You probably already have information, checklists, calculators, and recommendations. Brainstorm a list of your best financial recommendations and resources. Include conversation points you'd have with a client during their annual review.
Keep in mind that the resources and checklists don't have to be yours. Life Happens has fantastic consumer resources like this life insurance needs calculator, for example.
Also keep in mind that this challenge will need to fit into a convenient series of steps. Seven days is a common challenge length, but you can do a short 3-day challenge, a 5-day challenge, or an intensive 30-day challenge.
Step 2: Pair a Step with a Resource
Next, arrange your recommendations into a group of steps that will make up your challenge. Ideally, you want each recommendation to have a supporting resource, such as a calculator, worksheet, or checklist.
For example, if your first recommendation is for a prospect to estimate their net worth, what worksheets or calculators can you offer to help with this?
Next, you might recommend they calculate ongoing and future expenses. Your third recommendation might be to gather information about current insurance policies, including homeowner's/renter's insurance, car insurance, health insurance, etc. Your fourth recommendation might be to get quotes for the types of insurance they don't have (life insurance, disability, long-term care, etc.).
Step 3: Brand Your Challenge
Now that you have your challenge mapped out, step back and look at what you've created. What problem will they have solved if they complete your challenge? What can they expect to have learned? How will they feel? This is the energy and emotion you want to capture in your challenge title.
When you name your challenge, you want to include the length, plus a phrase that indicates your main idea. You can also include a motif or theme to help make your challenge interesting. You may have seen "bootcamp" used as a theme for a fitness challenge, for example. A racing/car-themed "tune-up" or "roadmap" are other themes we've seen.
Here are a few examples:
The 10-Day Financial Freedom Challenge
The 3-Day Insurance Inspiration Challenge
The 5-Day Financial Fitness Bootcamp
The 7-Day Financial Rescue Roadmap
Next, create a one-sentence tagline for your challenge that tells a consumer exactly what to expect. It's as easy as completing one of these formulas:
At the end of this ( )-day challenge, you'll have a plan for (  ).
Build a path to a successful financial future in ( ) days by (  ).
Step 3: Create Your Challenge Materials
Once you have your title, now it's time to decide what you'll need to post or create. Do you want to run your challenge via email? Social media? Both? Here's a quick rundown of the pros, cons, and requirements for each.
Email
If your goal is to add prospects to your mailing list, this is the most obvious way to do it. You can run your challenge via email – each day of the challenge, your prospect gets an email with a step and a resource to help them complete that step.
If you choose email, you'll need to write up the text of each email in your challenge, and include a link or a PDF of the supporting resource. You may already have much of this material scattered between your email onboarding campaign, blog posts, previous newsletters, etc.
The biggest drawback of this method is that the communication is limited to you and each individual prospect. There's no place for all your challenge participants to gather and ask questions or encourage each other. That's where our next option comes in…
Social Media
If your goal is to be seen as an influencer in the industry, or just within your prospects' lives, social media is a great medium for you. If you run your challenge via social media, a prospect would only need to follow you to get the daily challenge instructions.
To run your challenge on social media, you'll need to write brief daily posts that explain what that day's challenge is. It's also a good idea to create sharable images to go along with each daily task. Canva and Pablo are free online tools designed just for fast, easy image creation. It's as simple as using the free stock photos and backgrounds provided, and typing your text on top of the image.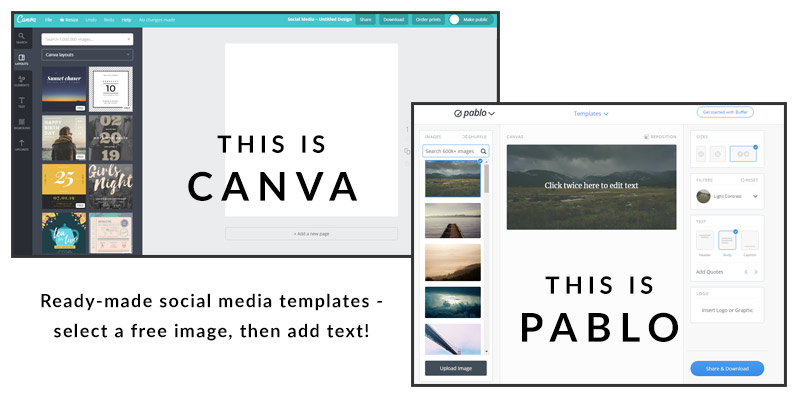 HINT: In the next step, you'll come up with a title for your challenge. You may want to wait until you have a title to create your social media images. Then you can include the title as a header or footer in each image.
The biggest drawback of this method is that you don't necessarily get to add that prospect to your mailing list. They're following you on social, true, but with the decline of organic reach on most networks, this isn't a guarantee they'll continue seeing your posts or following you in the future.
Combining email and social media may be the best way to overcome this challenge. Run your challenge by email, but also post about it on social media where participants can like, share, comment, retweet, etc.
Extra Credit
Some entrepreneurs add extra bells and whistles to their challenges. Don't feel obligated to do all this, especially during your first challenge. But if you run one and enjoy it, here's how to take your challenge content to the next level:
Add participants to a private Facebook group where you talk about the challenge and give extra advice.
Create quick videos with your thoughts on that day's challenge. Or tell the story of an anonymous client who came to you with a problem and explain how you solved it for them. Upload to YouTube, set them as private, and use as needed.
Share an extra post, email, or video encouraging prospects to keep going when they hit the halfway mark.
Step 5: Select Next Steps/Rewards
Now that you're almost done, step back and look at what your prospect will have achieved if they complete the challenge. Is this the reward in and of itself? Or do you want to go a step further and offer something to those who complete it?
Also, what are the next steps that you want them to take? Ideally, you'd want them to get a quote for life insurance, or talk to you about reviewing their current policy. At the end of the challenge, no matter how your contestants did, you want to present a call to action.
Here are some ideas for end-of-contest rewards and bonuses:
Free 15-minute consultation with you via phone, Skype, etc.
Admission into your private Facebook group to continue talking about and working on financial goals
A cheat sheet full of your best go-to financial resources – these might be books, blogs, podcasts, etc.
Giveaway with one lucky winner – free gift card, Kindle book, etc.
And here are some ideas for calls to action at the end of your challenge:
Book a financial consultation with me, free of charge
Watch my Facebook Live video and bring me all your insurance questions
Get my personal financial cheat sheet, with the reminders, tips, and tricks I use to get and keep my own finances in order
That's our look at how to grow your audience with a free challenge!
You may have noticed that we've also talked about how to use automated drip marketing sequences, how to turn that sequence into a free mini-course, and now, how to turn similar content into a challenge. We hope this gives you ideas for repurposing your own content. One prospect may delete all your emails, but devour the same content delivered in a free challenge. Similarly, another prospect may not want to do a challenge, but may like the idea of a free course. Repackaging your best content into multiple formats helps you reach more prospects and get more leads!
---