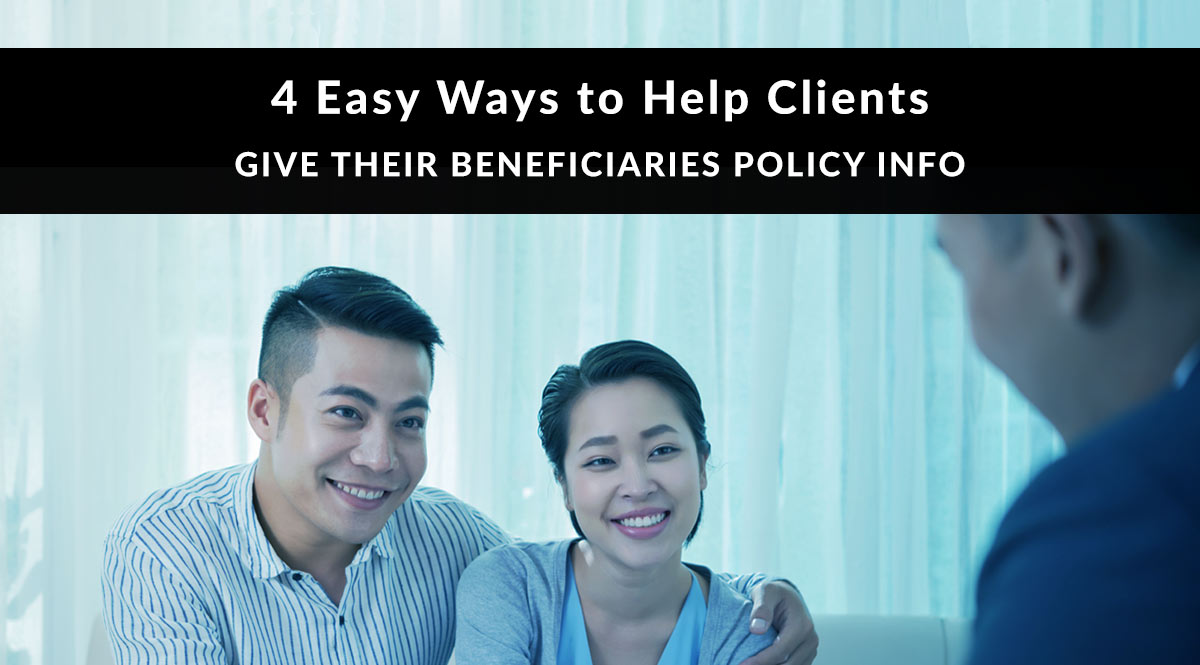 Your clients don't always tell their loved ones about their new life insurance policy.
It might be a simple matter of forgetfulness. Or maybe they recycled the paper statement that, years later, would have given their beneficiaries the information they needed. Or maybe they went paperless, but later abandoned that email account or got locked out of it.
---
No time to read? Watch our video overview:
---
Millions of dollars of benefits go unclaimed every year because of scenarios like this. How is a loved one supposed to make a claim, years or decades later, if they don't have any information about the policy?
As the agent who sold the policy, you can do something about this…and it's easier than you think. Plus, you get the added benefit of staying top-of-mind with personal branding, and encouraging referrals.
Here are a couple of ways you can make it easy and convenient for your client to tell their loved ones about the new policy.
1. Go Digital: Send Them an Email Template
Create an email template that your client can forward to their beneficiaries with important information about the policy. Fill in the blanks for them, so all they have to do is forward that email to their beneficiaries. It's that simple!
Sample subject line: Important information for you about my new life insurance policy
Sample email text: I just purchased a life insurance policy and included you as a beneficiary. If I pass away while this policy is active, you'll need to contact my agent, who can help you make a claim in order to get benefits. Please print this email and keep it a secure place for the future.
My Agent: _________________
Agent Phone: _________________
Agent Email: _________________
Carrier:  ____________________
Policy Number: _______________
2. Go Old School: Give Them Shareable Cards
Let's say you prefer doing business face-to-face. Or you know your client prefers hard copies of his or her paperwork. No problem! You can buy inexpensive business cards or have postcards printed with the same message as the email above. Fill out the details for your client, and ask them to give those cards to their beneficiaries.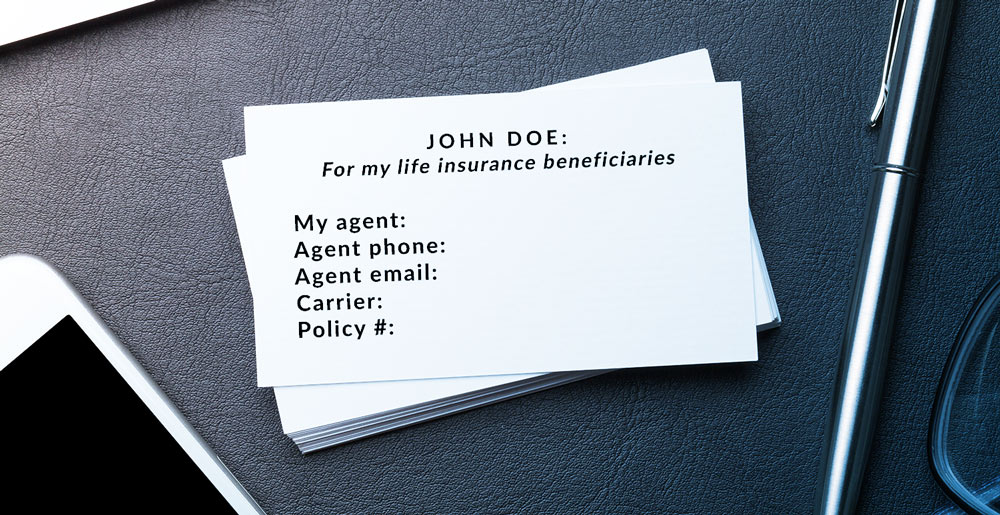 The easier you can make it for them, the more likely they are to do it.
The bonus for you? These cards will obviously include your contact info, but you can also add tasteful branding like a small photo, logo, and website URL. Remember, the card is about your client and their beneficiary, not about you. But let's say that, months or years from now, that beneficiary decides they also need a life insurance policy. Your card acts like a referral from your client. There's a good chance they'll remember the card and contact you for help.
3. Don't Forget: Review Beneficiaries Yearly
You're probably already doing annual reviews, but are you re-issuing notification cards or emails for your client if they update their beneficiaries?
Even if they don't update their beneficiaries, it won't hurt to ask if there's anyone else who needs to get that policy information. Here are two examples where asking might come in handy:
Let's say your client John Doe named his older sister, Jane Doe, as his beneficiary when he bought his policy, years ago. But what if Jane is now in a nursing home, suffering from dementia? Does Jane have any kids, relatives, or caretakers who also need to know where this information can be found? If Jane's the only one with the information, there's a chance it could get lost in the shuffle if John passes away.
Now, let's say your client named their child as a beneficiary when that child was a minor. If it's been a decade, that child may be grown-up and out on their own. They probably don't have their own copy of the policy information and they should definitely have it.
4. Long-Term Thinking: Reach out When a Carrier Makes Changes
When a carrier rebrands (or leaves the life insurance market entirely), they notify their policyholders. But does the policyholder notify their beneficiaries? And what if the carrier doesn't have current info for that policyholder?
You need to be the safety net that keeps your client and his or her beneficiaries informed.
When you see carrier headlines that affect your clients, log into your CRM and see how many of your clients are with that carrier. We use Insureio, which makes it easy to do this – just visit the Reporting section, select Carrier Name as the search criteria, and select the info about affected clients you need (name, email address, etc.). Presto – now we know who may need a little extra guidance during the transition.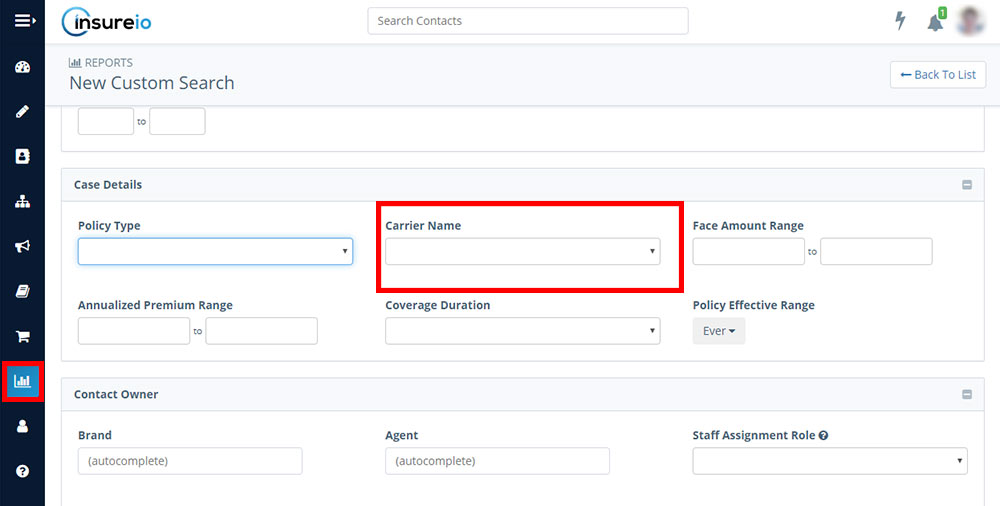 What to Do When a Client Contacts You without Enough Info
Now, let's look at the other side of that scenario. What happens when a beneficiary contacts you for help making a claim, but they have no information about the policy?
You can still help them, even if looking up the policyholder name doesn't give you any results in your CRM. How? Just use the NAIC's tool built for this purpose. Created in 2016, it's essentially a request form that the NAIC will use to solicit matching info from the databases of participating insurers. It's helped beneficiaries claim over $765 million!
You can send them the tool to use themselves, or invite them to your office and help them do it. They'll need to bring the relevant info needed to fill out the request, usually found on the death certificate. Read the FAQs to learn more about filling out the form and what happens next.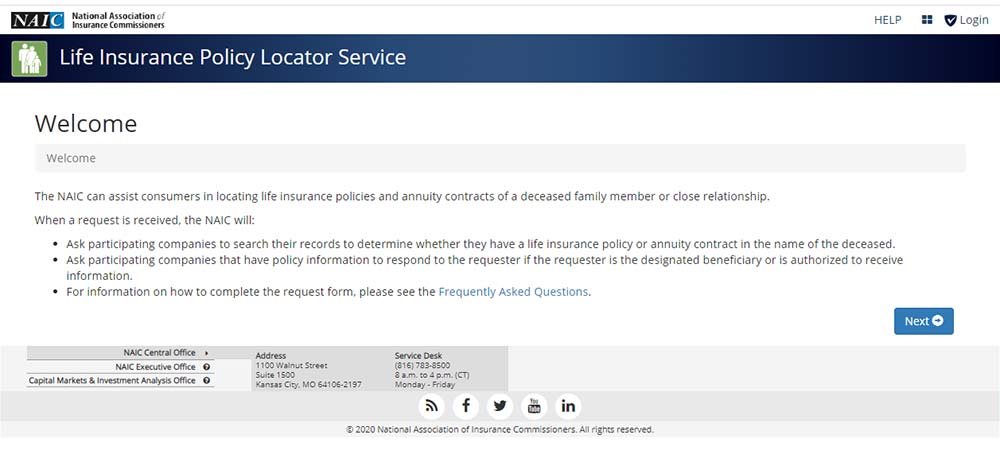 If there's a match, the company holding the policy will get back to them within 90 days. If there's no match, they won't hear anything back. Because of the 90-day search window, this isn't an instant fix for your client. However, it is a great way you can do something to help.
Those are our 4 easy ways to help clients give beneficiaries policy info!
Have you ever had to track down a policy for a beneficiary? What ideas do you have for nudging clients to make sure their beneficiaries have the info they need? Tell us in the comments!
---