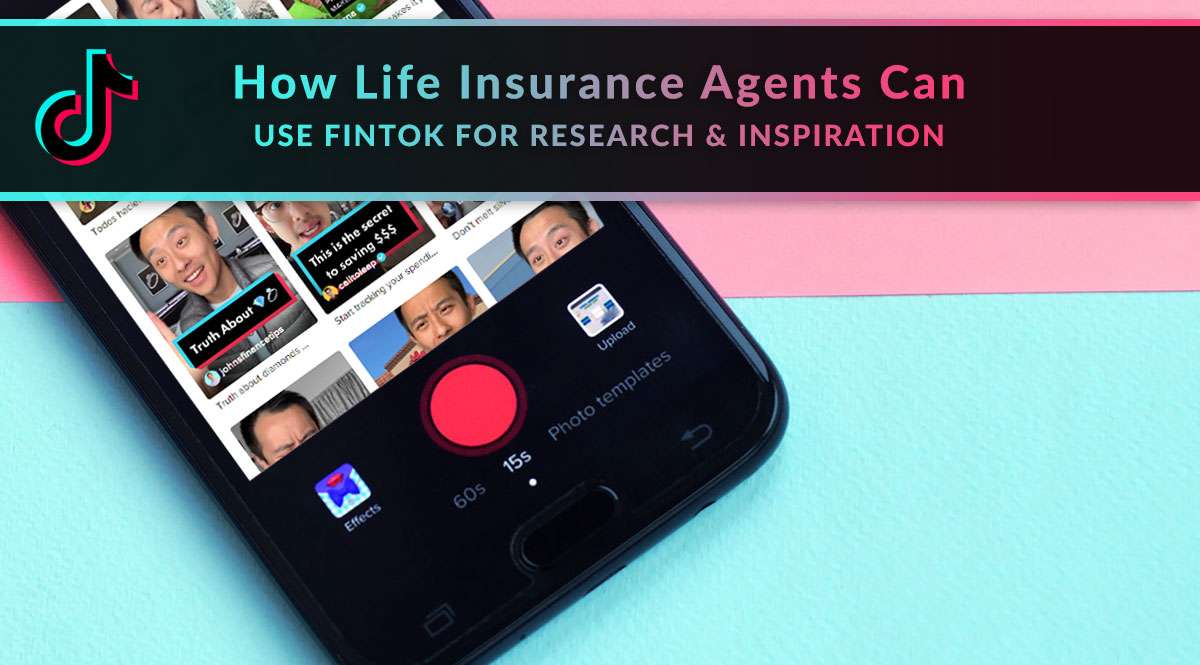 TikTok has become a marketing powerhouse, thanks to over 3 billion downloads...making it the most-downloaded app for three years in a row.
TikTok's content universe has expanded to encompass every part of life, including finance and investing. Niche subjects on the platform are referred to as Toks, as in "BookTok" or "FinTok." FinTok includes personal finance and investing advice, which is increasingly popular with millennials and Gen Z. That's why TikTok - and FinTok - are fantastic tools for research and inspiration.
---
No time to read? Watch our video overview:
---
Why Use FinTok for Research?
In short, because that's where your prospects are.
In 2021, FinTok views shot up 255%, with popular hashtags including #finance, #taxes, and #passiveincome. And according to TikTok, videos about inflation had a 1,900% viewership surge as people went to TikTok to find out what it was and how it would impact their daily lives. (Source: TikTok What's Next 2021-2022)
And according to a new survey from TIAA, one-third of people look for their financial advice from social media – including TikTok, Instagram, and Reddit.
If you want clients who are actively interested in growing and protecting their wealth – and who can grow with your business – this is where you need to be.
If you don't like the idea of making your own videos on the app, don't worry. We're not talking about using TikTok as a content producer in this post. Instead, we're talking about using it as an observer. What can you learn there that will help you with current clients and new prospects? A lot, as it turns out.
A Few TikTok Basics
If you've never watched TikTok videos before, this basic rundown will help you get settled and understand what you're looking at.
Access
TikTok is an app, but you can use the desktop interface to watch, like, and comment on videos. If you don't want to like or comment, you can watch on the desktop without even creating an account. Click or tap here to watch FinTok videos without the app or a login. All the screenshots we'll show you below come from the desktop interface.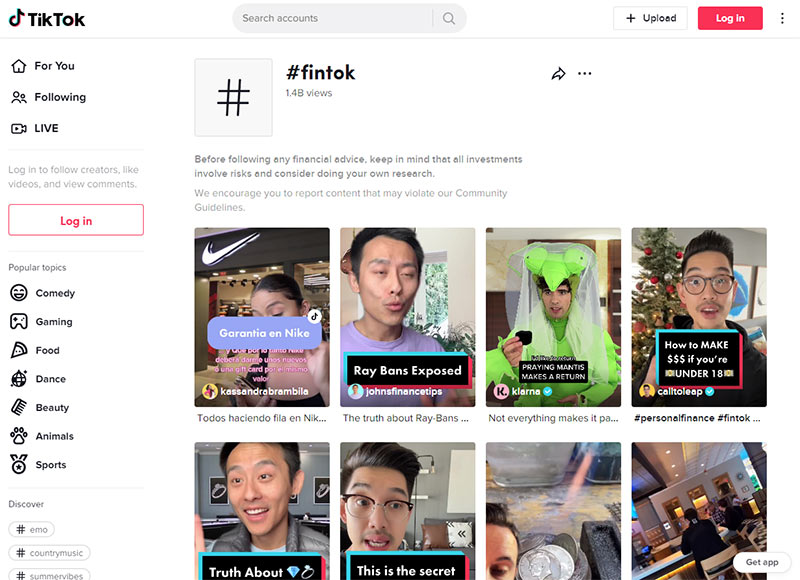 Video Length
TikTok videos are short. Videos used to be limited to 60 seconds, but the platform expanded its maximum length to 3 minutes and then 10 minutes (as of February 2022).
Format
All videos are vertical, often with text overlay, popular music soundtracks, or talking heads over a "green screen" background of a relevant or eye-catching image. Low to moderate production quality is the point.
Music
Music is incredibly important to TikTok content. Creators have access to a virtually unlimited supply of licensed music to apply to their videos. Pairing content with the right song is an art form on TikTok – and can impact the number of views you get. The song title and artist will display in the description. You'll hear everything from movie soundtrack music to 80s and 90s classics to hip-hop.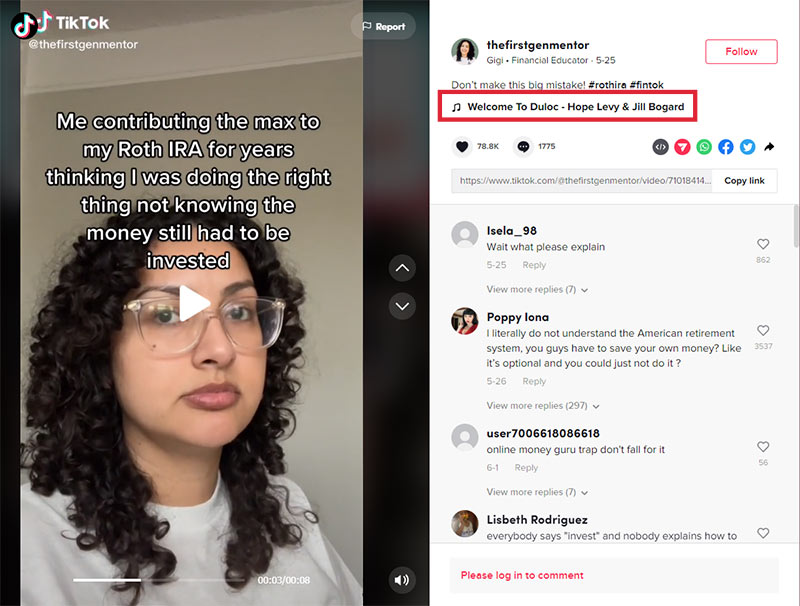 Duets
A "duet" is when you select someone else's video to appear alongside yours in a split-screen. You can react to the other video, copy what the other creator is doing, or anything else you can think of. The other video creator's account name will display in the description.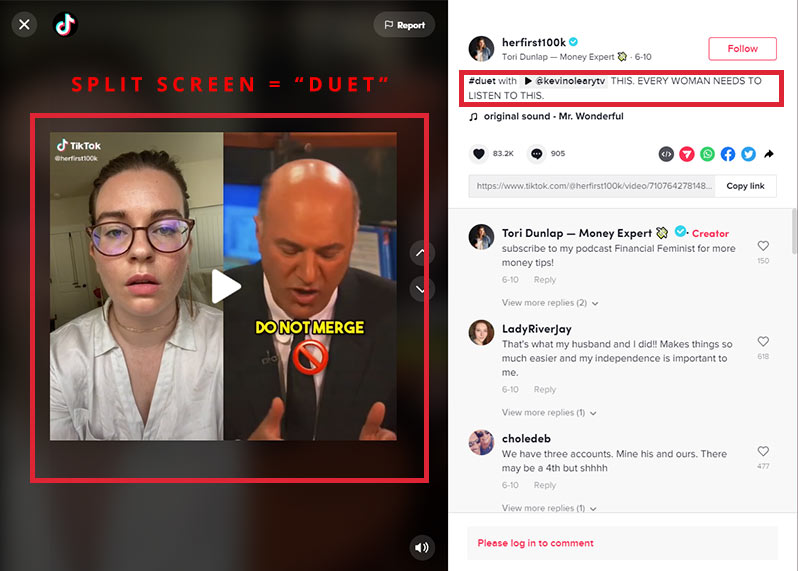 Stats
92% of users take action after watching a TikTok video
Most downloaded app of 2021, with 656 million downloads
Top app for consumer spending, with $2.5 billion spent via the app in 2021
1 billion active monthly users
In Q1 of 2021, 36% of TikTok users were 35-54 years old (up from 26% a year earlier)
In the U.S., 61% of TikTok users are women
Users spend more time on TikTik per session than any other app – 10.85 minutes, compared to 5.06 minutes for Pinterest or 2.95 minutes for Instagram
Tip #1: Search inside & outside TikTok
There are two methods for searching for topics or videos on TikTok.
Unfortunately, within the app – as well as on the desktop interface – you can only search for individual accounts (i.e., creators). You can try using keywords here anyway. Here's what we saw when we searched for "life insurance":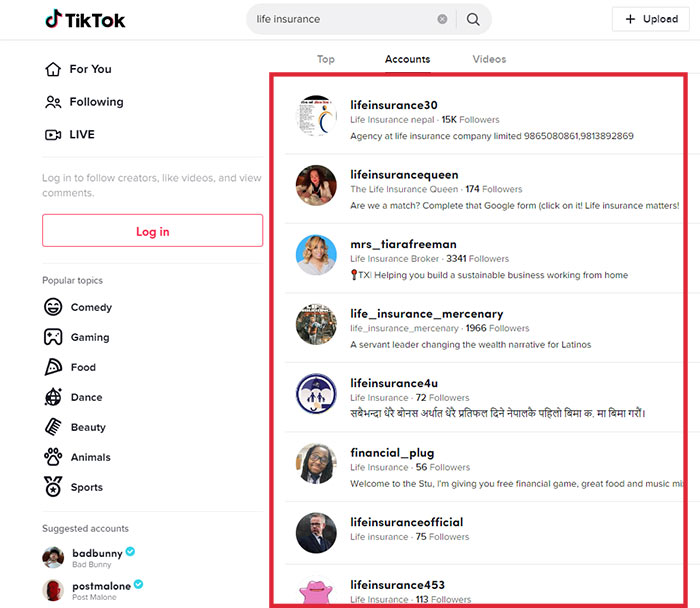 A better way to search for topics is through Google. Use a site-specific query limiting your search to TikTok (site:tiktok.com) and to videos on TikTok with your search topic in the video URL (inurl:/video/), followed by your search term. Here's what that looks like all together:
site:tiktok.com inurl:/video/ life insurance
That brought up more than 70,000 results! Now we're talkin'.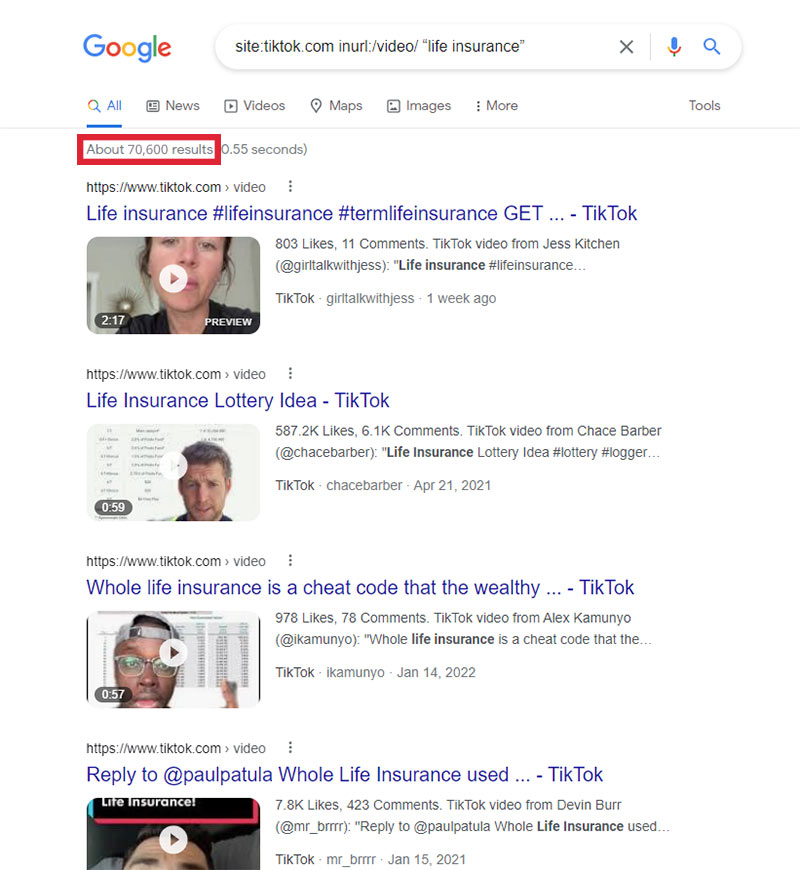 You can use these search results to find questions people are asking, the types of answers provided by current creators, and identify gaps in the market. You don't have to address these questions on TikTok unless you want to. Instead, take these questions and answer them anywhere: on email, on social media, or on your website. Plus, you can look for things to correct or expand on. You can even try out click-bait-style topics like "5 Things FinTok Creators Won't Tell You" or "What FinTok Gets Wrong about Life Insurance."
Tip #2: Explore hashtags
Sometimes hashtags are the best ways to find similar content. Go back to our starting point – the #FinTok home page. Start clicking on videos and noting the hashtags that appear. You can click on any of those hashtags to see more videos that also use that hashtag. Here are just a few examples we found:
By clicking on a video in our Google search, as described above, we found this video and its hashtags: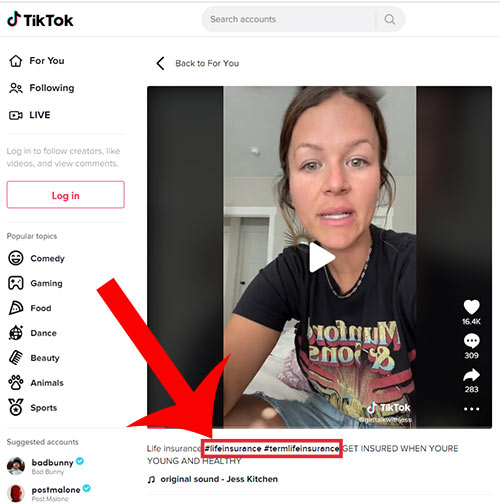 And when we clicked on #termlifeinsurance, we found a bunch more videos and creators to get ideas from: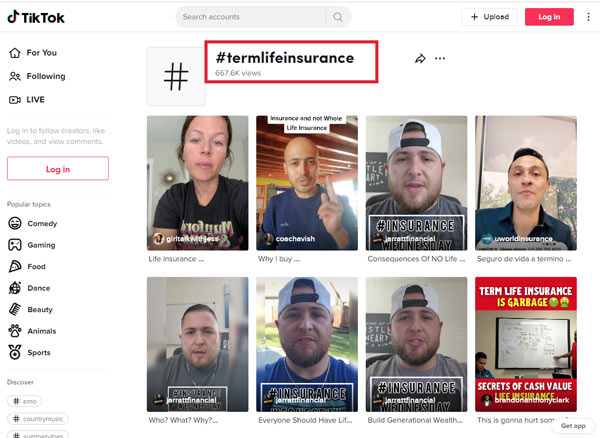 Tip #3: Turn pain points and tips into your own content
Okay, so now you know how to scour TikTok for life insurance-related content. But…what do you do with that information?
Look for trends and big ideas. Look to see which videos get the most views and how they lure in viewers. Here are just a few trends we noticed during our own research:
Easy-to-understand content. Creators using titles with phrases like "simple explanation of…" make their videos more attractive to consumers.
Relatable vocabulary and descriptions. One creator compared whole life insurance to a video game cheat code – something many younger consumers instantly understand.
How to do more with less money. There are A LOT of videos catering to an audience that wants to start investing and creating a nest egg. The problem? They don't have a lot of cash yet. Life insurance is a great example of something they can take care of now, while it's cheap, instead of waiting until later, when it's significantly more expensive.
Financial freedom for women. There's a big FinTok subculture dedicated to helping women achieve financial freedom. How can you add to this topic? What insurance moves can best help a woman prepare for retirement or to provide for her family?
As we mentioned above, these topics are universally applicable on social media, email, and on your website. Plus, if you learn the platform and feel inspired, there's nothing stopping you from moving forward with your own videos!
That's our quick look at how life insurance agents can use FinTok for research & inspiration!
Are you already on TikTok? Are you making your own videos or just watching and learning? What trends have you noticed there?
---