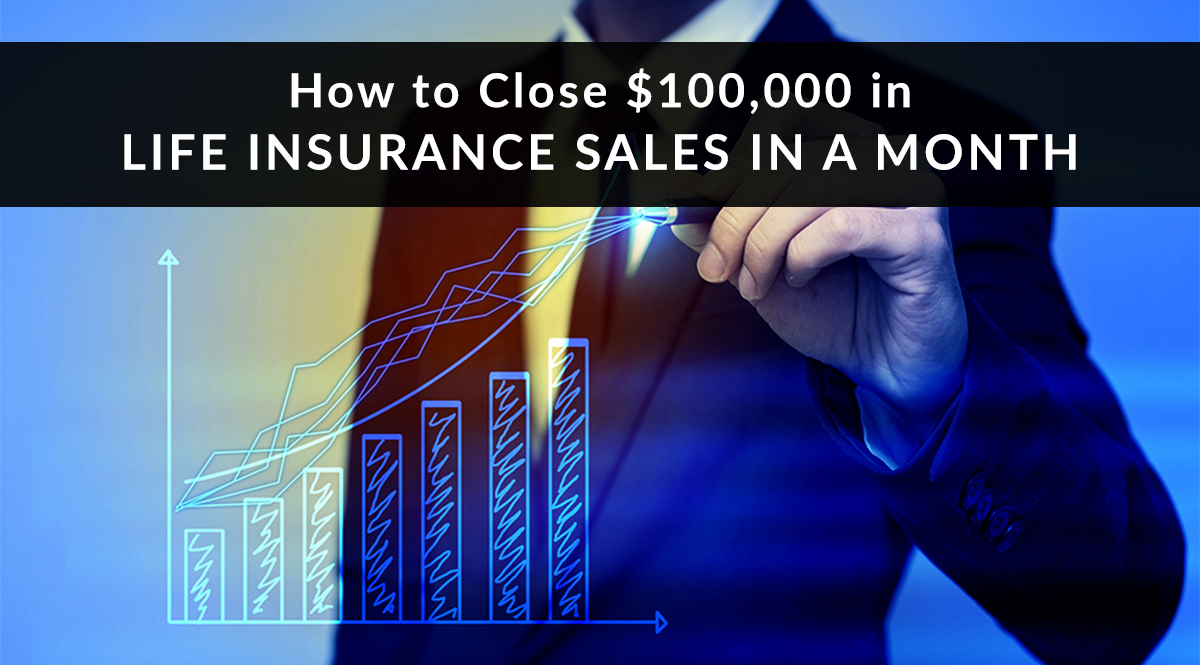 Can a pair of new agents close $100,000 in life insurance sales in a single month? They can if they're Amanda Burnett and Seth Gray. Here's how our dream team, also known as Goose and Maverick, set their sights on a goal no rookies on the direct sales team had ever achieved - the "Danger Zone."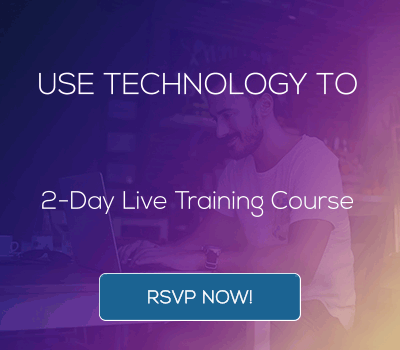 Amanda Burnett - "Maverick"
Background: Prior sales experience, including a summer job as a canvasser
Insurance experience: Sold life insurance and LTC insurance after college

Seth Gray - "Goose"
Background: Prior sales experience, including 5 years with a major bank
Insurance experience: Transitioned to life insurance from LTC
---
Tools
Insureio
Application fulfillment partners - Pinney Insurance's A-Team

Insureio is an insurance-specific CRM offering lead, policy, and contact management. For busy agents who need to maximize their time, Insureio offers time-saving features like click-to-call (a big office favorite here) and a dashboard display highlighting daily tasks and opportunities.

"It's an easy system to use. I started out in my career using SalesForce. Insureio is similar to that, but even better! It's laid out nicely, and it's easy to keep track of clients to get in touch with."

"I work out of Opportunities 90% of the time – the hot leads are here."
For example, here's where Amanda finds new leads on her dashboard:

---
Lead Sources
95% hot leads purchased from a lead distributor
5% cold leads acquired from a loyalty program
---
Procedure
Contact the Client
Check for purchased leads that have automatically posted to their life insurance CRM, Insureio. Agency managers can distribute organic and purchased leads among agents using Insureio's lead distribution feature. New leads will post to the selected agent with an assigned brand and status, all pre-programmed by the agency manager based on the lead source. For agents, this makes everything easy. They just need to log in, work the leads that have posted, and update a client's status accordingly.



Call new leads once they hit the system. In Insureio, enabling click-to-call lets you do this from the dashboard itself.
Perform a Needs Analysis
Use the scripted questions to take the client through the quote path. Amanda & Seth add their own spin to the script posted in Insureio to give the process a more individualized feel. The goal of this process is to collect enough client information to give them a quote, select a carrier, and submit the application for fulfillment.

"Some clients aren't educated about life insurance at all, but these are the easiest to help. We have the tools to help them figure out how much coverage they need."


In Seth and Amanda's experience, a few clients come in with too high an estimate for the amount they need, but most come in too low. For example, a person making $150,000 per year might ask for $200,000 of coverage. Seth and Amanda jump-start the needs analysis by pointing out that what the client is applying for is barely more than one year of his or her salary. They'll also ask questions like:



Is your spouse planning to work?
Do you have kids who also need support?
Are you planning to help put those kids through college?


In some cases, the cost of college alone for multiple children could be $200,000. "No one thinks about college or the kids," said Seth. That's why it's crucial that you, the agent, ask these questions when you're quoting a client.
Submit the App
Submit apps to the Pinney Insurance A-team for completion, submission to carrier, and follow-up. Amanda and Seth need time to sell, so they don't spend time on paperwork and follow-up. Once the sale is made, they gather 25 points of data from the client, including the beneficiary and the client's Social Security number. This information allows the A-Team to fill out the rest of the appropriate full carrier application. Scheduling the medical exam, getting the client's e-signature, and submitting that finished application to the carrier is all handled by the Pinney Insurance A-team. When you start a new quote for a client, just select the application submission option you want to use. In the "Application" process, you complete the quote and gather the client's info, for 100% of your normal commission. In the "Referral" process, the Pinney team completes the quote and makes the sale, for 50% of your normal commission. With either option, when you finish the quote path and click "Submit," the application details will be routed straight to the A-team for processing. You're on to the next sale – and your client's application is completed and submitted to the carrier by a dedicated team of application specialists.



ProTip: Want to see how a case is progressing? Click the quick launch button on your dashboard to view client details, case status, and more - without ever leaving your dashboard.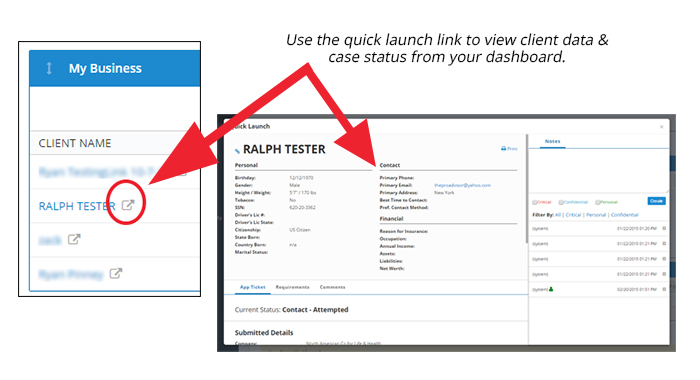 ---
Common Objections
We've all heard them – and we all have to develop strategies for overcoming a prospect's worries about money, time, or getting the seal of approval from an outside source. Here are Seth and Amanda's tips on overcoming their two most common objections.
Objection #1
The Client: "I need to speak to my spouse, a family member, or my financial advisor first."
The Response: "That's okay. This process usually takes about 4-6 weeks. Let's just get the ball rolling in the meantime. We can get your application into the system and tweak the amount of coverage or other parameters when it's in underwriting. There's absolutely no risk to get started now. That way, you won't be two weeks behind in starting the process while you talk to your family or financial advisor."

"Once they're scheduled for an exam, they're invested in the process. People rarely back out of the process at that point."
Objection #2
The Client: "I can't afford that. It's too much money."
The Response: "I understand. Is there a particular amount you were looking to spend? Let's try adjusting the amount of coverage to find something that fits your budget."

"It's easy to help clients get over this objection. Usually, they come in wanting to spend a particular dollar amount per month. Once we know what that is, we let them know we can tailor the coverage to meet their budget."

ProTip: Insureio has needs analysis tools built into the quote path that let you quickly and easily estimate how much coverage your client needs. Make changes on the fly, save important client data, and provide more accurate quotes – instantly.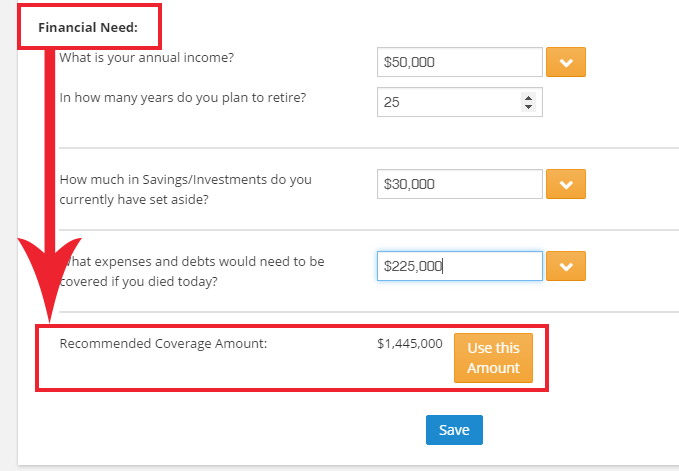 "You can save the client's annual income, debts, and any savings and investments they have to offset the amount of coverage they may need. The system does all the math for you. You can give a number to the client right then and there – just say, 'According to our system, you need x amount of coverage.'"
---
Results
Amanda & Seth joined Pinney Insurance in April of 2016.
In August of 2016, just three months later, they achieved the goal of placing $100,000 in life insurance premium in a single month.
Thanks to a smooth workflow, the right tools, and the power of an application fulfillment team providing backup, they took a ride into – oh yeah, we're gonna say it – the Danger Zone.
Here's how the month's stats break down: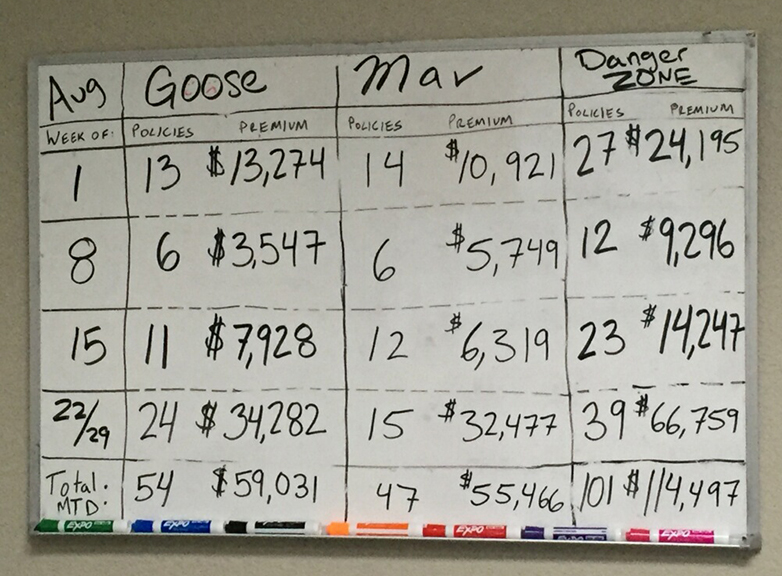 Applications submitted: 101
Total premium: $114,497
Check out the surge in end-of-the-month premium – in both cases, more than the first three weeks of the month combined. Way to go, Goose & Mav! Their final end-of-month total ended up even higher, as you can see from the final scoreboard above. You just can't stop these two!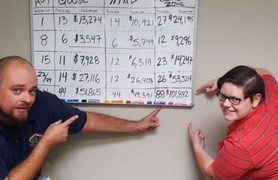 You're probably thinking – okay, great, but can I actually do that? Is this kind of success replicable?
Yes, if you're using the same tools and strategies Goose and Maverick did.
---
Setting Your Goals
It started with a challenge. In Amanda & Seth's case, they'd been told that no two agents in their first six months of working together in our office had ever done a $100,000 month. In your case, the goal might be a dollar value, or it might be to submit a certain number of applications. Find the metric that best motivates you, and use that as your target.
Here's how Amanda & Seth achieved their goal:
Set a minimum goal. In their case, it was $80,000 per month for a sales team of 2. Not sure what your own minimum should be? To start, calculate the average of your best 4 months in the past calendar year. You know you can achieve this, but it's already at the top edge of your performance.
Stretch that goal by 10 – 20%. You want a goal that's achievable, but not necessarily easy.

Aim to submit 10-12 applications per week. On average, this ends up producing $40,000 - $50,000 for the month, OR aim to $50,000 of premium per month per agent.

Chart your progress somewhere visible. Amanda & Seth use a whiteboard, where they track weekly and monthly apps submitted and premium to date.
Keeping your goals – and your progress – visible is key. On their whiteboard, they chart their apps and premium, separately and as a team (labeled "Danger Zone"). Even if you're going it alone, it really helps to have a visual source of motivation in front of you while you work. If you're part of a team, use the spirit of friendly competition to motivate you. In a friendly office, it's easy to forget what's at stake.

"We like doing it this way because it is a competition."
---
Working the System
Using this system, Amanda & Seth blew past their goal, booking $114, 497 of life insurance premiums in a single month.
That might not be attainable every month—after all, lead quality and policy size will vary over time. Still, it's a good goal to shoot for. If you can do it once, try and replicate it. If you hit that goal a second time, set a new goal that's another 10 – 20% higher. Once you've found a system that works, stick with it.

"If you're at $40,000 per month, everything else is gravy. You're definitely filling your pipeline if you hit that mark."

Update: The Story Continues with Goose Flying Solo!
Click here to see what happened when Goose set his sights on breaking his personal sales record - get details on his routine, his techniques, and his words of advice for agents just beginning their careers.
Ready to close 100,000 in life insurance sales and join Amanda & Seth in the Danger Zone? We can help.
We'll give you the system and tools you need to grow your business. From marketing tips to sales support to advanced case design, you can get everything you need to better serve your clients…all in one place. Learn more about our 2-day Advanced Sales Academy. Tell 'em Goose & Mav sent you.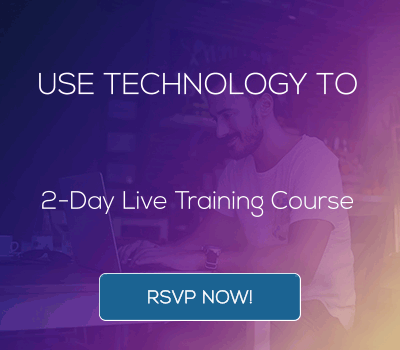 ---