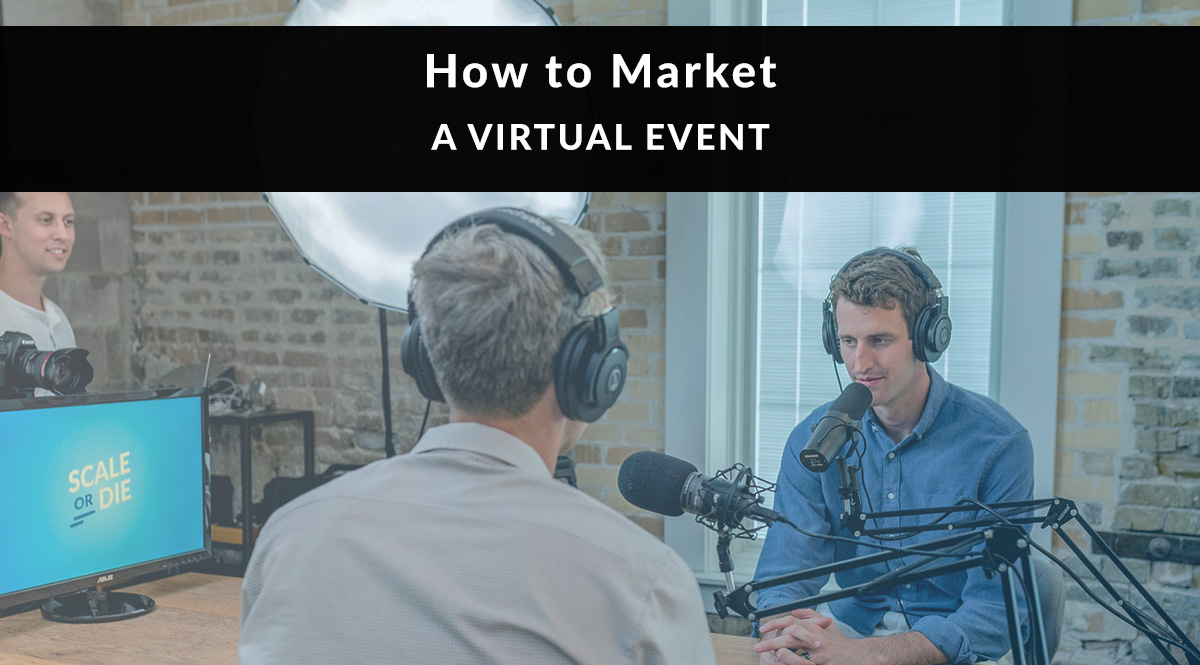 In a world with Zoom fatigue, how do you market a virtual event?
With trade shows and large gatherings a thing of the past (at least for now), it's time to stop wishing things were different and find a way to distinguish your virtual event. Yes, it's possible with a little planning and a lot of creativity.
---
No time to read? Watch our video overview:
---
The trick in marketing your virtual event is to focus on creating an experience. That's what people are missing, and that's where most virtual events fall flat. Enthusiasm for yet another Zoom call is fading fast. Your event needs to be more immersive, more engaging, and more targeted. The trick? Advance planning. You need a fair amount of lead time to let your creativity shine. If possible, start brainstorming your marketing plan 3 months before the event, and deploy the strategies below 1-2 months before your event.
Planning Stages
Branding
The first order of business: branding. What's your event name? Does it have a logo? What colors and fonts will you use on your marketing items, emails, landing page, etc.? If you're not good at design, you can hire a designer on Fiverr or Upwork to take care of that for you.
Spend a lot of time on your event and session titles. The event titles needs to grab a prospect's attention and give them a sense of what they'll get out of it. While a title like "Plan Your Retirement: Six Steps to Take Now to Live the Good Later" tells someone what they'll get out of your event, it's not exciting.
The good news? There are tools you can use to help generate event titles. They're the same tools headline writers use to generate clickbait-style titles. They're algorithmically driven, analyzing your ideas for emotional content, relatability, and more. Here are a few examples, along with some of their suggestions for improving the boring topic above: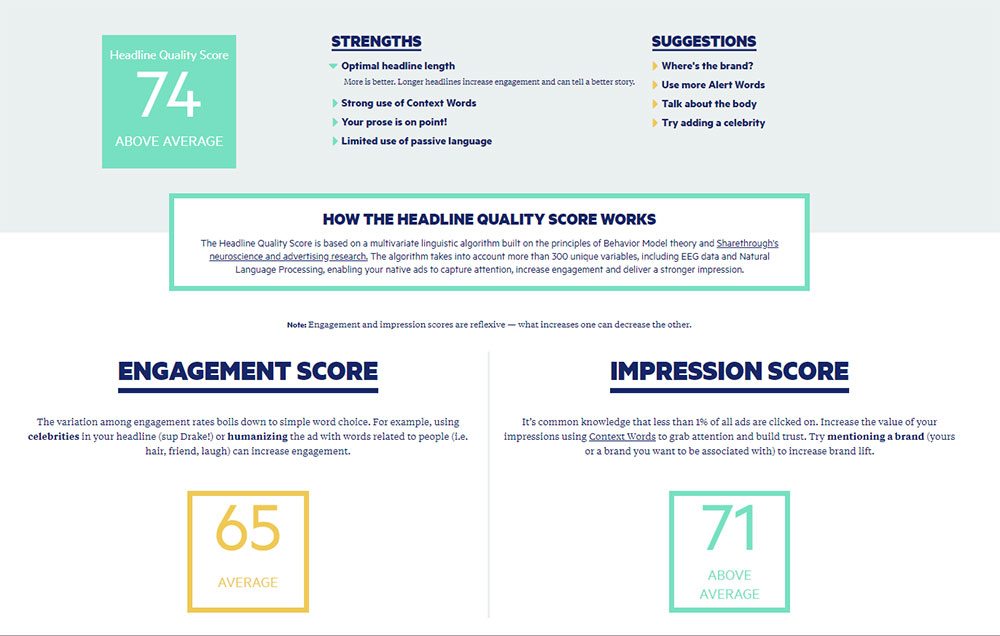 You'll notice that one common suggestion the analyzers give you to is to include celebrity references. While you probably don't want to do this directly or imply that a celeb is endorsing you, you can sneak in a comparison pretty easily, like this:
Have a few titles you can't decide between? Go straight to the source - create a poll on social media and ask! Let your audience tell you what sounds most interesting.
Presenters & Partners
Next, figure out who will be presenting. If it's a single-session webinar, for example, that's most likely you. But can you bring on special guests to spice it up? Or can you find a co-sponsor who'd like to promote to your audience (like a carrier)?
Cross-promotion is a great way to market an event or webinar.
Remember, cross-promotion is a great way to market an event or webinar. When you're making these decisions, consider: would my audience find this helpful?
Something else to plan for at this stage is interactivity. Will your audience get to ask live questions on (web)camera? Or will it be a type-questions-in-the-chat-room kind of webinar? Will there be downloadable handouts? Any special bonuses for attendees? The clearer you can be with expectations, the better.
Marketing Plan
Now that you have your title, marketing, and presenters lined up, make a marketing plan. This is a fancy way of saying make a calendar and write down what to promote when. Break down the time between today and your event. For example, two months out, one month out, and then week by week, and day by day for the final week leading up to the event.
Create a one-sentence summary of what your attendees will get out of your event.
To promote effectively, you need a one-sentence summary of what your attendees will get out of it. You can expand on this where there's space, but for subheads and Twitter posts and other small spaces, you have to tell prospects what's in it for them. What will they learn? And just as important...what will they feel?
PRO TIP: It *really* helps to do this in a doc or note-taking app, where you can include links to your social media accounts, relevant web pages, and those of your speakers and/or sponsors. Also include brief blurbs about the event you can copy and paste into social media posts.
Traditional Marketing Ideas
These are tried-and-true approaches that you probably used pre-COVID to promote webinars or seminars. As a refresher, here's what you should include:
Create a sign-up landing page. Make sure this page clearly shows what they'll learn, from whom, and at what time.
Add a banner to your website or blog.
Add a blurb and signup link to your homepage.
Sending weekly email newsletters? Add a banner to your template with a link to drive traffic to your signup page.
Not sending a newsletter? Try weekly blast emails with signup reminders.
Post on social media. Create a hashtag for your event. If you have multiple speakers, promote each one independently as well as promoting the entire event.
Pay for social media ads. Use retargeting features to reach people who clicked but didn't sign up (especially if your event costs money…since it may take a few tries to convince them your event is worth the money).
Ask your presenters to do all of the above, providing them with the branding and materials they need.
Creative Marketing Ideas
Okay, so you've already got the traditional marketing ideas covered. But if you want your event to really stand out, it's time to think outside the box. How can you get people to feel like your event is an experience?
Here are some ideas for different promotions.
Go Behind the Scenes
Give your audience a peek at what it takes to put together this event.
Give your audience a peek at what it takes to put together this event! Whether it's a screen capture of you working on your landing page, a speaker lineup reveal, or a quick audio recording of a brainstorming session, show people how it's taking shape.
If you have speakers or special guests, ask if you can do a 5-minute max Skype or Zoom interview. Then, ask them what they're most excited about for this presentation.
The bottom line: Show prospects how excited you are to help them, and they'll get excited about seeing what you have for them, too.
Offer Advance Copies
In the media world, book publishers and movie studios send out advance copies to reviewers so they have good review snippets to share before something is released. Why not do the same with your virtual event?
Advance reviews give you good sound bites to share before your event.
Pick a few colleagues and ask if they'd be interested in "reviewing" your event. Have a video of your talk or presentation, and send them either a snippet or the whole thing (as you see fit). Then, ask them for sound bites about what they liked, what they thought was valuable. Use those sound bites in your marketing. These sound bites are social proof, making your prospects feel good about attending.
Use Humor
People need a laugh…especially in 2020. Try creating a few memes advertising your event. Just because you're professional doesn't have to mean you don't know something funny when you see it. If you can connect with a prospect's sense of humor, you're bringing more emotion into their reaction, which helps make it memorable. I googled "retirement meme" and found plenty of good ones that would make funny social media content: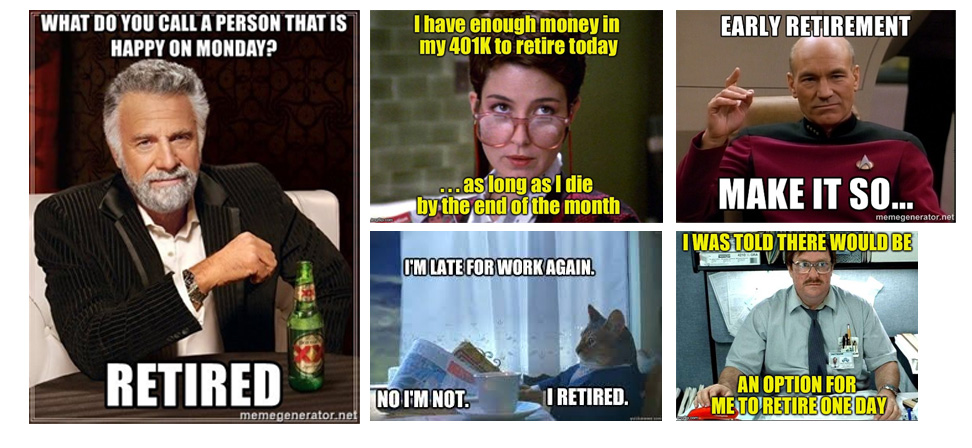 Share Bloopers/Outtakes
People respond to authenticity. It's an overused word, but it means someone who's genuine and not overly polished or too perfect - they're relatable. So if you're putting an introduction video together and you flub your lines, don't delete that video! Make a gag reel and share it.
Crowdsource Content
Ask your followers people to make a quick video on a topic that relates to your event. Maybe that's sharing their worst financial fear, or the best financial move they've made in the past year. Ask them to share it directly to their social media and tag you so you see it. Then you can reshare those posts, generating more content for your page. The bonus here is the market research you get from those videos – it's a look at what content your audience might respond to in the future.
That's our look at how to market a virtual event!
Have you done a virtual event since March? Or, if you've attended one, what made them either ho-hum or memorable?
Enjoying Our Blog?
If so, please leave us a Google rating or review! It really helps others discover us and our content online.
Leave a Review
---