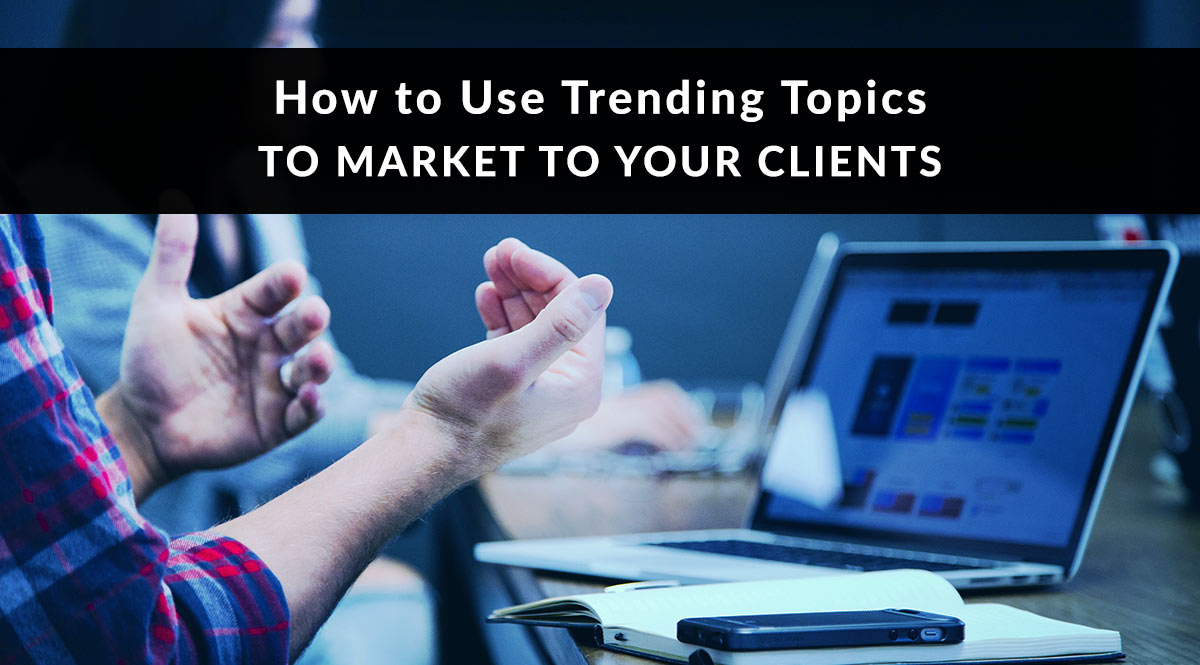 If you know how to use trending topics to market to your clients, you'll always have something to say and can stay top-of-mind with your audience.
We talk about social media on this blog frequently – and you've probably heard us compare it to a cocktail party. The gist of that comparison? Don't bombard party guests with your agenda. You have to make small talk, find common ground, create a connection, and nurture that relationship before you can ask your new connection to do something for you.
But it's not just social media that works like that.
Every client relationship functions the same way.
---
No time to read? Watch our video overview:
---
Managing Client Relationships Like Social Media
Your clients and prospects came to you in a business context – they asked for a quote or needed help figuring out how much coverage to buy. So why should you treat them like new friends at a cocktail party?
You can't bombard your new client with salesy emails asking if they'd also like to buy disability insurance, long-term care insurance, and while they're at it, would they mind reviewing you on Facebook and Google and telling all their friends about you?
Because the same party etiquette applies, even though we're in a business context. You can't bombard your new client with salesy emails asking if they'd also like to buy disability insurance, long-term care insurance, and while they're at it, would they mind reviewing you on Facebook and Google and telling all their friends about you?
We hope you're cringing right now – and that you've never done those things to a brand-new client.
But now that we're on the same page about nurturing those client relationships, what do you say when you're not selling?
You do the same thing you'd do at a cocktail party: you tell a funny story, discuss a trending topic, share a fascinating statistic you heard, and generally try to be both interesting and helpful BEFORE asking for something.
Non-Salesy Things to Discuss with Clients & Prospects
Not sure what to talk about if you can't ask your clients and prospects if they'd like to buy another form of insurance?
Use technology to fill the creative well of conversation subjects. First, let's go over some industry-specific and generalized tools you can use to find trending topics for conversation starters. Then we'll go over how to turn those into conversation starters for meetings, emails, and social media posts.
How to Find Financial & Insurance Trending Topics
Twitter is the undisputed place for of-the-moment news – yes, even financial and insurance news. You don't need an account to search on the platform, so don't let that stop you. Your clients are more likely to want to hear news that affects them, so general hashtags like #finance and #personalfinance are good places to start. Bookmark your searches for relevant hashtags to save time. Chances are you'll find a dozen topics in these shared articles you could use to strike up a conversation. If you see a "Related Articles" sidebar, that gives you even more material to work with.

Listen Notes. This site is a search engine for podcasts. Click the search box to see a list of trending searches. Or search for a person, podcast, or topic and get a list of the most popular results for that item. If you know many of your clients listen to Dave Ramsey, for example, you can cherry-pick episodes of his podcasts or other podcasts he's guested on to find out what he's said lately.

SmartBrief newsletters. These newsletters give you a quick digest of need-to-know headlines, sourced by AI but vetted by real humans. Sign up for as many as you want, all for free. We get three: FPA (financial planning), NAIFA, and Social Business.

How to Find General Trends
Okay, now you've got trending financial topics to share. But what if you want a broader perspective? From celebrities to weather events, you can use general trends to steer a conversation toward making smart choices, doing the right thing for family members, etc.
Let Trending Topics Inspire Your Marketing
Now you have a big list of interesting topics…but how do you turn it into a reason to talk to your clients?
Plug a topic into one of the following formulas to generate everything from emails to social media posts, webinar topics, and meeting agenda items. Every prompt consists of two components: the hook (your trending topic) and the suggestion (vital information they're missing out on).
The trick? Pique your client's interest with a trending topic and follow up with specific actions they need to take.
Take a contrary position to a popular statement/bit of advice. "This article about _____ says you should _____. But you should actually do _____. Let me explain why."
Warn clients and prospects about a dangerous trend. "You may have seen people doing _____. Here's why that's a really bad idea."
Take an unpopular viewpoint or bit of advice and champion it. "This article explains why it's super-hard to do ____. Here's why you should do it anyway."
Take a pop culture figure or factoid and explain how recent news affects insurance needs. "______ is the most popular in the U.S. / getting more expensive / going away forever / releasing something new / in trouble with the law / breaking all-time records. Bet they didn't know how that would affect their insurance due to ______."
Take a pop culture character and explain how or why they need your help with insurance. "_____ is the best character in ____, but I wish they'd call me about life insurance because ______."
Explain how a new product or law will affect them. "____ is about to become a thing. Here are the 3 things you need to know and do right now."
Putting It All Together
You know you should be reaching out to clients more often – but how do you turn a good intention into a finished product that results in leads or strengthens your client relationships?
Use the sources above to find a topic that you think will resonate with your audience.
Pick one of the mad-lib strategies above to frame your content.
Decide which format you're going to use: email, social media post, blog post, webinar, meeting agenda, phone call or text, etc.
Pique their interest. Why does this trend matter? What does it have to do with them?
Create a recommendation. Based on the problem created or revealed by the trend, what should they do?
Pick a call to action. What specific action should they take based on the recommendation you just made? Do you want them to call you, get a quote, visit your website, read a blog post, leave a comment, subscribe to your newsletter, or make an appointment? Make sure your recommendation and call to action complement each other. For example, if your suggestion is to revisit their retirement planning strategy, getting a term life quote isn't a good CTA.
Send your content out into the world. Lead with your hook in the subject line, first line of your social post, blog post title, etc.
Repeat!
The best way to make this a habit? Schedule time to do this weekly, bi-monthly, or monthly.
That's our look at how to use trending topics to market to your clients.
What other routines do you have for communicating with clients and prospects? What sources do you use to get relevant news to share with your audience? Tell us in the comments!
---