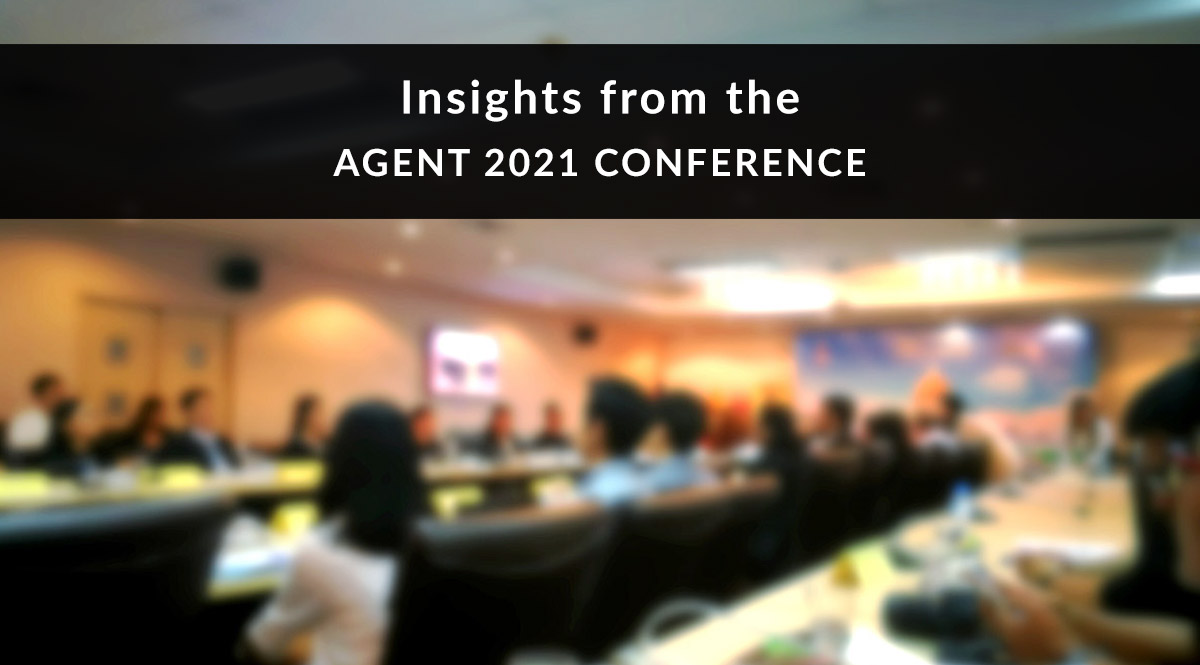 The Agent 2021 conference brought together innovators and influencers in real estate, travel, and insurance. Here are some key takeaways.
This January 2018 event was hosted by VaynerMedia, an ad agency run by speaker, author, and entrepreneur Gary Vaynerchuk. Is it weird that someone outside the industry included insurance as a major portion of their conference agenda? Judging from the online reaction, some people said yes, that's kind of weird. But that's also part of the point. There's a lot we can learn from other independent sales professionals, but we'll never hear from them unless we venture outside our comfort zone.
In the spirit of learning whenever and wherever we can, let's peek inside some of the speaker talks and panel discussions. The speaker videos embedded below contain some swearing, so if that bothers you, skip the videos and check out our summaries instead.
Keynote: Gary Vaynerchuk
This talk focuses on two points: (a) it's still early in the game when it comes to competing for prospects' attention, and (b) you should double down on what's working for your agency. When it comes to marketing, there's a ton of opportunity in terms of creating your online presence and using it to drive business over the next 5, 10, 15, and even 20 years.
Because it's still early in the digital marketing game, he recommends taking a hard look at what you're already doing to market your agency. Most of us make a critical mistake — we go wide instead of going deep. It's easy to get caught up in the next big thing, whether that's starting your own podcast or doing a vlog on your YouTube channel. Spend 80% of your time committing to what's already working. Take the remaining 20% of your time and experiment with new ideas and platforms.
Keynote: Andy Frisella
Andy is the founder and CEO of 1st Phorm International, a muscle-building supplement company. His talk centers on one important point: be yourself. "You're doing what you're told is the norm," he says. He uses real estate agents as an example — if you have a car wrap or put your picture on your business card just because you saw someone else do it, you're approaching branding the wrong way. The ripple effect of people reproducing strategies they see the top producers using creates "an army of imitators." It doesn't create authenticity.
His advice? Figure out who you are, who you want to be, and be that at all times. You can't be authentic when you're creating a brand with the goal of appealing to 100% of people. It's natural not to want to lose clients, but at the same time, you may be creating a product that doesn't appeal to anyone. Once you start putting your true self out there, some people won't like it. But the converse of that statement is that other people will — and those people are the ones who'll become your biggest supporters and most loyal clients.
The Sales Wolves podcast also did a recap of this event, and they shared a tidbit that isn't included in the video above. In his talk, Andy Frisella also shared details about how long it took him to build his extremely successful business. He made just $600 - $700 a month for about seven years, but now he's bringing in $170 million+ in revenue. In other words, none of this is easy. It takes years to build a brand and a profitable company. But if you have patience and determination, you can get there.
Keynote: Tom Ferry
Tom is a motivational speaker and coach for top-earning real estate agents. In this talk, he encourages sales professionals to align their goals with their behaviors. Most people don't do this, and that's why their businesses don't grow. If their businesses do grow, it's usually because of their personalities — not the daily activities and steps they take to achieve their goals.
He presented five questions that super-successful people (on the level of Jack Welch and Steve Jobs) answer and adhere to. Your answers will help you remove all distractions from your life, and you'll be laser-focused on achieving your goals. The video above includes his full keynote, so you can get more detail there.
What is your purpose? Why are you an agent?
What are your superpowers? These are the things you're good at, that you're compelled to do because they're so deeply embedded in your personality.
What are your values?
Twenty years from today, how is the world experiencing you?
Who would you already be if you were there, in that vision for 20 years from now?
Insurance Industry Panel Discussion
Content Marketing: Positioning Yourself As An Authority
In this panel discussion, moderator Matt O'Neill led speakers Chris Paradiso, Ryan Hanley, Woody Brown, and Steve Babcock in a talk about building your agency's brand by creating a media culture. You can listen to the whole panel discussion on the Agency Nation website.
Here are a few key takeaways:
Content creation. Start with the questions you're always asked, or ask clients: if you could have one question answered about insurance, what would it be? Collect as many as you can and answer them each in a quick video.
Creative process. Authenticity is a prerequisite. Why do you exist? What's the impact you want to have? It sounds abstract, but you'll get to a place that transcends your business goals. Next, look at your behavior. That has to prove that your mission is achieving your purpose.
Corporate branding vs. personal branding. People don't buy insurance; they buy the person selling insurance. This applies to a business as well as a person. Lead with your personal brand, respectfully associated with the agency's brand. Let agency leadership feel comfortable that you're not building a book of business you'll take with you. If needed, sit down with the agency owner to make sure your brands won't clash.
Authenticity. Many try to be what others think they should be, and end up being shadows. But we have the cheapest way possible to show people who we really are: social media. Our policies all come from the same carriers. That means we're the product. People connect with us because they know us. Everyone has something unique about them. Find it and be brave enough to tell that story.
Platforms. Every social platform has its nuances. Honor and respect the platform; be aware of different audiences. For example, you'd talk to your mom differently than you'd talk to a celebrity. That doesn't mean you're a phony. It means you know how to build trust and acknowledge the things the other person is interested in.
The panelists suggested a few action items that can be implemented right now:
Think of yourselves as media networks, not marketers. All of social media is your focus group – put something out there and see if people engage with it or not. If you think of yourself as a TV network, for example, you need a "pilot" mindset. For every hit, there are hundreds or thousands of shows that never made it past the first episode. You're at the mercy of the market, but you should always keep trying new things.
Use video proposals for small commercial lines and personal lines. Try Loom.com – a video proposal tool that's free. It will change your closing ratio.
If you're just getting started with digital marketing and personal branding, don't get too wrapped up in the numbers. It takes time. You have to build a solid foundation, and that's not about getting likes or even views (at least not right away). Even if you don't get any likes, you're putting it out there and the competition probably isn't.
That's our look at insights from the Agent 2021 conference!
---