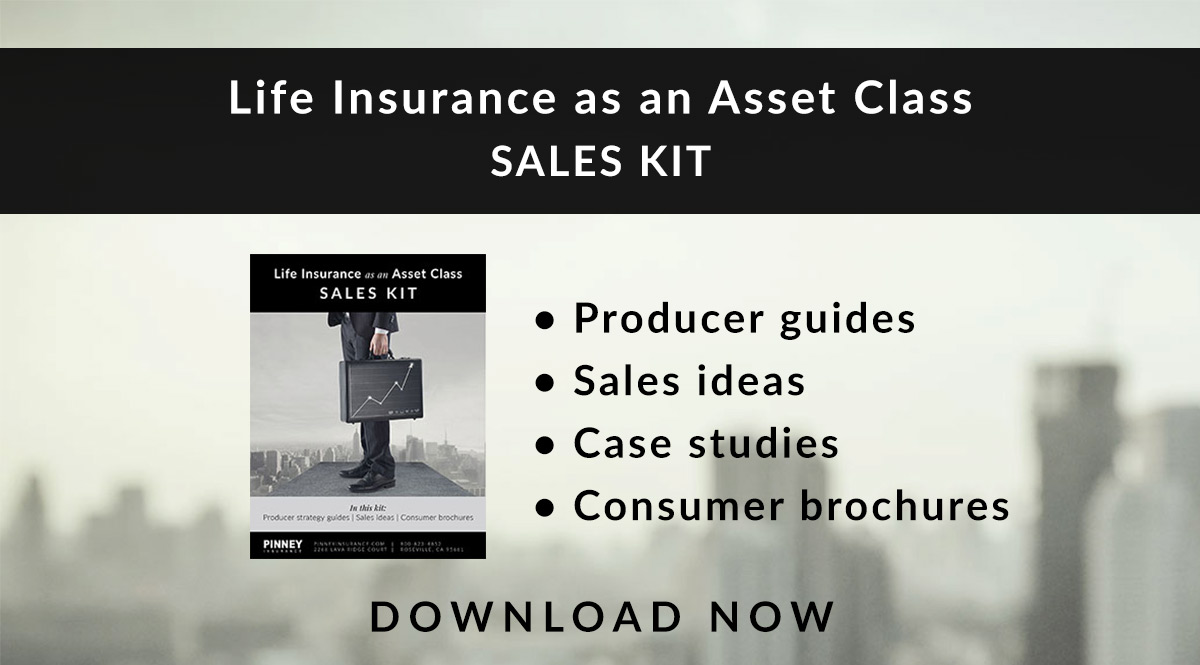 Our January 2018 sales kit is all about selling life insurance as an asset class. The new year is a great time for fresh starts. For many of your clients, that means a financial fresh start. It's a great time to reach out and strike up a conversation. This sales kit has ideas, facts, and features you can use to pique your clients' interest.
What's the big selling point about life insurance as an asset class? In short, the financial rewards it offers in addition to the death benefit. These are things like fewer taxes during retirement, riders that help cover illness or long-term care, and the ability to diversify a retirement portfolio. Even if your client already has a permanent policy, their needs may have changed in the past year.
---
What's in the Kit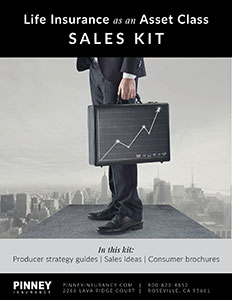 Our FREE 49-page kit includes:
12-page producer strategy guide from Principal, plus an
8-page client guide
2 sales ideas from Mutual of Omaha
2-page consumer brochure from Mutual of Omaha
5-page producer guide from North American, plus a
2-page case study, plus a
4-page accompanying client guide
12-page producer guide from Pacific Life
Get the Kit
How to Use This Month's Sales Kit
Try targeting clients who purchased a term life policy in the past 5-10 years. Families that were just starting out a decade ago are probably thinking ahead to kids' college needs and retirement. Families who were starting to think about retirement a decade ago are probably a lot more interested in ways to pay for long-term care, or leaving as large a legacy as possible to loved ones. Instead of relying on them to come to you for advice, reach out to them with a few tidbits of information. For example, they may be interested in:
Short-pay policies. Here, the policy owner pays premiums on an accelerated schedule; as a result, they own the policy sooner rather than later. If the payments get to be too much, they have the flexibility to lower the payment amount.
Converting a term policy to a permanent one. Now, years after their initial purchase, they may be more interested in generating another stream of retirement income, or living benefits like long-term care or critical illness riders.
Legacy building. The older they get, the more they may want to leave a bigger legacy for kids, charities, or their alma mater.
Get the Kit
Insureio Subscribers: Use Our New Year's Campaign
Are you an Insureio subscriber? If so, you have access to January's pre-written New Year's Resolutions marketing campaign. It includes inspiring, educational emails pre-scheduled for delivery throughout the month. These emails aim to take advantage of the New Year's spirit to get things in order for the coming year. They don't sell a particular product or carrier. Instead, they bring up topics that are relevant to almost all of us - saving money in the new year, finally getting around to retirement planning, and setting yourself up for financial success.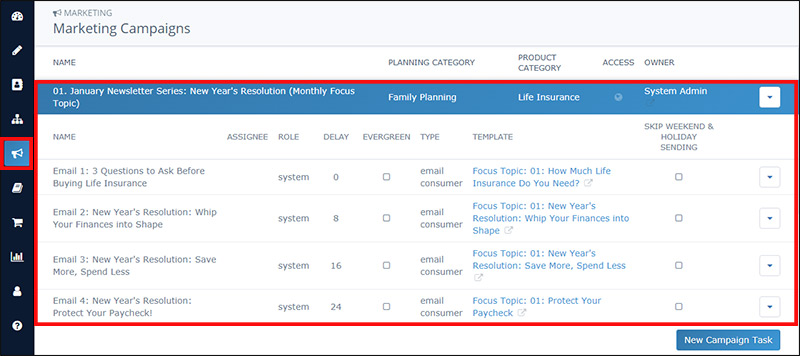 To preview the campaign:
Click Marketing and then Marketing Campaigns from your left-hand navigation menu in Insureio.
Scroll down and click January Newsletter Series: New Year's Resolution (Monthly Focus Topic). You'll see the list of four pre-scheduled emails. Click any of the email titles to open up the template in a new browser tab for a preview.
Want to learn more about Insureio marketing campaigns, including how to enroll your clients and prospects? Click here to visit the tutorial in the Insureio Academy.
Download Our January 2018 Sales Kit Now!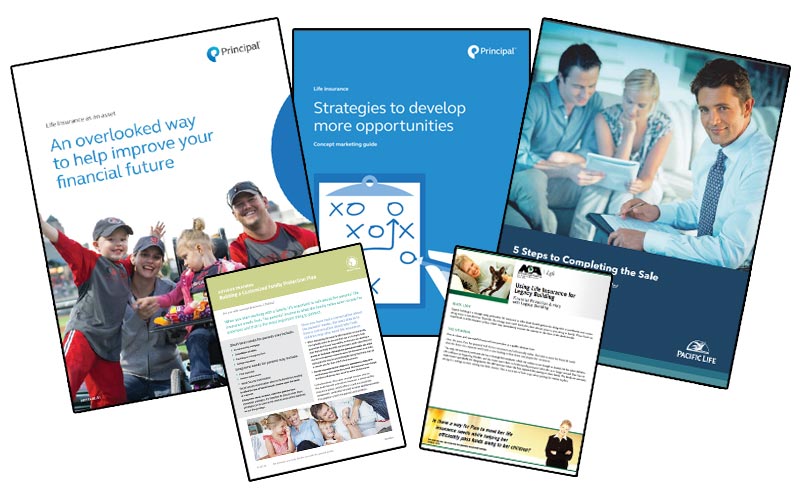 ---