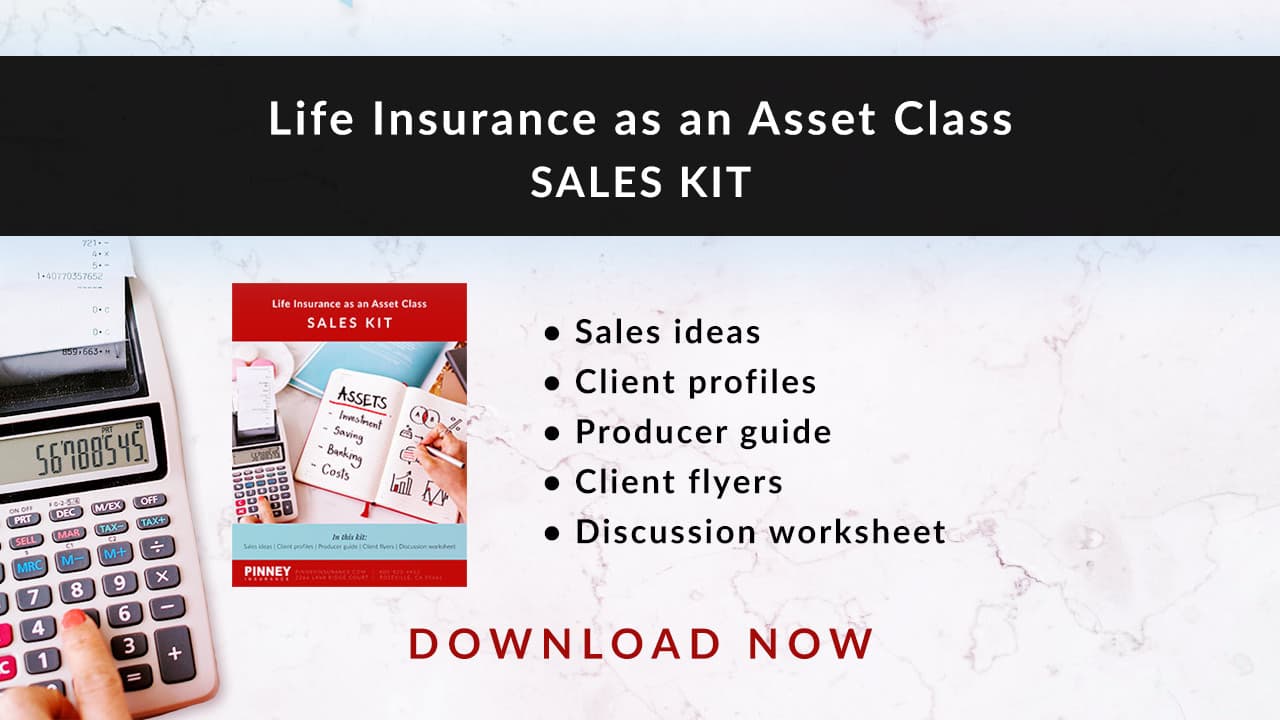 Our January 2022 sales kit will help you show clients there's more to life insurance than meets the eye.
It's time to show clients how life insurance can function as an asset class. Show them how life insurance provides strategies for accumulation as well as death benefit protection. It's all about expanding their horizons and helping them see life insurance as a potential source of cash during retirement, a way to balance a portfolio that's heavy on stocks, and more.
What's in the Kit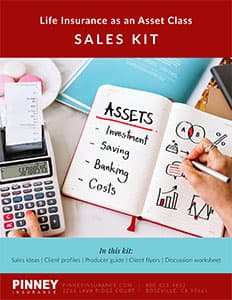 Our FREE 53-page kit includes:
2-page sales idea: life insurance as an asset
3-page sales idea: life insurance as a diversification strategy
6-page sales idea with client profiles: 4 things life insurance offers
2-page sales idea: accumulation & protection
8-page client guide: life insurance as an asset
2-page client guide: avoiding life insurance mistakes
5-page client brochure: life insurance options
4-page client brochure: the value of permanent life insurance
2-page client flyer: identifying gaps in planning
3-page client flyer: tax advantages of life insurance
2-page client flyer: life insurance in retirement planning
12-page discussion guide on financial objectives
Get the Kit
How to Use This Month's Sales Kit
You're looking for a certain type of client to have the asset-based discussion. Look in your book of business for clients who may be high-net worth or have already talked with you about long-term financial goals. To jump-start the discussion, ask them about their current assets and liabilities, and how their allocations might change if they lost a job or a wage-earning family member. The kit has a 6-page combo sales idea/client profile piece that may help as you think about who to approach.
Once you've identified clients who are interested, use the financial goals worksheet to start an in-depth conversation and get a fuller picture of the client's financial situation. While you're moving the needle with clients already in your book of business, use the talking points in the consumer flyers on social media. This will help you generate interest among prospects and identify more clients you might not have identified in your first pass.
Get the Kit
---
Need help with quotes, illustrations, or selecting the right product?
Our Brokerage Managers - Dave, Joshua, and David - can help. They have incredible depth and breadth in terms of product knowledge. Call 800-823-4852 and ask for a brokerage manager, or click the button below to email us!
---
Insureio Subscribers: Use Our January Marketing Campaign
Are you an Insureio subscriber? If so, you have access to a pre-written marketing campaign for January. It includes three emails for your clients and prospects, pre-scheduled for delivery throughout the month.
These three emails focus on general life insurance awareness, especially as it pertains to New Year's resolutions. The last two emails talk specifically about common resolutions, including becoming more financially savvy and saving more/spending less in the new year.
PRO TIP: Don't want to use the entire campaign? No problem. There are one-off emails about financial New Year's resolutions written for age groups by decade: for clients in their 20s, 30s 40s, 50s, 60s, and 70s.

To preview the campaign:
From your left-hand nav menu in Insureio, hover over Marketing and then click Marketing Campaigns.
Scroll down and click January Newsletter Series: New Year's Resolution (Monthly Focus Topic). You'll see the list of pre-scheduled emails. To see what a template looks like, click any of the blue template title links. The template will open up in a new browser tab.
Want to learn more about Insureio marketing campaigns and how to enroll your clients and prospects? Click here to visit the tutorial in the Insureio Academy.
Download Our January 2022 Sales Kit Now!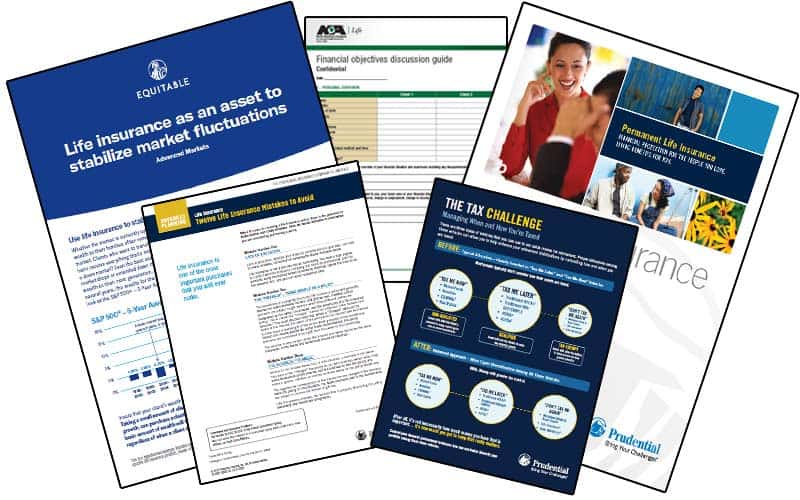 ---