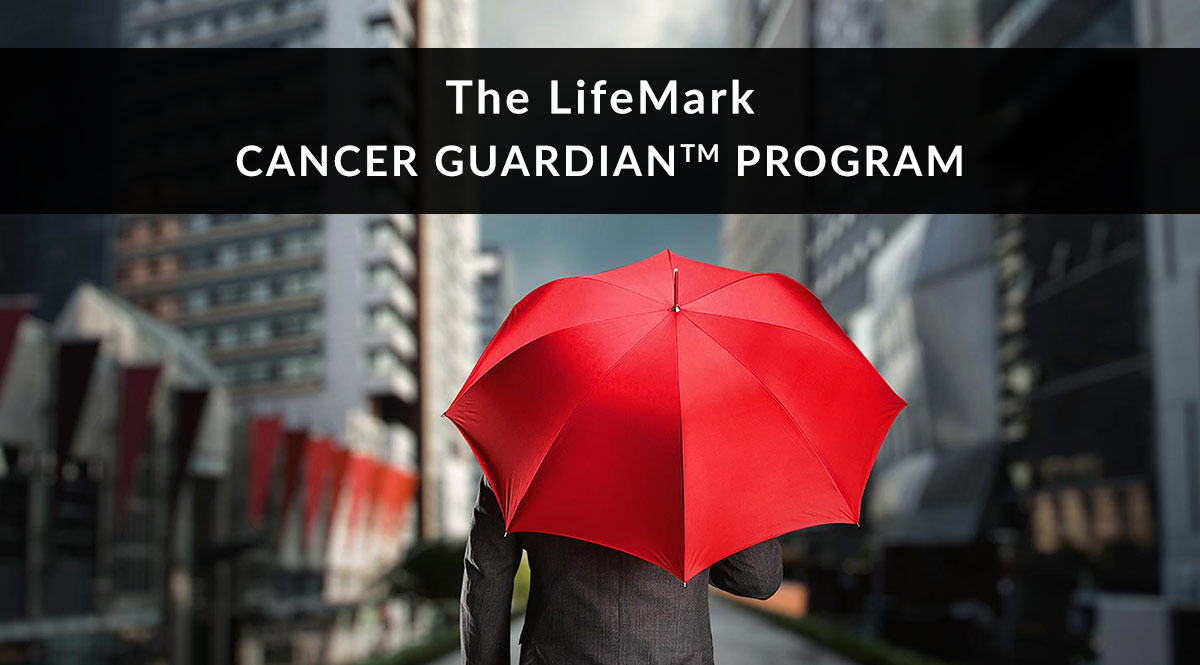 There's a fantastic new benefit coming soon for consumers who buy a life insurance policy from a LifeMark partner BGA (that's us!). It's called the LifeMark Cancer Guardian™ Program, and it has the power to save lives.
UPDATE: The program is now live! As of March 1, 2018, the LifeMark Cancer Guardian™ Program is available to any policyholder who buys a life insurance policy through a LifeMark partner BGA (if you submit business to us, that's you!). This program gives your clients access to a cutting-edge diagnostic tool that can help save their lives if they're ever diagnosed with cancer.
Read on for more important information about the program, and download these LifeMark program materials:
LifeMark Cancer Guardian™ Program Details
The exclusive LifeMark Cancer Guardian™ Program, offered by Wamberg Genomic Advisors, is a new way to personalize cancer treatment. Here's how it works. When a client opts into the program, they pay a small monthly fee ($8 - $15 per participant per month, based on age bands). In return, if they're diagnosed with cancer, WGA will sequence the DNA of their tumor or blood sample. In addition, WGA will cover as many tests as the policyholder needs. Without this program, that test currently costs between $7,000 - $10,000. Even worse, it's not currently reimbursed by Medicare, Medicaid, or health insurance companies.
LifeMark partner BGAs can offer this program to all new policyholders beginning in March. As an incentive, the program charges will be waived during the first year for the policyholder and their children (up to age 26). They may add coverage for a spouse at the rates below. On the first policy anniversary, participants can continue via direct billing from WGA. The program will also be offered at a discount to 2,000,000 current policyholders who've already bought life insurance through LifeMark and its affiliated BGAs. Currently, renewal costs range from $8 - $15 per month per participant, depending on their age.
How DNA Sequencing Works
Every cancer has its own DNA. When scientists compare a cancer's DNA to the DNA your client was born with, the mutations they find can tell doctors which treatments are most likely to help. The test can also confirm the accuracy of a cancer diagnosis, or point doctors in the right direction if there's any uncertainty about the type of cancer. Think of it as an expert second opinion.
WGA's analysis can help your client discover whether they're eligible for immunotherapy, targeted therapies, or clinical trial participation. The cancer's DNA sequence tells scientists what type of cells it contains, which helps them assess treatment options. The 2017 MOSCATO trial, published in the journal Cancer Discovery, showed that 50% of cancers have genetic mutations that are potentially treatable with drugs that already exist. This technology just wasn't available two decades ago. But now that we have it, it's a valuable tool that helps save lives, as you can see from the success stories below.
Success Stories
Nic Volker
You may have seen news stories a few years ago about a little boy named Nic Volker, who had a hard-to-diagnose gastrointestinal disorder. Doctors couldn't nail down the cause, which meant Nic underwent more than 100 surgeries while experts struggled to identify what was happening to him. Finally, a geneticist used the then-emerging technology of genome sequencing.
The results showed a mutation in his XIAP gene. That mutation caused a previously unknown immune condition. A bone marrow transplant cured him, and today, Nic is completely recovered. You can read his story in the book One in a Billion by Mark Johnson and Kathleen Gallagher, who won a Pulitzer Prize for their reporting on this story.
Former President Carter
Another famous example of treatment inspired by genome sequencing is former President Jimmy Carter, who had metastasized melanoma. Specialists analyzed the Cancer Genome Atlas, a growing database of sequenced cancer genomes. Based on the profile of similar cancers, doctors realized immunotherapy drugs had a good chance of treating the former president's cancer.
How did researchers know this? Because cancer tumors gobble up the cells around them. If the cancer gobbles up immune cells, certain immunotherapy drugs may be able to reactivate them. When the reactivated immune cells attack the cancer, they may be able to limit its spread, or better yet, destroy the cancerous cells. That's what happened for Carter, who is now cancer-free.
Provider Details
The company bringing us this product is Wamberg Genomic Advisors, an advisor to the life insurance and employee benefit industries. The company's insurance executives and scientists work together to help make genomic testing more readily available at affordable prices.
WGA offers more detailed genomic testing than 23andMe and Ancestry. They're focused on the clinical side of testing, very in-depth and detailed. Rather than focus on lifestyle recommendations, their goal is to offer data for predictive diagnoses that could save your life. If their name sounds familiar, you may have seen their coverage in Voluntary Benefits Magazine, California Broker, and more.
Program Benefits for Your Clients
Cost savings. As mentioned above, sequencing a tumor's DNA currently costs between $7,000 and $10,000, with most tests averaging about $7,500 (per WGA). Plus, some patients need more than one test. Getting diagnosed with cancer is a huge blow—individuals and families often have trouble affording this test once they're diagnosed because of high deductibles and co-pays. This private-pay system solves that problem.
Longer life. Based on stats provided to us by WGA, patients treated with therapy and genomic profiling live an average of 31.8 months after their diagnosis, versus the 12.7-month average for patients who receive standard treatments like surgery, chemotherapy, and radiation. When you're fighting cancer, every day matters. Every day is another chance to spend time with family and loved ones.
Expand the cancer genome database. The more cancers we sequence, the more we also know about how they operate and how to treat them. The more data scientists and doctors have, the more paths to treatment we have. Cancer is a terrible diagnosis, but if it happens to your client, they have the chance to help expand our collective knowledge and contribute to future cure paths that may help their friends, loved ones, or kids in the years to come.
Program Benefits for You, the Agent
Drive sales. Once the program is rolled out, it's going to be a great sales incentive. We'll be updating you with marketing ideas for your mailing list, website, and social media. To get started, download the program materials linked at the top of the page. These are great conversation starters!
Enhance client engagement & retention. Need a reason to reach out to your clients? After March 1, you can invite them to contact you for a policy review. If it turns out a new policy better meets their needs, their purchase also gets them access to the Cancer Guardian™ Program.
Competitive advantage. LifeMark and its agency members will be the first national firm to offer the Cancer Guardian™ Program™ to its policyholders. Being first is big news! If you're able to offer access to a cutting-edge treatment aid that a competitor can't, that gives you a clear competitive advantage.
Next Steps
If you're not a Pinney partner yet, we invite you to get licensed and contracted with us. March 1 is the big day – any client who buys a policy after that date will be eligible.
If you're already a Pinney partner, your eligible clients will begin receiving program information with their new policies on April 9. This information includes a membership card and activation instructions. They must activate their membership to participate in the program. All future program correspondence, including renewal info, is handled by WGA. If your clients receive this information and have questions, you can either refer them to us, or share the Program Guide and Participant FAQ document with them.
LifeMark and WGA are working to provide us with more details as the program continues to roll out. We'll bring you more information as we get it. We're super excited about this program and hope you are, too!
Have questions? Ask us in the comments below and we'll get the answers for you!
---