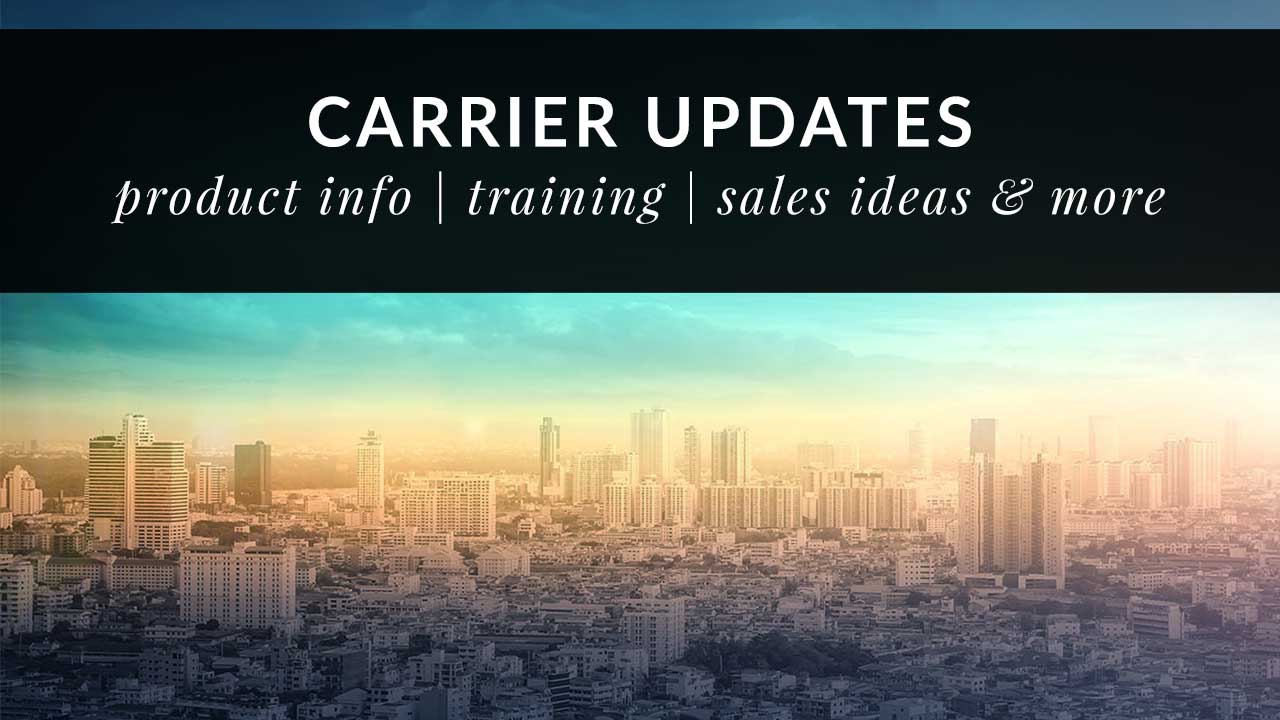 May 2019 Carrier Updates
Last Updated: May 29
AIG
Term/GUL combo. Protect to age 100 with a two-policy solution. Cover long-term needs with Secure Lifetime GUL 3, including the optional chronic illness rider. Cover additional short term financial obligations (mortgage, children, etc.) with Select-a-Term. Click here for a consumer flyer and here for producer training.
Discontinuation of withdrawal charge waiver riders for fixed annuities in California. Effective July 1, 2019, AIG will be discontinuing the withdrawal charge waiver riders offered on new fixed annuity contracts issued in the State of California.
Life insurance protection for today and tomorrow. Our new Term/GUL Sales concept will help you show clients how Term life insurance can protect against financial risks now, and Permanent life insurance can help alleviate risks in the future - all while staying within their budget. By meeting life insurance needs today and tomorrow, you can help protect your clients to age 100 with:

Affordable short term coverage for pre-retirement needs: Select-a-Term for right NOW.
Convert the term policy to a permanent policy for lifetime insurance needs - with no premium payments during retirement: Secure Lifetime GUL 3 for LATER.
Need help with any of AIG's products?
Call us at 1-800-823-4852 or click here to email our Brokerage Sales Support team.
Lincoln
Dedicated Lincoln TermAccel® Communications Team. Lincoln has implemented a team of dedicated Lincoln TermAccel communication specialists to promptly respond to inquiries on your cases. This team is staffed with experienced members who are focused on responding to your inquiries and helping resolve your needs, while our team of New Business Associates and Underwriters are focused on placing your cases. For more efficient case processing and to help ensure a quicker response time on your case inquiries, please leverage the general contact information below for all case questions.
Life Insurance Product Switch Process and Guidelines. The new Lincoln unified life insurance application and Tele-App ticket has integrated all life insurance product processes into one streamlined approach and enables a seamless transition from one product to another – saving time and creating a better experience for producers and consumers. To make the process easier, please reference the guidelines below. If you have questions regarding a specific case, please contact your dedicated Underwriting and New Business team.
Need help with any of Lincoln's products?
Call us at 1-800-823-4852 or click here to email our Brokerage Sales Support team.
Pacific Life
Need help with any of Pacific Life's products?
Call us at 1-800-823-4852 or click here to email our Brokerage Sales Support team.
SBLI
New Term Conversion Product Option. A non-participating whole life product is the new option for SBLI Level Term policies and riders with a policy issue date on, or after August 1st, 2012. This new product provides the advantage of fixed costs and lower out-of-pocket premium payments.
ZipApp Drop Ticket Update. A new pre-screen tool has been added to our ZipApp Drop Ticket process to help optimize the outcome of matching our Accelerated Underwriting process with your client's insurance needs. Please note it has been designed to provide additional guidance and is a required part of the drop ticket submission. In the 'pre-screen' section of the drop ticket process a short list of screening questions, such as prior life insurance declinations and criminal history are asked. These questions are typically addressed when discussing a client's needs and will help to determine if this product is a good fit for your clients. Click the link above to see the ZipApp Producer Guide for the complete list of pre-screen questions and more information about the process.
Form Updates. On Monday May 13th, 2019 a new SBLI Part II Application form is being introduced. The updates include a reduced number of medical impairment questions in the Medical Information section and an overall improvement in the question flow. In addition, minor updates have been made to the Part 1 – CA (17-A-91-CA), Aviation Questionnaire (ICC18-AQ-45) and Conditional Receipt forms for regulatory reasons. We have also recently implemented operational changes to our Term Conversion and ZipApp® Drop Ticket Programs.
Need help with any of SBLI's products?
Call us at 1-800-823-4852 or click here to email our Brokerage Sales Support team.
Symetra
JPMorgan ETF Efficiente® 5 Index: More Stability for IUL. Looking for a more stable IUL index option to provide a hedge against volatility? The JPMorgan ETF Efficiente® 5 Index—licensed exclusively to Symetra Life Insurance Company for use in indexed life insurance—aims to maximize returns for a given level of risk. With this "target volatility" design, it may have more stable performance than a traditional index, with lower highs and higher lows. Watch the video linked above for more details.
Need help with any of Symetra's products?
Call us at 1-800-823-4852 or click here to email our Brokerage Sales Support team.
---
Need help navigating the ever-increasing selection of products from these carriers? Learn how partnering with us can help you earn more, better serve your clients, and sell more life insurance online.
Work with Pinney
---