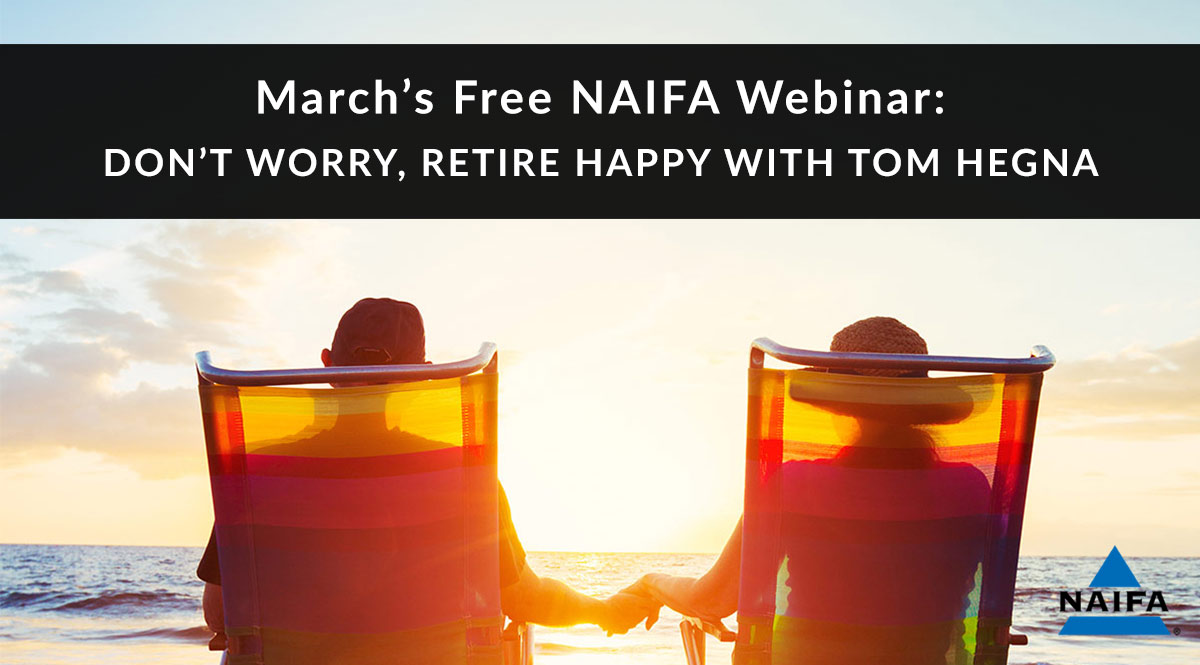 This March, we're talking about retirement planning. Find out how to help your clients plan for a more secure financial future with one of the experts - Tom Hegna. Sign up now for the free webinar on Wednesday, March 14 at 2 pm EDT!
We're proud to bring you another free webinar from our friends at NAIFA: "Don't Worry Retire Happy: Seven Steps to Retirement Security," presented by Tom Hegna. This webinar was specifically developed with insurance and financial professionals in mind. Your clients are up against a volatile market, increasing medical costs and Social Security challenges. Are you equipped to provide them with a plan to thrive in the midst of this reality?
Register Now
In this session, Tom will teach you:
Different scenarios for optimizing your clients' Social Security benefits
How working in retirement may impact Social Security benefits and other retirement plans
How to set your clients up to cover basic expenses with guaranteed income that will last a lifetime
The importance of having a plan for unknown and likely increasing medical costs
How your clients can most efficiently pass wealth to heirs
Don't miss this chance to hear the latest ideas from the master of retirement planning, Tom Hegna, on March 14, 2018 at 2:00 p.m. EDT. Space is limited, so be sure to register today!
*Continuing Education credits for this webinar are pending in many states and are now approved in AZ, GA, IL, PA, and UT.
Register Now
A big thanks to NAIFA for making this webinar available to us!
We do our best to support industry organizations we believe in, and NAIFA is one of them. If you're not a member, we encourage you to check it out and consider joining. You can find more information about them on their website.
About NAIFA
NAIFA advocates for a positive legislative and regulatory environment, enhances business and professional skills, and promotes the ethical conduct of its members. The NAIFA solutions center also has expert tips and advice, certifications, and ways to self-promote so that you can be the best advisor possible and take your career to the next level. Click here to learn how to join.
Click the button below to register for the free NAIFA webinar on Wednesday, March 14 at 2 pm EDT - it's all about retirement planning with Tom Hegna!
Register Now
---