Our November 2017 sales kit will help you talk to clients about long-term care insurance. It's not an easy conversation, but it's a necessary one.
Here in California, according to this year's survey results, a year of assistance from a home health aide costs an average of $57,200. Do your clients have that much saved up? Do their spouses? No matter how diligent they've been about preparing a nest egg, health insurance and health care are likely to deplete it faster than they ever anticipated. That's where we come in. We have to help them understand how serious the problem is, and how to do something about it. Whether that's with a traditional LTCi policy or a rider on a new life insurance policy, our products can keep their dreams of a financially secure retirement alive.
What's in the Kit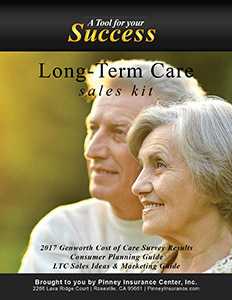 Our FREE 60-page kit includes:
21 pages of the Genworth Cost of Care Survey 2017, including the Executive Summary and Daily, Monthly, and Yearly costs broken down by state and type of care
16-page Genworth LTC consumer guide
2-page sales idea: the advantages of a traditional LTCi policy
1-page sales idea: LTCi tax advantages for business owners
11 pages of LTC sales ideas
7-page producer guide: LTC sales & marketing process
Get the Kit
How to Use This Month's Sales Kit
One way to catch a prospect's attention is to find the daily, monthly, or yearly amount for the cost of long-term care in their state. Before you ever tell them you're talking about LTCi, ask them if they have that amount of money readily available...every year for 1-5 years. Or show them the dollar value and provide a bullet-point list of things they could do with that money, from taking a vacation to buying a new car. End with something like "Pay for one year of long-term care in your own home." Sometimes it takes a little sticker shock to break through consumer apathy.
You may also be able to cross-reference your book of business with the profile of a typical LTCi buyer. In the sales kit, you'll find more details about this profile on page 44. In a nutshell, here's who you may want to approach:
A woman aged 55 to 64
Married with grown kids
Still working, often in a white-collar job
Living in city with a population of 250,000 or more
Upper middle-class with a household income of $100,000 or more
Once you know who to reach out to, the sales ideas on page 45 of the kit can help you start the conversation. You might want to talk about what their plans for retirement are - and how the money might not be there for long if they have to pay for long-term care. Or it might be a discussion focused on longevity. What happens if they save for 15 years of retirement, but live for 20 more years? What if a wife outlives her husband, and then needs care? It's a scary thought, but you can help make it less scary by presenting them with options.
Get the Kit
Insureio Subscribers: Use Our Long-Term Care Campaign
Are you an Insureio subscriber? If so, you have access to November's pre-written marketing campaign for long-term care insurance. It includes educational emails pre-scheduled for delivery throughout the month. These emails explain what long-term care is, who is likely to need it, how much it costs, and why it's best to make a plan now. They encourage recipients to contact you with questions, but they're not selling any particular product or carrier. Use them as conversation starters, and if you need help with case design for a client, give us a call at 800-823-4852. We're happy to help!

To preview the campaign:
Click Marketing and then Marketing Campaigns from your left-hand navigation menu in Insureio.
Scroll down and click November Newsletter Series: Long-Term Care (Monthly Focus Topic). You'll see the list of pre-scheduled emails. To see what a template looks like, click any of the blue template title links. The template will open up in a new browser tab.
Want to learn more about Insureio marketing campaigns and how to enroll your clients and prospects? Click here to visit the tutorial in the Insureio Academy.
Download Our November 2017 Sales Kit Now!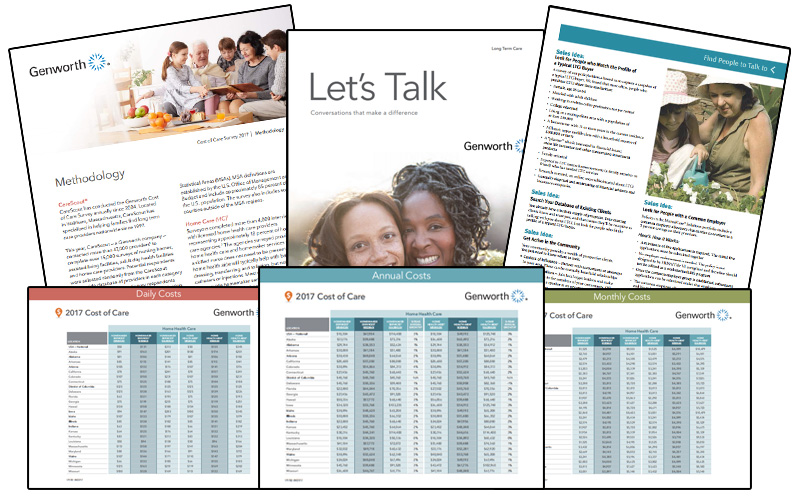 ---