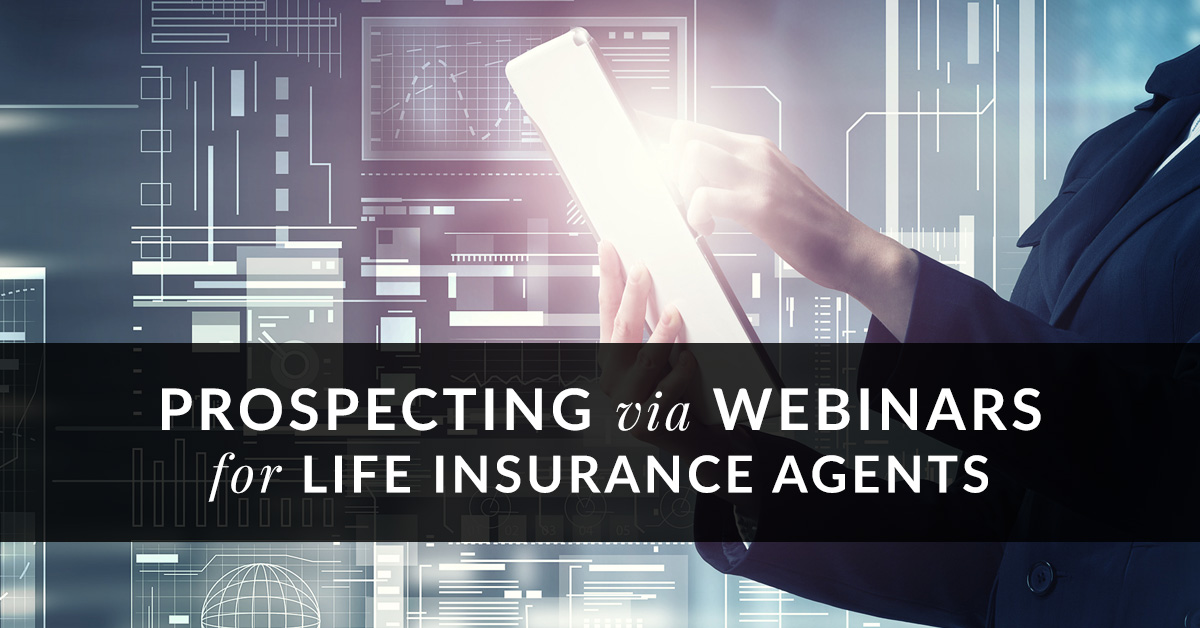 Are you using webinars as a prospecting tool? Webinars can help you address trending topics, answer client questions, and build your mailing list.
Webinars are a great way to present yourself as an authority and earn a prospect's trust. They're also a great way to create an agent/client bond, especially if you sell online and rarely meet your clients in person. The best part is that you can get started for free. If you enjoy the process, you can always invest in software and equipment that creates a richer experience for your attendees.
Webinars for Life Insurance Agents: Getting Started
If you're a beginner, we recommend starting with something free, like Zoom or UberConference. You can also go live on many social media networks, including Facebook and YouTube. Investing in a software-based solution will cost at least $30/month, so be sure you're ready before jumping in. Test your software with friends and family members first before using it with clients or prospects.
Alternatively, you can pay for webinar software that gives you more bells and whistles. Popular options include the ability to have multiple presenters, signup templates, and connectivity with mailing list software like AWeber or MailChimp. We use GoToWebinar, but other popular paid alternatives include WebinarJam, brightTALK, Adobe Connect, and WebEx.
Option 1: Go Live on Social Media
Unlike traditional webinars, where participants register in advance, going live on social media doesn't offer official registration or email collection. However, you can always include a slide, link, or other prompt that asks viewers to sign up for your list. You could argue that this method will get you higher quality leads, since only folks who are truly interested will take the extra step of signing up.
One other potential drawback of using social media for webinars is the recording. It's usually available after the fact to all of your network's followers or subscribers. You'll need to hide or delete that video if you're running a test or if you want the content of the live session to be hidden from casual followers. This is easy to do, but it does add one extra step to your process.
Option 2: Try Free Videoconferencing or Webinar Software
Yes it's true - the free versions of most popular webinar software will be lacking in a few features you probably want. But they're great for getting your webinar program up to speed before committing to a monthly payment. For example, using Zoom's free personal plan, you can host up to 100 people in a 720p HD video meeting for up to 40 minutes. They'll also record your meeting in video, audio, and text formats. Other free programs to try include UberConference, Skype, and join.me.

Prepare Your Materials
First, decide what your webinar's call to action will be - and what you'll give your prospects in return. For example, if the call to action is to sign up for your mailing list, will they get a free eBook or guide in return? If the call to action is to set up a free one-on-one video consultation to go over their insurance needs, do you have a free prep worksheet or checklist they can download prior to the conversation?
Next, prepare any materials you need to complete the webinar and fulfill the terms of your call to action. This may include free guides, checklists, a landing page, and an email campaign for your respondents. If you're sending participants to a landing page, be sure to test it prior to your webinar and ensure all links and sign-up forms work.
Finally, prepare the materials you need for the webinar itself. Do you have a slide deck you'll use for all or part of your webinar? Do you have a web-ready head shot and logo?
Practice Your Delivery
Run-throughs are not an option — they're mandatory. Even if you're an experienced speaker, tech hiccups happen. As long as you stay calm and collected, your participants will, too. We've all attended webinars where the audio didn't work or the presenter's internet connection blipped. Set aside time to review the troubleshooting tips and FAQs offered by your software provider. It may be a good idea to do one run-through that focuses on tech, and another that lets you practice your timing and delivery.
Do your first run-through one week in advance. If you need to make any equipment or material changes, this gives you enough time.
As you're practicing, keep these points in mind:
Can your test participants see and hear you clearly? If the microphone on your computer isn't picking up your voice well, you may need to buy or borrow a USB microphone.
Are you able to quickly and easily switch between live/camera mode and screen share mode, if needed?
Find out where your mute and un-mute buttons are. Test them both.
What happens if your slide deck won't load? Do you have a printed copy as backup you can read from?
Are there websites you plan to show your viewers (your quoter, for example)? What happens if they're offline or won't load? We've been on webinars where this has actually happened! If the visuals are important, take screenshots in advance as a backup. If the visuals aren't important, just carry on with your talking points as best you can.

Market Your Webinar
Now that you've got the hang of it, schedule your webinar and tell the world! Choose a Tuesday, Wednesday, or Thursday for your webinar. Mondays are busy, and it can be hard to attract an enthusiastic crowd on a Friday. Aim for a lunchtime start, since this can increase attendance. If you're curious, On24's Webinar Benchmarks Report shows that Thursday webinars have the highest attendance, with Wednesday not far behind.
About 30 days before go time, start spreading the word:
If you're on social media, create an event and invite your friends and followers.
Send an email to your mailing list.
Create a blog post or landing page on your website. Tell people what's in it for them.
Create a quick graphic for your website or blog sidebar advertising the webinar.
Send a press release (there are free and paid versions).
Use direct mail. Postcards are cheap and (these days) unexpected.
Network with other local professionals who have clients that might be interested.
Using a free option that limits attendance? Make sure you specify that only the first X-number of participants will be able to join - and offer a way for those who can't join to get in touch with you directly.
During the Webinar
Take a deep breath – and be confident! You've done your run-throughs. You've double-checked your materials. You got this. Keep a glass of water nearby, and try to be mindful of how fast you're speaking. Nerves can make you talk fast, and insurance and finance are complicated enough topics already.
Don't forget to have fun. Even if you're presenting a slide deck, try to smile when you speak. Let people hear your enthusiasm!
If you're using a free solution or going live on social media, remember that you don't have an automatically generated list of your attendees' emails, the way you would with paid software. At the end of your webinar, there are several things you can do to stay in contact with your attendees:
Ask attendees who want the replay to send you a blank email. You can then reply with a link to the recorded broadcast.
Invite them to subscribe to your mailing list.
Invite them to follow you on social media.
Ask them to visit a landing page on your blog or website. You can embed the replay on that page later. You can also gate this content and ask people to give you an email address in return for the replay.

Follow-Up & Prospecting
It's a good idea to have at least two follow-up actions prepared. Most often, these will be emails. If you're using paid software, your provider will offer a list of attendee emails and/or automatic integration with your mailing list software provider.
Send one email soon after the webinar ends. Thank your attendees for their time, and include a link to your replay.
Send a follow-up email a few days or even a week later, with an additional prompt, product information, or question that serves as food for thought.
Your follow-up may have several different goals:
Getting feedback. What worked? What did people enjoy? What didn't they enjoy?
Sourcing topics for future webinars. Ask attendees what else you can help them with.
Pursuing leads. Is this person ready to buy now?
Developing a relationship. If this person isn't ready to buy, you can still position yourself as a financial expert willing to help.
Solution-oriented webinars may use follow-ups that prompt viewers to get a quote. Informational webinars may be better suited to soliciting feedback and sourcing topics for future webinars.
That's our look at prospecting via webinars for life insurance agents!
If you enjoy hosting webinars, there's a lot more you can do in terms of marketing – not to mention list building! Have you hosted webinars before? Tell us how it went in the comments below.
---