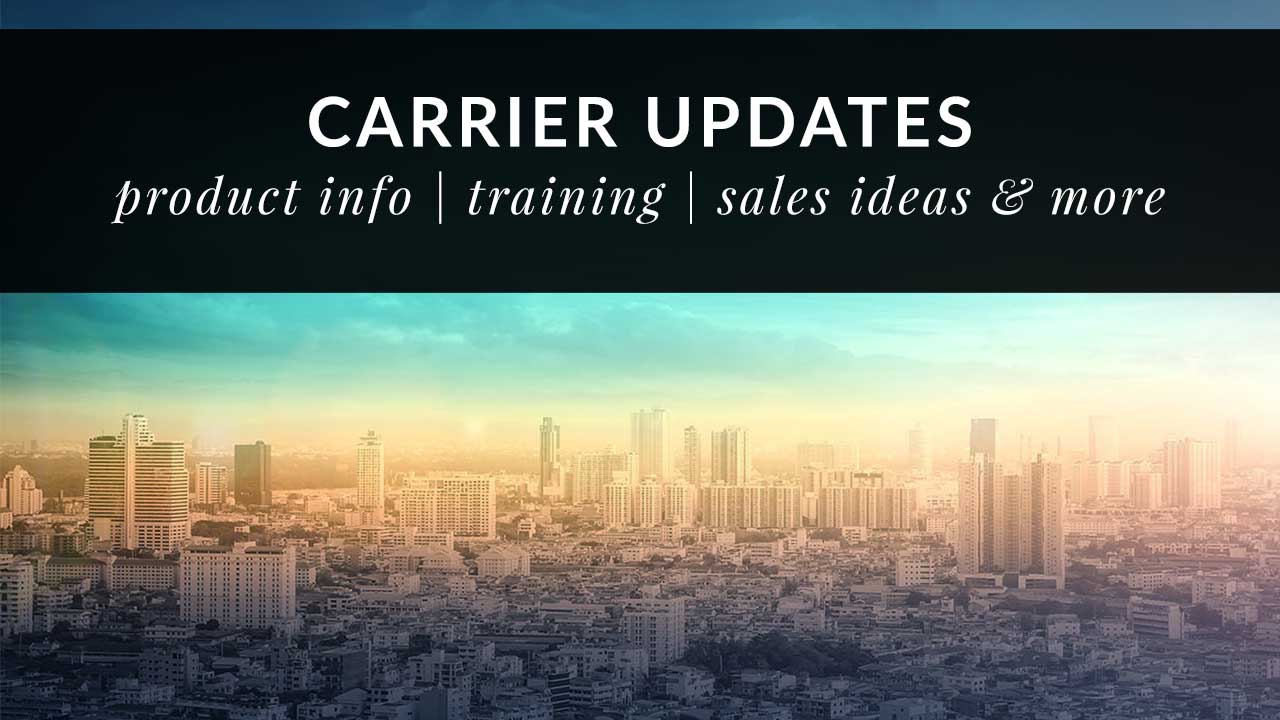 September 2019 Carrier Updates
Last Updated: September 10
Lincoln Financial
Lincoln Financial announces the new MoneyGuard III. As part of our long-standing commitment to provide you and your clients with our strongest long-term care solutions, we are constantly reviewing and enhancing our product lineup. As a result, we are pleased to announce the launch of MoneyGuard III, which offers a new Long-Term Care Benefits Rider (LTCBR) design for simplified policy designs and a smoother transition between benefits. The introduction of the Transitional Care Assistance Benefit and Terminal Illness Rider adds additional flexibility for clients to access their benefits. In addition, Lincoln MoneyGuard III will be expanding our return of premium options, issue ages and payment options to provide more financial flexibility to clients. Lincoln MoneyGuard III complies with principle-based reserving (PBR)/2017 CSO Mortality Table regulatory adopted by the NAIC. Following a transition period, Lincoln MoneyGuard III will replace currently sold Lincoln MoneyGuard® II (2019) in all approved states.
Need help with any of Lincoln Financial's products?
Call us at 1-800-823-4852 or click here to email our Brokerage Sales Support team.
Nationwide
CareMatters II available in Hawaii (9/9/2019) and Florida (8/12/19). CareMatters II is a flexible, competitively-priced linked-benefit universal life policy that offers clients: Flexibility through cash indemnity LTC benefits that help clients obtain care where and from whom they prefer Choice of a variety of payment options, including pay to Attained Age 100, make the policy accessible to more clients than ever before Protection from inflation via one of several options, including a 3% compound option and a new U.S. Medical Care Inflation option based on changes in the cost of health care Nationwide CareMatters II1 is designed to help bring the protection of a linked-benefit policy to a wider range of clients across a variety of ages and financial situations. Click here for Hawaii transition rules. Click here for Florida transition rules.
Need help with any of Nationwide's products?
Call us at 1-800-823-4852 or click here to email our Brokerage Sales Support team.
Pacific Life
Lower Rates on PL Promise Term Life Insurance. On September 9, 2019, Pacific Life Insurance Company lowered rates for PL Promise Term, a product specifically designed to serve the death benefit protection needs of the broad market consumer (household incomes of $50K to $200K). Our commitment to providing affordable life insurance coverage for everyday consumers remains strong. To help reflect that commitment, you will find further rate decreases in approximately 50% of pricing cells beyond our recent rate reductions and more aggressive price reductions in 20-, 25-, and 30-year durations and face amounts of $250K+. Available in all states except New York.
Need help with any of Pacific Life's products?
Call us at 1-800-823-4852 or click here to email our Brokerage Sales Support team.
---
Need help navigating the ever-increasing selection of products from these carriers? Learn how partnering with us can help you earn more, better serve your clients, and sell more life insurance online.
Work with Pinney
---