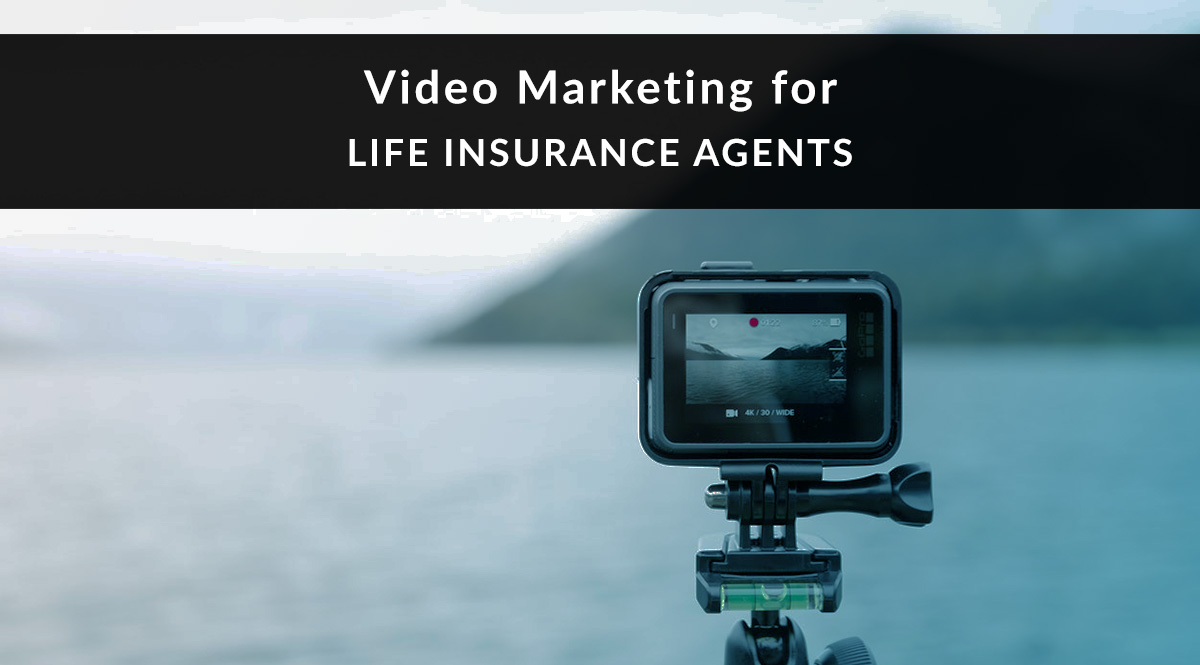 If you had to rewire your house, would you rather read a 50-page manual or watch a video tutorial?
What if you had to solve a differential equation in calculus? Or change the serpentine belt in your pickup truck?
92% of mobile video viewers share videos with others.
Now imagine your prospects – they're not sure if they need life insurance, and if so, what kind. To them, the subject feels unintelligible.
Sure, they could download PDFs, find carrier guides, and read your blog posts, but all of that takes time.
But what if they found a video – your video – where you explain life insurance to them as if they were sitting in your office? What if all they had to do was click "Play" and they got the exact information they needed, delivered by a smiling, friendly face?
That's why you need video marketing. Not convinced? Check out these stats:
One minute of video is worth 1.8 million words, according to Dr. James McQuivey of Forrester Research.
Online video accounts for 50% of all mobile traffic (MerchantMarketingGroup.com).
Sites with video hold visitors' attention for 2 minutes longer than sites that don't (MerchantMarketingGroup.com).
Consumers consider companies that produce video content to be 58% more trustworthy (Econsultant).
Videos on a landing page can increase conversions by 85% (Wishpond).
Lights, Camera...
90% of information transmitted to the brain is visual. Visuals are processed 60,000 times faster than text in your brain.
You don't need a lot of money or equipment to get started with video marketing. It's more important to be authentic and approachable. If you've got a smartphone or a laptop with a webcam, you already have most of the equipment you need!
Camera. Smartphone, tablet, webcam, newer digital camera, GoPro – you can get started with any of these. One piece of equipment you'll probably want is a tripod. Don't worry about separate microphones or lighting just yet. If you get the hang of it and enjoy making videos, you can level up your skills and invest in equipment.
Editing. It's not likely your video will be perfect on the first take. There are many apps and programs you can use to edit your video:

If you have an Apple device, iMovie lets you add themes, effects, audio, and text overlay, as well as splice clips together.
If you have an Android device, Kinemaster lets you splice clips together into a single video, adjust brightness or contrast, add titles, and apply transitions.
If you're working with a PC, try Freemake or the replacement for Windows Movie Maker, Microsoft Photos, which has a video editor that functions in much the same way as the tried-and-true Movie Maker software. It lets you splice clips together, add titles, themes, transitions, and more.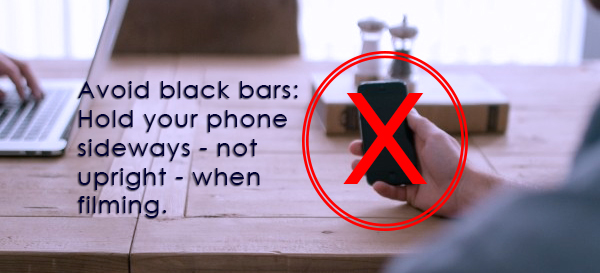 ...Action!
52% of consumers say that watching product videos gives them more confidence to buy online.
The first rule of thumb - keep your videos short. Not only will they be easier to edit, but you'll have a better chance of holding your viewer's attention. According to Wistia's video analytics, videos 30 seconds or less have the highest average percentage viewed (80+%).
When it's time to start filming, take a deep breath and just be yourself! Plenty of people have gained a following or even become YouTube stars just by being themselves on video, no fancy lighting or equipment required. For example, vlogger Michelle Phan started doing makeup tutorials with an inexpensive webcam, and now makes $3 million a year, according to Forbes!
Here are a few basic shooting tips:
Think about what you're going to say ahead of time. Use a teleprompter app if needed – or face a whiteboard with bullet points you want to mention.
Think about lighting. Make sure you're facing a window or lamp. Record a 5-second test clip and play it back to see if there are any lighting issues.
Think about camera placement. It's more flattering if the camera is at or just above your eye level. If you're looking down at the camera, you could end up with the dreaded double chin. Also, if you're not using a separate microphone, be sure to keep your recording device no further than arm's length for best audio quality.
Control background noise. Film in a quiet room where kids, pets, and street noise are minimized.
Consider making one or two "teaser" clips. If you're interested in uploading directly to social networks like Twitter or Instagram, be aware that they have time limits for video. Instagram gives you 15 seconds max, and Twitter gives you 30 seconds max. You may want to make a quick one-sentence "teaser" clip that invites prospects to your website, where they can find your other videos.
Optimize: Prepare to Share
52% of consumers say that watching product videos gives them more confidence to buy online.
Before you upload your video anywhere, you need to optimize it for search. Even if you embed it on your website, that video can still do double-duty by popping up in search queries on Google and within YouTube.
First, select keywords for your video. The more detailed, the better. For example, have you seen how many search results you get in Google or even YouTube by typing in "life insurance"? At this writing, we got 242,000,000 Google results. Those are terrible odds.
Try making a longer search query more specific to the content of your video. Here are a few examples, followed by the number of search queries on Google:
"why I need life insurance" – 202,000,000
"how much life insurance do I need" – 202,000,000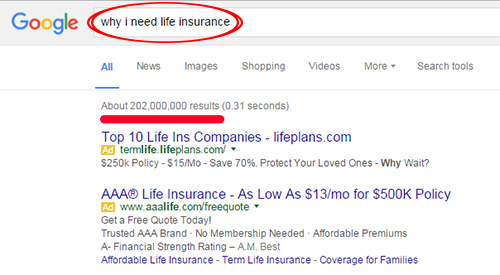 Better odds, but still not great. So let's drill down more:
"can life insurance help me retire sooner?" – 822,000
"what if I can't afford life insurance?" – 2,920,000
Remember, think of what your prospect will search for. Avoid jargon or product names he or she wouldn't know. Also keep in mind that voice search is growing in popularity. Consider optimizing for traditional search queries (ex: "purpose of life insurance") as well as full questions (ex: "why do i need life insurance?").
Need help choosing keywords? We've got you covered! Click here to check out our keyword post.
Next, put your keywords in at least three place:
The title of your actual video file. If it's named something like "video-1-final.mov," for example, you'll want to rename it to "your-keyword-phrase-here.mov." It'll make finding the file on your computer easier, plus the file name itself will contain your keywords.
The title you give the video in YouTube, Vimeo, etc. This is the title people will see in search results. Use it wisely!
The description you provide for your video in YouTube, Vimeo, etc. People will see the first few lines of this description in search results. It's standard practice to include a link to your website as well as a way to contact you at the bottom of this description. People who watch your video will often click on this description, revealing more text than they'll see in the search results. Take advantage of this space. What do you want them to do after they watch your video? You can link to references on your website, your quoter, etc.
Upload: Let the Video Marketing Begin
An introductory email with a video increases click through by 96%.
Now that your video is optimized, what do you do? Upload it to your video sharing site of choice – YouTube is the most popular and most-searched. Others include Vimeo and DailyMotion. As a beginner, though, YouTube is where you want to be. Once you've uploaded your video, you can grab the embed code and place it in a blog post, landing page, or web page.
Here's a quick summary of the places you may want to upload/share your videos:
YouTube. Owned by Google, it has more than a billion users – on mobile alone, it reaches more 18-49 year-olds than any American cable network. Use YouTube as your "home base" for video since storage and uploads are unlimited. You can then embed the video on your website or share to other social media networks.
Your website. Create a new page or post just for your video. Use the video's keywords in the page title as well as in the text introducing the video. You'll paste the embed code provided by YouTube onto this page. Here's where to find the embed code on your video's YouTube page:
Your mailing list. Just using the word "video" in your email subject line can boost your open rate by 19%, according to Brainshark. Although you can't embed the actual video in an email, you can place a link to your video. Better yet, you can include a screenshot of the video that's linked to the video on YouTube or the appropriate page on your website.
Facebook. Share YouTube videos or upload a video directly. Facebook's algorithm gives preference to videos uploaded directly – and video on Facebook gets 3 billion + video views daily.
Twitter. Share YouTube videos or upload a video 30 seconds or less directly to Twitter. According to Twitter's blog, these "native" videos receive 2.5 times more replies than shares of third-party videos (like YouTube).
Instagram. Uploads are limited to 15 seconds. Tap within the app to record on a tablet or smartphone.
As you get more comfortable in front of the camera, you'll get better and faster. The good news is that clients and prospects don't expect you to be a great filmmaker. They just want quick, clear answers to their questions. If you can provide that - and use the optimization techniques described above to help your video be found - video marketing will work for you.

---