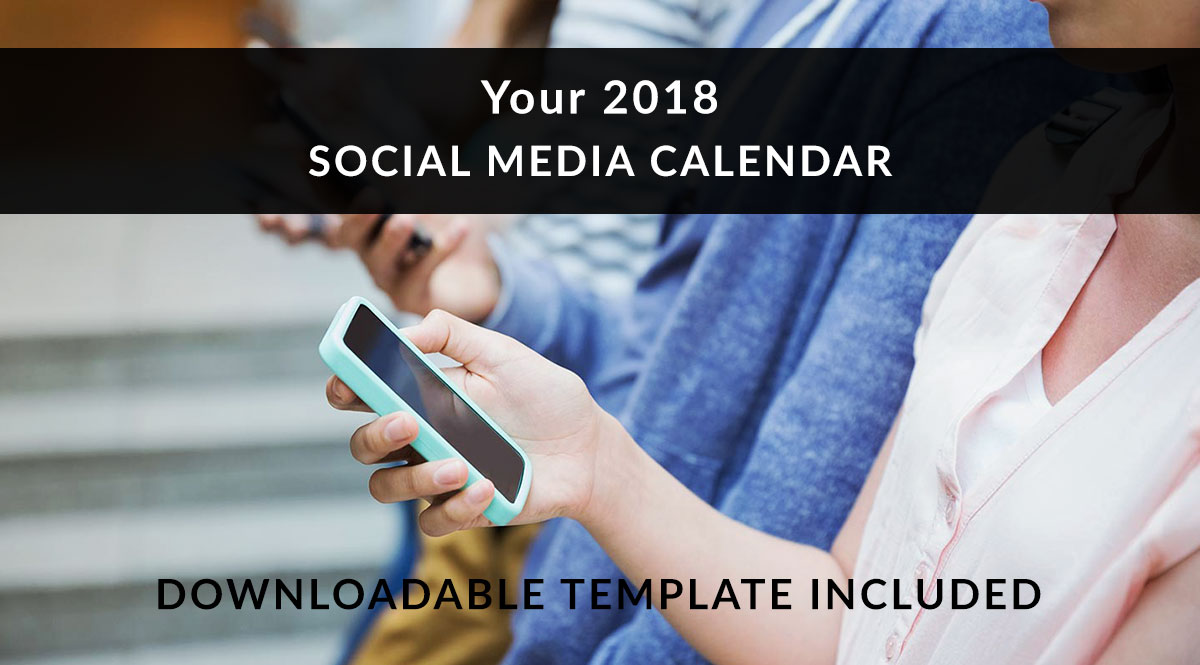 If you want to do more on social media in 2018 but aren't sure what to post, we've got you covered.
Consistency is the key to expanding your audience on social media. That can be hard to achieve when you don't know what to post. That's where this calendar comes in handy. Use it as a starting point, and add your own posts as the ideas come to you. We've included insurance items, plus the most well-known hashtags and internet-friendly holidays (like May 4th, for Star Wars fans).
Ways to Use This Calendar
Bookmark this page and return to it as needed
Save this page to Evernote, Asana, Trello, or other to-do list software
Weekly Hashtags
If you don't have anything on the schedule and can't think of anything to post, try one of these weekly hashtags. They can accompany text, pictures, or video on any social media network. We included four hashtags per day of the week, which will get you through an entire month. Post a favorite quote, what you're working on, an inspiring or informative article, a favorite song or playlist, a financial tip…anything will do. Use one per day, and lather, rinse, repeat!
#motivationalmonday
#musicmonday
#mindfulmonday
#mondaymemories
#tiptuesday
#techtuesday
#tuesdaytrivia
#transformationtuesday
#wisdomwednesday
#workoutwednesday
#wellnesswednesday
#waybackwednesday
#throwbackthursday
#thursdaythoughts
#thankfulthursday
#thrivingthursday
#feelgoodfriday
#flashbackfriday
#fridayfun
#fearlessfriday
#shoutoutsaturday
#salessaturday
#saturdaystyle
#saturdayshenanigans
#selfiesunday
#sundayfunday
#sundayread
#spotlightsunday
January
1st: New Year's Day. What's your resolution? If you have one wish or piece of advice for your followers this year, what is it? #NewYear2018
15th: Martin Luther King, Jr. Day. Whether your office is closed today or not, it's a great time to share an inspirational quote from Dr. Martin Luther King. Jr. Click here to see Google's results and choose your favorite. #MLKDay
24th: National Compliment Day. Say something nice about someone and tag them on social media! This is a feel-good day that can really lift spirits in the cold, dark days of January. #NationalComplimentDay
31st: New Year's Resolution Update. Ask your followers if they're keeping up with their resolution. If you made a resolution, share your progress…be honest! #NewYearsResolution
February
ALL MONTH: American Heart Month. The American Heart Association and Healthfinder.gov have teamed up to offer an awareness kit, complete with pre-written tweets for you – click here to get it. #AmericanHeartMonth
2nd: Groundhog Day. What's the verdict…are we in for six more weeks of winter? Bonus points for posting a prediction beforehand. Of course, if you're looking for a life insurance tie-in, you have the life insurance agent character, Ned Ryerson, from the 1993 Bill Murray movie; make of this what you will. #GroundhogDay
4th: Super Bowl Sunday. It's the biggest football game day in America – share your prediction on who will win! If you're using a business or commercial account to post, it's best to say "the big game," "championship game," or "championship Sunday" because of the NFL's vigilance about their copyright. You can't use the name if there's any affiliation, endorsement, or sponsorship implied. You can, however, use the name through the "trademark fair use" doctrine if you're not identifying any products or services.
14th: Valentine's Day. You don't need a sweetheart to celebrate this holiday. A friend or family member can be your Valentine, too! It's also a good time to reshare content from the LifeHappens Insure Your Love campaign. #ValentinesDay
19th: Presidents' Day. This holiday celebrates George Washington and Abraham Lincoln, but it's a great reason to share a quote from or tidbit about your favorite U.S. president. #PresidentsDay
March
1st: National Peanut Butter Lover's Day. Post a picture of a peanut butter snack you're enjoying today – and ask your followers to do the same, or share their favorite way to enjoy PB. #PeanutButterLoversDay
6th: National Dentist's Day. Do you offer quotes for dental insurance? If so, be sure your followers know about it. Share a selfie with your pearly whites on display – along with a link to your dental insurance quoter. #DentistsDay
8th: International Women's Day. Post a tribute to the women in your life. Who has inspired you? Who helped you become the person you are today? #PressforProgress #BeBoldforChange
14th: Pi Day. This day celebrates math and numbers – but some people also post pictures of their favorite pie. #PiDay
17th: St. Patrick's Day. Post a picture of yourself wearing green! Or add some green décor to your office and shoot a quick cell phone video wishing everyone a happy St. Patrick's Day. #StPatricksDay
26th: National Spinach Day. I kid you not – there's a day for spinach appreciation! Post a picture of your favorite spinach dish or smoothie…or remind people that eating spinach is healthy, and healthy people save on life insurance! #NationalSpinachDay
April
1st: April Fools Day. Today's the day to have a little fun – but don't scare your clients! Big companies often announce fake products or discoveries, like Scope's Bacon Mouthwash. How about announcing new life insurance for zombies? Or a life insurance term policy in dog years so Fido can get covered, too! Whatever you choose, have fun! #AprilFools #AprilFoolsDay
11th: National Pet Day. If you have a pet, post a pic or video today! If you don't, Google your favorite pet (cat, dog, hamster, etc.) and find a cute picture, video, or article to share. #NationalPetDay
17th: Tax Day. Chances are some clients are feeling the stress of tax season. You could share a picture of something calming – a landscape, a cute kid, a baby animal. If people are feeling the sting, ask them to come to you for insurance and financial solutions to make sure next year runs a little more smoothly! #taxes #TaxDay
22nd: Earth Day. This year's theme is "End Plastic Pollution." So what should you post? Maybe a picture of your sack lunch, in a canvas tote or paper back (no plastic!). Or maybe a picture of your water canister – no plastic! #EarthDay2018
26th: National Take Our Daughters and Sons to Work Day. Can take your child to work today? We hope so! If you're comfortable sharing a picture of you together in the office, go for it. If you're not, you could share a drawing your child made at work. For those who can't take a child to work (or don't have kids), do a Google search for "Take Our Daughters And Sons To Work" and share one of the heartwarming stories you find. #TODASTW #takeyourchildtoworkday
May
4th: Star Wars Day. Today's the day to drop your favorite Star Wars quote onto social media. Who's your favorite character? What's your favorite line? If you're not a Star Wars fan, you can ask your followers to share their favorite Star Wars moments. #StarWarsDay #MayThe4th
9th: National Teacher Day. Today, thank a teacher who inspired you! Even if you aren't connected with them on social media, share a story about what your favorite teacher meant to you. #ThankATeacher
14th: Mother's Day. This one's a no-brainer! Share a special message for your mom, and all of your partners and clients who are moms. Be sure to say thank you for everything they do – and show you appreciate how hard they work! #MothersDay
28th: Memorial Day. Show your patriotic side by remembering those who gave their lives while serving in America's military. If you have a friend or relative who died in combat, consider sharing their story. If you don't, you can share what's going on in your community – many have parades or ceremonies to honor local heroes. #MemorialDay
June
2nd: Leave the Office Early Day. This is a fun day to share with your followers – take them on your adventure when you leave the office early! Post pictures to show them what you do when you're not answering the phone or selling policies. Be creative! #LeaveTheOfficeEarlyDay
8th: National Best Friend Day. Here's another feel-good holiday to talk about. Share a picture, video, or story about your best friend. Or about a friendship that inspires you – there are plenty of fun stories about celebrity best friends or beloved movie duos. #NationalBestFriendDay
17th: Father's Day. Tell dads everywhere they're appreciated! If you have a personal story to share about your dad, that's ideal. If not, pick someone who acted like a father figure for you and thank them for what they add to your life. #FathersDay
21st: National Selfie Day. This one's also a no-brainer – snap a selfie with your cell phone and post it. You could even tell your audience that you can explain why they need life insurance in less time than it takes to post a selfie. If you're not comfortable posting selfies, search for a goofy close-up of a cute animal in Google and share that. #NationalSelfieDay
July
4th: Independence Day. What does freedom mean to you? You can share your thoughts, or post pictures you have of American landmarks. If you've ever visited Independence Hall, Mount Vernon, or a Revolutionary War battlefield, now's the time to post and share your impressions and photos. #FourthOfJuly #July4 #IndependenceDay
7th: World Chocolate Day. Mmm, chocolate. Share your favorite chocolate, or a recipe. Or, if you have one of those classic childhood chocolate-frosting-face photos, share it! (If you have fun with this, run it again on October 28 – the US's National Chocolate Day.)
15th: Give Something Away Day. Here's a fun day you can use in a number of ways. What could you give away? Who could you give it to? You could run a quick contest for your clients – send in a photo of what they gave away, and pick a winner at random to receive a gift card, or other small prize. This can be serious, humorous, or heartwarming depending on how you play it. #GiveSomethingAwayDay
17th: World Emoji Day. July 17 is the date displayed on Apple's calendar emoji, so now it's an internet sensation! Last year, they lit up the Empire State Building in yellow just for this day. Post your favorite emoji and ask your followers to do the same. #WorldEmojiDay
August
1st: Respect for Parents Day. This fits in great with life insurance, since protecting a parent's contributions shows respect to them and the entire family. You can take a personal slant on your parents, or your parenting style with your kids. If you don't discuss personal issues on social media, use the life insurance angle. #RespectForParents #RespectForParentsDay
10th: National Lazy Day. Which chore are you happiest to give up? What's your favorite thing to do on a lazy day? Share it! #LazyDay
16th: National Tell a Joke Day. Everyone can tell a joke – even a simple knock-knock joke will do. You can post your joke in text form, but for extra credit, make a quick cell-phone video of you telling your joke instead! #NationalTellAJokeDay
26th: National Dog Day. Share your love for all things canine today! If you have a dog, post a video of them doing something silly. If you don't, search Google for pictures of your favorite breed and share them. Or post a link to your local SPCA or shelter so your followers can see available dogs to adopt. #NationalDogDay #InternationalDogDay
September
3rd: Labor Day. Now's the time to commemorate everything workers contribute to our economy and culture. To connect with followers, you can share what you're doing if you're out of the office, or share a lesson you learned from an early job you had. #LaborDay
11th: National Day of Service. Today is a solemn day for many of us as we remember what happened on 9/11. But it's also a day of giving and sharing, thanks to the National Day of Service. If you give back to your community, now's the time to show what you do and ask others to do the same. You may want to post/schedule your contribution for after 10:30 AM EDT, since participants observe social media moments of silence at several points beforehand. #911Day
19th: Talk Like a Pirate Day. How did this happen? We're not sure, but on this day every year now, people say things like "shiver me timbers" and "walk the plank." It's fun, it's silly, and it's easy to participate in. Click here for a pirate glossary and pirate name generator. #TalkLikeAPirateDay
27th: World Tourism Day. This one's a fun one! If you could travel anywhere in the world, where would you go? What do you want to see? What's your favorite vacation spot? #WTD2018
October
ALL MONTH: National Breast Cancer Awareness Month. Healthfinder.gov and collaborating organizations have another awareness kit for you this month, complete with pre-written tweets for you – click here to get it. #BreastCancerAwareness #BreastCancerAwarenessMonth
4th: National Taco Day. Last year, America served up more than 4.5 billion tacos! Show your taco appreciation today with a photo. Feeling camera shy? Snap a pic of your favorite place to get tacos, tell us your favorite taco toppings, or ask your followers to chime in with the best local taco spots. #NationalTacoDay
13th: National Train Your Brain Day. When was the last time you did a crossword puzzle, Sudoku, or word search? Remind your followers that brain exercise helps us stay mentally fit – and this might also be a good time to talk about senior supplement tests for life insurance. #TrainYourBrainDay
20th: World Statistics Day. The United National Statistical Commission started this day in 2010. It's intended to share stats that help us make better decisions – so how about sharing some life insurance stats from the September Life Insurance Awareness campaign? #StatisticsDay
31st: Halloween. Show your followers your costume! Or your pet's costume. Or your office's spooky décor. If you're not into photos, tell them a quick scary story, or a memory about Halloween from your childhood, or drop a quote from your favorite scary movie. #Halloween #Halloween2018
November
ALL MONTH: American Diabetes Month. Healthfinder.gov and the American Diabetes Association have an awareness kit for the month that contains pre-written tweets. Click here to get it. #DiabetesAwarenessMonth
1st: Stress Awareness Day. Stress – it's a killer! Today's a great day to offer tips on de-stressing…and talk about the effect of healthy habits, like lowering blood pressure, on life insurance rates. #StressAwarenessDay
11th: Veterans Day. Show your patriotic side! Share a message of thanks and appreciation for those who have fought to help keep our country free. You could also share local events your followers might be interested in, or interview a veteran if there's one in your family or book of business who'd like to talk about their service. #VeteransDay
22nd: Thanksgiving. It's that time of year again! Wish your clients a safe and happy holiday…and, if politics are too divisive in their family, give them a few topics to talk about instead, like life insurance!
27th: National Day of Giving. After all the crazy spending we did on Black Friday, Small Business Saturday, and Cyber Monday, it's time to put a little of that money to charitable use. Today's the day to donate to organizations that help others – as little as $1 can make a big difference! Share ideas for places to donate, or ask your audience where they prefer to give. #GivingTuesday
December
4th: National Cookie Day. This is a super fun day – ask your audience for their favorite cookies, recipes, or places to get freshly baked goodies. If you're having a cookie today, snap a pic and share it. #NationalCookieDay
17th: Wright Brothers Day. Today celebrates the Wright brothers' first successful fight in 1903, near Kitty Hawk in North Carolina. What's your first memory of flying? Do you have tips to share for nervous fliers? Or funny/heartwarming stories about planes, airports, or air travel? Share them now! #WrightBrothers #FirstInFlight
24th/25th: Christmas Eve/Day. Wish your clients a safe and happy holiday! Share photos of your Christmas tree, office décor, or snowy weather outside. If you don't want to share personal information, you can link to Google's Santa Tracker. #MerryChristmas #Christmas2018

NOTE: You may also want to add Hanukkah (2nd-10th), Festivus (23rd) and/or Kwanzaa (26th) to your posting schedule.

31st: New Year's Eve. Woo-hoo…out with the old and in with the new! Wish your clients a fantastic new year, and tell them you can't wait to help them achieve their financial goals in 2019. #NewYearsEve
That's our list of 2018 social media calendar starters!
Do you have any special occasions or holidays that have been a hit on social media? Tell us in the comments!
---